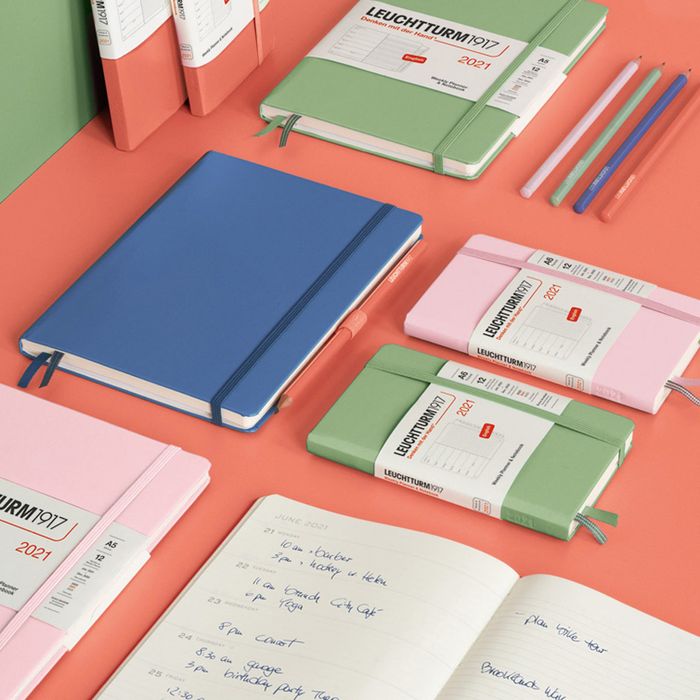 Every new year means a new planner. While choosing the right one can be a surprisingly personal decision, there are characteristics that all the best dated planners share. They should be sturdy, able to withstand a year's worth of daily use without falling apart. They should have enough room for you to write down your calendar appointments or to-do lists, as well as notes. And, of course, they should be dated — whether they come stamped with individual dates on pages or have spaces for you to write dates in yourself — so you can easily look ahead and make plans for months in the future. (If you're more of an undated planner kind of person, we've written about some of our favorites here).
Beyond those basic criteria for a dated planner, there are countless other features and style choices you can make, from the type of binding to the amount of instruction your planner provides. To help you find the best dated planner for your organizing style, we talked to four experts, including productivity experts and stationery aficionados, and took a closer look at some planners we've written about before, including dated planners of our editors and writers swear by. Since the choice will likely come down to personal preference, we forewent declaring a best overall planner and instead organized the recommendations into daily and weekly dated planners, so you can find the right one based on how granular your schedule-keeping is.
Best
weekly
dated
planners
While dated planners come in many shapes and sizes, the ones we heard about are all generally the size of a medium or small notebook — all are compact enough to tuck into a bag, but some have more space to write than others, depending on how much information you like to jot down. We were first tipped off to this weekly planner from German stationery company Leuchtturm1917 by self-described "planner power user" Perrin Drumm. As she writes, the planner's "hardback is perfect for planning on the go or taking notes in your lap; and the layout is my ideal: days on one side, spaces for notes on the other." Cindy Thompson, the blogger and planner behind Instagram's Plan Another Day, also loves the Leuchtturm1917 for its "quality paper, binding," and two ribbon bookmarks. She adds that it "features a simple weekly layout that can be utilized in many ways." The two-year planner runs all the way through January 2022, and if you like the sound of this but want something smaller, Leuchtturm1917 makes a more compact style of the same planner, too.
This Rhodia weekly planner, which comes recommended by Strategist senior writer Karen Iorio Adelson, features a similar layout, with the days of the week on one side and a gridded page for notes on the other. What makes the Rhodia planner a little different, however, is its compact, hourly layout for each day. And instead of a ribbon to mark pages, this planner has tearaway corners to help you keep your place. The planner runs through December 2020.
Photo: retailer
If you are a dedicated bullet journaler, Thompson recommends this "minimalist" six-month planner that she has been using for task management, telling us it is "a wonderful option to round out the second half of the year." She loves the "smooth paper, delicate lines, and optimized weekly layouts." The six-month dated planner, which runs through December 2020, also has extra lined pages that are "perfect for making lists and taking notes," she adds, along with printed tabs for keeping your place. Appointed also makes a notebook-sized full-year dated planner, which Thompson notes has no lined pages, "but does feature tabs for easy navigation" (the full-year planner runs from August 2020 through July 2021.)
Neha Gandhi, the CEO and editor-in-chief of Girlboss, says she likes this particular Lemome planner "because it doesn't waste real estate on huge day-by-day calendars, and instead gives only high-level monthly and note-taking weekly views." A single week takes up two pages of the planner, with enough lines to keep track of each day's do-to lists, and there are 88 additional lined pages for note-taking spread out evenly between months. This layout, she explains, allows her to "organize meeting notes by the day they were taken (and then cross reference the date to the meeting the notes came from in my digital cal), so that I'm not flipping endlessly through a notebook to find one nugget of information that's somehow always just out of reach." The planner has ribbon bookmarks for place-keeping and runs from July 2020 through June 2021.
If you want a weekly dated planner that invites you to journal a bit as well, try this MiGoals option that made the list of our wellness, gratitude, and happiness journals. "It breaks down long-term and short-term goals that you write out each week and month, then you check in every day with what you're grateful for, how you're feeling, and how you're working to accomplish your goals," explains Strategist junior writer Chloe Anello. When opened, the left pages are broken down into the days of the week, while the right pages have space to write your gratitude lists, to-do lists, habits, and larger weekly goals. Asia Milia Ware, an editorial assistant at Teen Vogue, says, "I'm all about my goals and having a strategic plan for each of them, and this book really has a way of breaking everything down to make them measurable and make sure you're taking daily steps to your goals." The planner has two ribbons for place-keeping and runs through December 2020.
While content creator Zoë Bright says that Paper Source has a "huge selection of journals," she is particularly fond of their reasonably priced custom planner, which allows you to design one of your very own. "Paper Source really nails it when it comes to customization, functionality, and aesthetics," Bright says, noting you can design your planner's cover down to the font choice and imagery. Pages are designed to show both monthly and weekly views for any given month, and there are pages for note-taking in the front and the back of the planner, which doesn't include ribbons or tear-off corners for place-keeping. Paper Source's planner runs from January 2021 through December 2021.
If you want to splurge, Strategist writer Louis Cheslaw, as well as contributor Leah Bhabha, both use and love the elegant Smythson Soho Agenda, which is bound in cross-grain lambskin and features gilt-edged, featherweight paper and two ribbon bookmarks. According to Bhabha, it is "the ideal size — larger than a pocket calendar, which affords little writing space, and smaller than a desk diary, which is like lugging around a textbook." She likes the formatting, too. "The weekly agenda devotes a sizable square to each day, and there's a weekly to-do list on the opposite page." Cheslaw agrees: "The pages are balanced between a to-do page and the days of the week." While he admits that there are less-expensive planners with similar layouts, Cheslaw promises this is the only one that will make you feel like a "1950s Italian banker" when you use it. This midyear option runs through August 2021.
For roughly a third of the price of the Smythson Soho planner, you can get this smaller Smythson dated planner that Strategist senior editor Anthony Rotunno has used on and off for the last decade. Like the Soho Agenda, it has pages with a full week's worth of dates opposite lined pages for notes or to-do lists. While the pages are smaller, Rotunno says they still offer plenty of space to jot down basic appointments or plans for any given day. "The size makes it even easier to carry and write in on the go, for those you like to keep their schedule close at hand," Rotunno adds of the planner, which has a ribbon and tear-off edges to help keep your place. Like the larger Smythson planner, this midyear option runs through August 2021.
Photo: retailer
Gridded pages, like those in the Rhodia, are actually quite common in Japanese planners like the Jibun Techo, which comes recommended by Wakako Takagi, a co-founder of Los Angeles–based stationery store Baum-kuchen. As she explains, "The design of the layouts is structured enough to track what is important to our lives but open enough to be flexible." Though it lacks a bookmark, the tightly gridded pages make it easy to keep everything organized, with the days of each week stacked vertically on a page, instead of shown horizontally. This planner runs through December 2020.
Best
daily
dated
planners
If you want a daily diary, rather than a weekly one, brand-building expert Richard Janes recommend the Full Focus Planner in our overall best planners post, which covers 90 days at a time. "The reason it works so well for me is that the layout provides clear focus on what is important, while still enabling me to empty my head of all the other tasks that are lurking around," he says. "But it doesn't go overboard so that I can easily get to the actual planning of my day, week, and month." While you would need to buy four of them to plan an entire year, he says it's a great option for those picking up a new planner midyear. Each day of the week gets two full pages: The left side is broken down into sections that include your "big three" tasks of the day, lined space for "other tasks," as well as a lined column organized by the hour. The right side has dedicated space for note-taking. The planner also has two ribbon bookmarks and additional pages for goal-tracking.
We heard about Emily Ley's Simplified Planner from Julie Solomon, a business coach and the host of The Influencer Podcast, who loves its clean layout. It's divided by months (every month has a tab, making it easy to find), and each month has individual dated pages for every weekday (weekends have a shared page), with space for both to-do lists and notes. Other than those two lists, there's little guidance, so it's a nice option for those who don't need so many prompts to organize their days or thoughts. The planner also has wire binding, making it easy to fold in half, and an interior pocket to hold loose documents. It runs from August 2020 to July 2021.