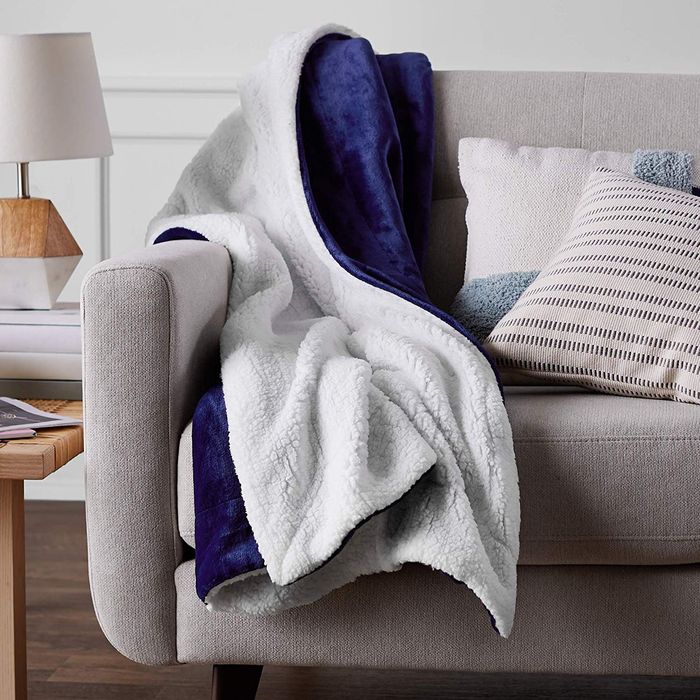 Here at the Strategist, we like to think of ourselves as crazy (in the good way) about the stuff we buy, but as much as we'd like to, we can't try everything. Which is why we have People's Choice, in which we find the best-reviewed products and single out the most convincing ones. (You can learn more about our rating system and how we pick each item here.)
And while we've written about lots of cozy blankets — including the best weighted blankets, a great, cooling comforter, and even picnic blankets — here we've rounded up the best plush blankets, as praised by the most enthusiastic reviewers on Amazon.
Best-rated plush blanket
This blanket was a hit among people looking for something not too warm and not too light. As one reviewer writes, it "has just the right Goldilocks blend of weight and warmth on summer nights." Another echoed that sentiment, writing, "This blanket is just what I need to keep me warm enough through all the seasons without requiring a lot of heavy layers, so my whole body is happy, right down to my sensitive feet." And dozens of reviewers made sure to call out how much they love the soft texture. One satisfied customer writes, "I was expecting softness, I wasn't expecting to want to roll up in it and just rub my face on it. I think I'm going to live in this blanket for the rest of my life." Another calls it, "SOOOO soft. SO SOFT. A lot softer than expected. I want to keep petting it."
Another common theme across reviews was that this blanket makes a great gift. "I bought three of these for Christmas presents — all for difficult people to buy for," one reviewer explains, noting, "In the future, if I don't know what to get someone for Christmas, I will probably come back to this blanket. I mean, during the winter months, there's nothing better than getting a nice, warm, SOFT blanket." And it's a gift that will hold up over the years, as another reviewer writes, "I've had mine for three years and all I can say is that this blanket stands the test of time. It still has the same ultra soft velvety texture. The navy color hasn't faded and the high quality stitching holds up well with no loose seams."
Best-rated (less expensive) plush blanket
Many frequent travelers found this blanket to be a great option for long flights, since it's small enough to pack but, as one traveler explains, it's "thicker than the airline blankets and enough coverage (size) to keep you warm at 39,000 feet." Another reviewer writes, "I bought it for my work office, and now use it also any time I travel. It folds up decently small, to fit in a compartment of my backpack for travel. But it is large enough to cover my shoulders to toe (I am 5'6") and keeps me warm while I'm flying." Another adds, "Love this blanket! I don't know how I've been traveling for so long without one … Fit perfectly folded up in the backpack carry on."
It's also a favorite among pet owners hoping for a not-too-precious furniture cover, like one who writes, "I bought several of these as an easy way to cover our furniture and toss them in the wash to keep cat evidence to a minimum." Another reviewer, a dog owner, loves that "it's light and doesn't hold animal hairs."
And now for some micro picks of every type of throw blanket you might be looking for.
Best sherpa blanket
This blanket seems to be a favorite among many reviewers living in cold climates. One writes, "I love this blanket we had some really cold days last week where we were at -30 with the windchill and had to keep the thermostats down due to high power usage in the state and I did not get cold at all, in fact I had to throw it off some because I got so warm." Another writes, "I am in the heart of Iowa winter right now and our room gets a bit chilly. But no worries now, this blanket is so great." Thanks to its soft texture, the blanket was also a hit for people who frequently have company, like one reviewer who calls them "the comfiest blankets I've ever owned. I host game nights fairly often, and my friends argue over using the blankets." The two-sided design makes it versatile, too, at least according to one reviewer: "This blanket is so soft and cozy, I use it as a comforter. I run really hot and the velvet side is perfect for the warmer nights and the Sherpa side is great for a cold night."
Best striped velvet plush throw blanket
Many reviewers were impressed by the high-end feel of this throw blanket, including one who "turned it into a fabulous wedding gift," writing, "After I embroidered it and embellished it, I was delighted with the results … Actually it looked like it had come from a very fancy store." Its texture and weight make it a favorite even when reviewers compared to similar blankets, like one who writes, "This immediately became my favorite blanket, and let me tell ya — I have a lot of blankets. I have a gigantic basket full of them in the living room for snuggling, cuddling, warmth, etc. for personal and guest use. But no house guest will be allowed touch this, because it's MINE. I don't even want to let the dog share this one with me. Too beautiful." Others mentioned that it's a guest favorite, like one who says, "When friends come over to relax or just watch movies, they fight over this blanket over the others… and, at this price, I'm going to buy more. Oh, one of my friends asked me where I got it, and when I told her, she immediately logged on to Amazon and bought one." Many also like the striped texture, which one reviewer says gives "it a sharp look instead of just plain."
Best faux-fur throw blanket
Reviewers who love the ultrasoft feel of fur loved this blanket, as one writes, " If you've ever dreamed of sleeping in the pellets of 50 rabbits but don't want the guilt of all those rabbit lives, this is your blanket. It's light but warm, not too warm, just warm enough … It's magical, and it's changed my quality of life for the better." This reviewer found it was a hit among cats as well, as they "LOOKED at it and ran to the bed. Before I finished laying it out they started climbing on it like, OKAY, guys, calm down!" It has two different textures, as one reviewer explains: "The 'sherpa' side is soft and warm; the faux fur side is so slinky soft and silky."
Best embossed fleece blanket
This blanket has faux fur that's "like butter," according to one reviewer, who continues, "As a Fibromyalgia sufferer with sensitive skin, this blanket is heaven! I will definitely be buying more." Another blanket connoisseur, who has a self-diagnosed "cozy throw addiction," writes, "I purchased two of these from this vendor (black and ivory) and they are superb, comfortable, blankets of pure buttery-soft joy. The price makes them an unbelievable deal, but the quality and softness makes them my go-to blanky." Another happy customer adds, "My family fights over this throw. It's so soft. The cats go into kitty trance mode when they lay on it. It's wonderful." One reviewer also notes, "The checkered pattern looks even better than in the pictures."
Best shaggy fleece blanket
"Fluffy" is a word used by hundreds of satisfied reviewers to describe this shaggy blanket, for an effect that made one reviewer write, "Oh, my goodness. It is so soft it's like cuddling air! But it is so warm at the same time … It is like being caressed by a tropical summer breeze." Another customer writes that it is "so comfortable that you will want to instantly nap … It looks beautiful as well when used as a throw." A handful of reviewers also mentioned using it as a photo backdrop, like one who writes, "Absolutely love this! I bought this to use as a background for my newborn's pictures, and it's absolutely great!"
Best reversible plush blanket