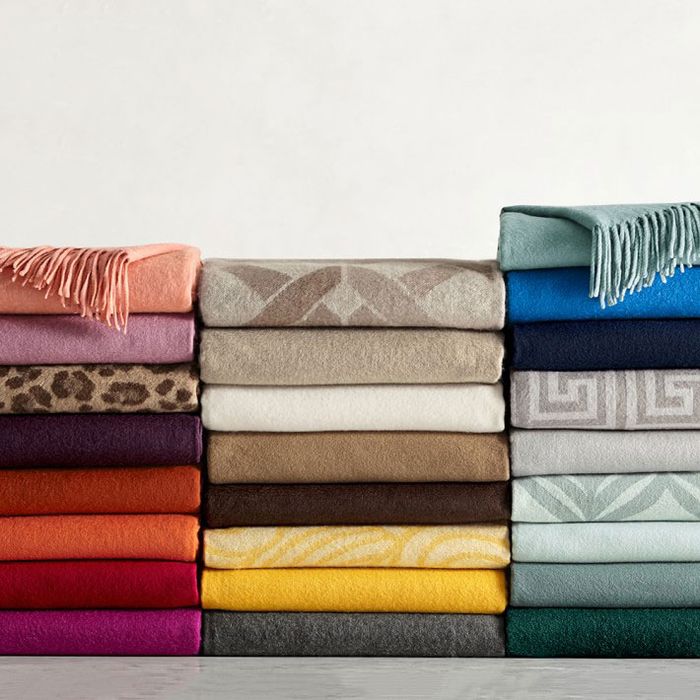 Photo: Courtesy of retailer
Those who like to lean into lazy Sunday afternoons (or any time on the couch, lazy or otherwise) know that a good throw blanket is key to creating a comfortable cocoon — especially as the weather cools and the days shorten. "Curl up with one on the sofa in front of the fireplace, or use it to dress up a bare piece of furniture," says Maggie Lydecker, a design expert at Wayfair. As Lydecker points out, when you're not snuggled beneath it, a throw can instantly add texture or color to a room just by being draped across a chair. Plus, she adds that "a throw blanket is also the perfect gift, as you can never have too many, and they are so versatile." To help you find the perfect throws for cozying up, zhuzhing up your space, or both, we asked Lydecker and 17 other cool people — from interior designers to artists — for their favorites. Read on for their picks, which suit practically every home-décor style and include cashmere, wool, and faux-fur options.
Faux-fur throw blankets
Faux-fur blankets work well in many spaces, and make especially great picks in the colder fall and winter months. According to Alessandra Wood, director of style at Modsy, "They're luxurious and a great way to stay warm in the cold months while adding a 'winter wonderland' feel to a space." They're also more affordable (and less ethically complicated) than blankets made from actual fur, but often just as cozy (and cozy-looking) as the real deal. "They add instant warmth and elegance to any space," says Decorist creative director Jessica McCarthy. For a comfy pick at a relatively approachable price point, few styles beat this extra-large throw from CB2. As Lydecker says, "size is super important. Remember to stay within the range of 50 to 70 inches, so it's large enough to snuggle up in." This throw blanket's gray shade should work with most rooms' décor schemes, and its rich, textured layers make it look much more expensive than it actually is.
For a less-expensive faux-fur option, Sean Juneja, the founder and CEO of Décor Aid, likes this West Elm throw that he says is "inexpensive, easy to maintain, has a great look, and is ultrasoft." He adds that his company's designers often order these throws by the dozen for their clients. Molly Schoneveld, president of the Storied Group, also likes the West Elm faux-fur throws, noting they can make great gifts. "I think it looks and feels luxurious, but the best part is that with a throw like this, you don't have to worry so much about matching someone's décor. They can store this away and pull it out when they want to snuggle on the sofa," she explains.
Wool throw blankets


The faux-fur look isn't for everyone, and those in the market for something less opulent-looking might consider a wool throw — especially one from a heritage brand with a legacy of quality. Oregon-based Pendleton has been family-owned for six generations, and producing wool products in the Pacific Northwest since 1863. "Pendleton is a classic that has been around for a very long time, and for good reason," says stylist Emily Henderson. "Their plaid patterns are timeless and will never go out of style." The brand's ecofriendly wool is also machine washable — a very nice plus for something timeless that you'll always want out on display.
For a less-expensive all-wool option, designer Grant K. Gibson loves this fringed tangerine number that he says will add a bold "splash of color" to your interior. He adds that, for just $99, "it has the look of being much more expensive."
Based in Minnesota, Faribault Woolen Mill is another company with an impressive history, according to McCarthy, who told us she "loves a classic Faribault wool blanket." She added, "It's the type of blanket that is crafted to last for generations and still made today in an old historic factory." Faribault has been making blankets, scarves, and more since 1865; this one has a small amount of cotton blended into the wool to keep it from feeling itchy.
While it's technically made of faux wool, Modsy designer Irah Price says this under-$25 blanket is an easy and inexpensive way to add a rustic touch to a living space or bedroom. "I love the deep autumn colors of navy and gold," she says. Plus, she notes the faux wool is still "incredibly soft," and stresses that "you can't beat the price."
Cashmere throw blankets


For something truly luxurious to throw over yourself or your furniture, cashmere blankets are hard to beat. As Wood says, "Who doesn't love the soft luxury of a cashmere sweater?" She recommends this fringe-trimmed Williams Sonoma throw that comes in a slew of colors — more than 25 by our count — with her favorite being "smokey amethyst," because she says it will add a glam touch to your room year-round.
Christine Gachot, the co-founder of design firm Gachot, is also a fan of adorning a couch with cashmere. Her favorite cashmere throw is from Alt for Living, which makes its blankets in custom colors, ranging from mustard yellow to sky blue. The bespoke service makes it even easier to match the throws to your space — or, as she points out, to someone else's. "How chic to give a beautiful blanket as a gift with a color chosen by you," Gachot says.
"The soft cashmere of these throws makes you want to curl up with a book all day long," says Gibson, who adds that the ribbing brings unexpected "texture and a layer to a space." In addition to ivory, these supersoft blankets come in other subtle neutrals, including a light gray and charcoal.
Velvet throw blanket
A throw made from velvet is another way to add a touch of decadence to a room, according to Price, who says, "I always love a good, rich velvet fabric." His favorite velvet throw is a reasonably priced tufted number that "has some really beautiful options for color," including bronze, blush, and teal.
Linen throw blanket
Linen, on the other hand, is a great option if you're looking for something crisp and clean (though it may not keep you as warm as other throws on this list). According to Lia-Belle King, the creative director and co-founder of Worn Store, New Zealand–based textile brand Cittá Design "does the best home textiles made from natural fibers, and is my absolute favorite." King notes that the colors Cittá Design uses in its products are among the things she loves about the brand, and this linen blanket's orange trim is a nice and subtle contrast to its plum body. "Their colors are always vibrant and rich," she explains, adding that "the quality of their products is premium, and everything has an element of luxury without being precious."
Knit throw blankets


For a blanket that's just as cozy as your favorite sweater, many of the cool people we talked to suggest a woven throw. "Chunky knit blankets are like a giant sweater for your sofa," says Wood. Designer Nick Olsen loves this option from Lane and Mae: "I love the massive knit on a neutral sofa." Plus, the weave gives these luxe throws a special, handmade feel. In addition to the white, gray, and graphite colors shown, the blanket also comes in blue, fawn, and blush.
A slightly less chunky — and far less expensive — option is this Pine Cone Hill knit blanket, which comes recommended by Wood, who notes that "Pine Cone Hill's blankets are 100 percent wool for extra warmth."
"With throws and blankets, look for natural colors that add a lot of texture to a room," advises interior design duo Porter and Hollister Hovey. Their other design tip is to source from international Etsy sellers, like the Montevideo-based shop TexturableDecor, which sells handwoven Uruguayan textiles. Buying from retailers like this gives you access to handmade goods that are really "rare and special," the Hoveys explain. They call the seller's knot blanket an absolute favorite.