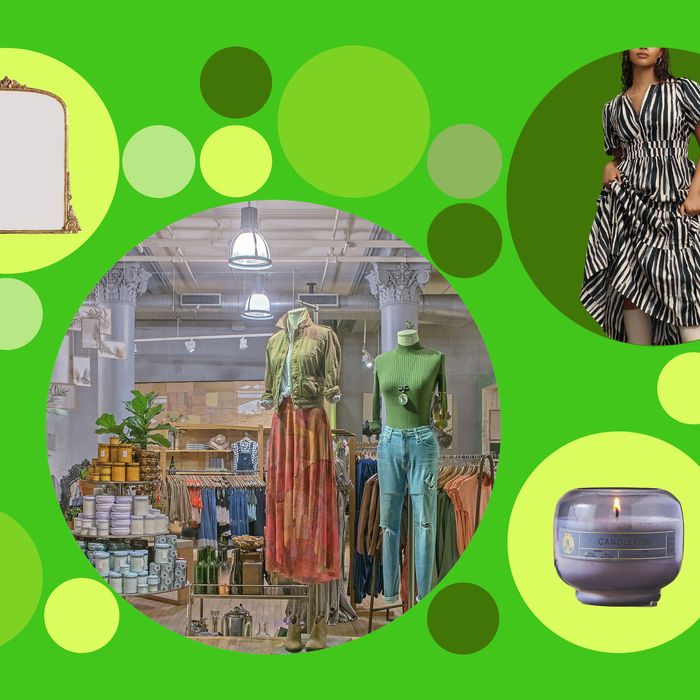 Photo-Illustration: The Strategist; Photos: Retailer, Getty
As a former Anthropologie employee who spent a year on the sales floor — first as an associate, then as a manager-in-training — I know firsthand that the shops are designed to read like high-end department stores. Though its parent company is URBN, which also owns Urban Outfitters and Free People, Anthropologie is the eldest sister of the trio in spirit, compared with UO's grunge and FP's more free-spirited aesthetics. (Part of the lore I heard as an associate was that the word sexy was once banned from the fitting rooms; sophisticated was preferred.) You'll find housewares here, accessories there, and clothes all over. Anthro carries an assortment that spans Brazilian brand Farm Rio, French label See by Chloé, and a number of only-at-Anthropologie lines.
The layout is labyrinthine, starting with painstakingly put-together windows at the front (and no, you can't buy that papier-mâché mushroom) and ending with racks of markdowns in the back. There's a lot to see — especially because the company is big on moving merchandise around in an effort to keep stores feeling "fresh." So to collect the best tips on shopping there, I chatted with six current employees who spoke to me on condition of anonymity in exchange for their insider intel on what's worth buying, what to avoid, and what they buy themselves.
Sales aren't as frequent as they used to be …
Strict discount shoppers might have noticed fewer sales happening at Anthropologie. "For a while, all they had were sales. I think that cheapened the brand," a longtime associate explained. Storewide 20 percent-off "Anthro Days" for those enrolled in the AnthroPerks loyalty program are over. Now, "the only time there's a blanket percentage off full price is for Black Friday," said a service-and-selling manager (Anthrospeak for a store's second-in-command). This is the same deal every year: 30 percent off almost everything. You can expect the occasional "event" when select items are up to a certain percentage off (like cookbooks marked down with the Assouline coffee-table books). But the lowest prices you'll see are during sale-on-sale. There's usually one each month with an additional 40 to 50 percent off items that are already on sale, according to the associate. There's just one caveat: Those purchases are final. A cashier will always give you the "no returns, no exchanges" warning at checkout.
… And the forgiving return policy is a little less forgiving.
Part of the reason for final sale-on-sale discounts is the company's "crackdown" on returns, as one associate put it. Too many customers were returning whatever, whenever. (A similar problem plagued Nordstrom.) Previously, you didn't need to read your receipt's fine print as Anthropologie famously followed a "customer is always right" philosophy. I once watched a fellow associate accept — at the behest of our manager — pants stained with what appeared to be a blotch of blood. (They were immediately thrown out after the customer left.) One of the more recent changes is the narrowing of the return window from 60 days to 30 if you want your money back in the way you paid. Past that point, you'll get store credit in the form of a merch card. But you can now save a trip to the post office for products that were formerly return-by-mail only, including shoes and weddingwear from BHLDN (pronounced "beholden," though it has been rebranded as Anthropologie Weddings).
Maeve is the most popular in-house line.
Real Anthro anthropologists will remember featured labels like Sleeping on Snow, Elevenses, and Moulinette Soeurs, but the current lineup of in-house brands is much slimmer. The top three are Maeve, Pilcro, and a collection called "By Anthropologie," and almost all the employees I talked to raved about Maeve. It's archetypal Anthropologie. Associates commented on the cheeky-bordering-on-curious prints and eccentric embellishments. The brand's best sellers are favorites among staffers as well, including the Bennet button-down and the Colette pants. These are what they often buy with their employee discount, which is 60 percent off a predetermined number of items each month (like X number of tops) and 40 percent off almost everything else.
The Anthropologie-exclusive brand Cloth & Stone once monopolized the in-store button-down market. (I remember steaming rows of them.) But the employees I polled aren't big fans of the brand, with complaints ranging from sizing inconsistencies to laundering problems. Maeve's Bennet shirt is a recent — and superior — rival. "They got the proportions of it really right," a display coordinator told me, noting that the brand is "big into shirting" at the moment. The service-and-selling manager stocked up on this shirt herself. Since the Bennet has an oversize silhouette, "you can size up if you want something baggier, size down if you want something more fitted," she said. Like a lot of the company's top sellers, it comes in extended sizes — petite and plus — which an in-store personal stylist said customers have praised (especially since they're grouped alongside "standard" sizes online without being relegated to separate product pages).
Half of the staffers I talked to own multiple pairs of Colette pants. "Everybody — I swear — has a pair, whoever works there," said one associate. The manager I talked to wears the wide-legged cropped trousers whether she's on or off the clock, and they have become well known in the world of work pants, with an associate comparing the cut to the Effortless from Aritzia and the Sloane from Abercrombie. "It's a pant that quite frankly is hard for us to keep in stock in the store," noted the stylist, who owns a few pairs in faux leather.
Some of the appeal is the assortment; you can get them in a rotating selection of prints and textures, from music notes to checks to corduroys. (Alas, staple shades like black and green never go on sale, the manager warned.) The Colettes also have the distinction of coming in all the sizes (23 to 34, 16 through 26) and inseams (petite, tall) the company offers. They do run big, though: The stylist recommended buying at least one size smaller than your usual, noting that they are often returned for that reason.
Pilcro denim has gotten a lot better.
Pilcro deals in denim, with the occasional plaid turtleneck or corseted tee, and was always meant to be a "cheaper alternative" to the premium denim Anthro carries, according to one associate. Yet the feeling among employees was that the brand used to be bad. That was my experience, too; I remember many a try-on session, usually before the store officially opened, in which I was baffled by the frustrating sizing. According to the stylist, old Pilcro would stretch to a point where it couldn't shrink back.
As of late, there has been a turnaround. "The quality, for the first time in a long time, has been really exceptional," the stylist explained. She attributed the improvement to "technical things," such as the company using higher-end cotton and hardware and taking care to ensure that the seams match. The sizing has become more standardized (though I was told the "tall" lengths often aren't long enough; the visual merchandiser, who happens to be six feet tall, said she usually goes for Citizens of Humanity instead). Employees specifically name-checked Pilcro's Wanderer and Boyfriend styles as their favorites.
The Somerset dress is a standout.
Staffers described the "By Anthropologie" line as "hit-or-miss" since it generally chases trends. "You can tell sometimes that it's trial and error," one associate said, while a visual merchandiser called it a collection of "one-offs." (Anthropologie describes the designs as experimental.) One standout is the Somerset dress, which has a Hill House–esque tiered skirt and smocked waist. There's even a dedicated Somerset Collection with different "editions" of the dress, such as one with floral appliqués and another featuring cutwork. Several employees told me the dress's greatest selling point is its A-line shape. "It looks good on almost everyone, which is a hard thing to be able to say," said the stylist. One associate noted that while it runs rather long as a maxi, the petite is generally short enough. (There's a mini version, too.) One associate who had long been "bored" with the dress's many iterations told me she finally caved for an eyelet one. It's the all-occasion dress you're going to be recommended in the fitting room.
Be careful with the cashmere …
"Read the tags" was an oft-repeated caution, especially for knits like pullovers, cardigans, and turtlenecks. Employees warned that overpriced polyester and cheap acrylic abound. There's also a known pilling problem across all sweaters, and though the company has made investments in cashmere — as seen in the top-selling Alani from Pilcro and the animal-emblazoned intarsias from Maeve — some staffers literally aren't buying it. (One associate goes for J.Crew's cashmere instead.) The service-and-selling manager complained about scratchiness and suggested the viscose Carys sweater as an alternative because it's "really, really soft." (Although the Carys can start to pill after enough wear, a pass with a fabric shaver will work wonders on it.)
… and anything with a zipper.
Another word to the wise: I heard from more than one employee that dresses across the store are often plagued by faulty zippers that are a real pain to close. "Customers sometimes think the issues with zippers are because items don't fit them," the stylist said, explaining that the hardware is often the real problem. So double-check yours.
The dupes are doubling.
It's an open secret that Anthro is in the business of selling dupes. The $88 beaded Fiona bag is Anthropologie's answer to Staud's $295 Tommy. The croissant-shaped Melie Bianco Brigitte satchel is a spin on Bottega Veneta's Jodie tote — a stylist mentioned to me that her store fielded lots of calls from shoppers trying their luck at getting the "wildly popular" purse when it was sold out online.
The most in-demand dupe of the moment may be the Petra drop earrings (and their mini version), which were influenced by Bottega Veneta's $1,350 gold-finished sterling-silver pair. An associate gets compliments on hers all the time. "They look literally real," she said.
Another must-have is the now sold out $168 Dolan Ponte Dickie Jacket, a dead ringer for Veronica Beard's almost $700 Miller Dickie blazer with the denim dickie sold separately). The stylist has caught "customers clamoring for it," with some who own the actual designer version buying Anthro's as a spare. "That dupe is probably the best that I've seen in quite a while." While it's not available online at the moment, a houndstooth version is. She adds: "I think with dupes, people think the quality is subpar, and while they're definitely different, I will say the dupes we have don't feel cheap."
The jewelry gets mixed reviews.
Petra earrings aside, jewelry was Anthropologie's most divisive product category among the employees I spoke with. One associate said the quality has gone up while the quantity — what you'll see displayed near the cash registers — has gone down. But another scoffed at that claim: "I see jewelry that I could have sworn I've seen at Claire's." The service-and-selling manager added, "You buy something that looks cute and then you are just always disappointed. You're like, Why did I spend $48 on this?" She has seen jewelry returned either broken or with a faded finish. Earrings, especially hoops without closures, fall out. "When we're taking them out of the wrapping, they're falling off the packaging before anyone has even touched it. They're just a mess," she explained. Though a necklace she does recommend is the classic monogram pendant, which rarely gets returned.
Employees use their discount to buy candles.
Anthropologie's signature scent is Volcano from the non-Anthro brand Capri Blue; the aroma of sugared orange, lemon, and lime is usually what welcomes you into the store. Employees have a love-hate relationship with it, however: Volcano is the candle employees "force down everyone's throat," according to one associate. But she doesn't believe it burns properly, leaving too much leftover wax at the bottom of the jar. The stylist said she likes to burn hers at home, "even though, for a lot of employees, it reminds them of work." (A $220 five-wick Volcano was the first thing I bought when my discount card came in.) An associate commended Capri Blue's other scents, like a seasonal "Spiced Cider" and "Pumpkin Clove."
Ask around and you'll hear a number of alternatives, as candles are one of the items employees use their discount on most often. A visual coordinator who described Volcano as "very cloyingly sweet" prefers fragrances like the seasonal "Fir and Firewood." One of the underrated candlemakers you can find at Anthro is the Charleston-based Candlefish (which employees mentioned twice). Another is the California company Voluspa, whose "French Cade and Lavender" and "Goji Tarocco Orange" scents are the favorites of another associate. (I'm a fan of the "Bourbon Vanille.") If you're a gourmand (with a sweet tooth), the Boulangerie line from Illume — which features scents such as "Whipped Cream With Pears" and "Angel Food Cake" — is beloved by a manager.
Glasses are the best of the homeware.
After candles, a number of employees said they frequently use their discount on glassware, as the pieces stocked on shelves are affordable and charming in that only-at-Anthropologie way. (Unfortunately, many styles are not dishwasher safe.) I spent a small fortune on drinkware, including mugs like the bestselling Bistro Tile — the oldest of which I have had for close to a decade.
A manager called out these juice glasses — which have four-leaf clovers and rainbows blown into the glass — as a customer favorite. Champagne flutes are also a hit; many employees give them as gifts, and one selected these iridescent coupes for their sister. "Sure, you could get something simple at Marshalls and a classic at HomeGoods," said an associate, but you won't get details like gilded rims and pastel shades at around the same price. "I don't see them anywhere other than Anthropologie," she added. Even a visual coordinator who's prone to "accidentally smashing everything" restocks glasses all the time. One tip to keep in mind, depending on the quantity you need: Glassware is generally sold in sets online and individually in store.
The Primrose mirror is on employees' wish lists too.
Although some pieces of Anthropologie furniture are part of the chain's in-store staging, most associates haven't seen much of the brand's furniture firsthand, so my sources weren't able to talk about it in detail. Only a few Anthropologies have dedicated furniture "design centers," so getting hands-on with the dining chair you've been eyeing may take some effort and planning. It's also not uncommon for the coffee table you searched for to have a "back-ordered" note, and I heard you can "literally be waiting six months for a bed."
But those employees who have seen the famous Gleaming Primrose mirror have only praise for the piece, which now comes in a number of sizes and shapes — it's so popular there's even a Christmas-tree ornament of it. "It's, like, thousands of dollars, but I'm dying for the day I can bring that home," a merchandiser told me. "If you're looking for a real statement mirror, you're not going to find that anywhere else." Our colleagues at the Cut summed up one reason for the obsession: It's hard to find a real dupe. Chances are you won't see one for sale in a store, so note the flat-rate shipping fees online — a manager has heard customers complain about receiving broken fixtures even with the "white glove" delivery.
The Strategist is designed to surface the most useful, expert recommendations for things to buy across the vast e-commerce landscape. Some of our latest conquests include the best acne treatments, rolling luggage, pillows for side sleepers, natural anxiety remedies, and bath towels. We update links when possible, but note that deals can expire and all prices are subject to change.