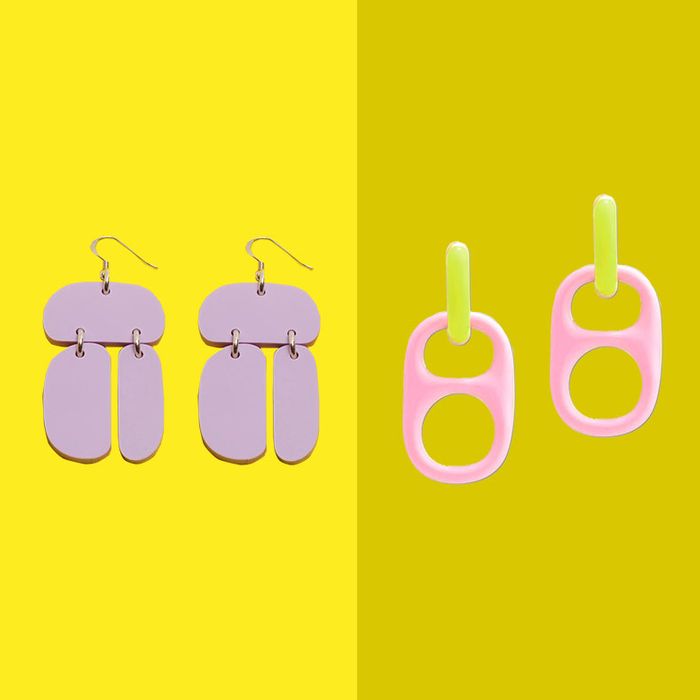 Photo-Illustration: Courtesy of the retailers
For a while there, we didn't have a reason to get out of our sweats, let alone accessorize, but with pandemic restrictions lifting in much of the U.S., it's finally time to start getting dressed up again. We're back to work, going out to dinner and bars, and getting together with friends for special occasions — all events that are worthy of a new pair of earrings.
As your wallet has surely noticed, "outside" life is more expensive than lockdown was, but your accessories don't have to be the thing that blows your savings. It's easy these days to find earrings that are much less expensive than they look — even the biggest-box clothing brands have seriously stepped up their game. But to save you from having to do any looking for them at all, we've rounded up some of the best options you can buy online for under $50, from surprising studs to hoops of all shapes and sizes to big, bold statement earrings.
Studs
This pair of gold studs has an organic hammered-metal texture, making them understated but not basic.
These faux pearls, featuring a gold twist frame, look like something your fancy aunt would wear.
Gorjana, which makes some of our favorite hypoallergenic fine jewelry, also has more accessible offerings. We especially like these fun star-shaped studs.
The brand Tini Lux makes titanium studs meant to be worn for sleeping or for a healing piercing — but they look nice enough for everyday wear, too.
When we tested ten different fine jewelry start-ups, Strategist writer Jenna Milliner-Waddell said this brand "caters to many tastes and price points by allowing shoppers to choose the material their jewelry is made out of." These minimalist studs start at just $31 for the sterling-silver option.
If you like the idea of mixing and matching your studs, personal trainer Natalie Friedman recommends Maison Miru's inexpensive and eye-catching sets. Plus, you won't have to worry about taking them off before showering or working out.
These handmade circle earrings come in three different metals — yellow gold, rose gold, and sterling silver — and in two sizes — small and tiny.
Studs is a perennial favorite at the Strat for their range of funky designs and classic staples. Since most of their earrings can be bought as singles or pairs, they're also excellent for mixing and matching.
An update to your grandmother's pearls, these come with a delicate gold chain attached.
Hoops
This pair of oversize hoops are made with a lightweight nickel-free material, so you can wear them all day (and night) with no issues.
On the opposite side of the spectrum, these thick mini-huggies come from the sustainable teen-approved jewelry brand Ana Luisa.
This pair of chunky hoops is slightly bigger than the huggies above, but is still lightweight so they won't weigh you down.
Here's a pair of croissant hoops to add a bit of texture to your look.