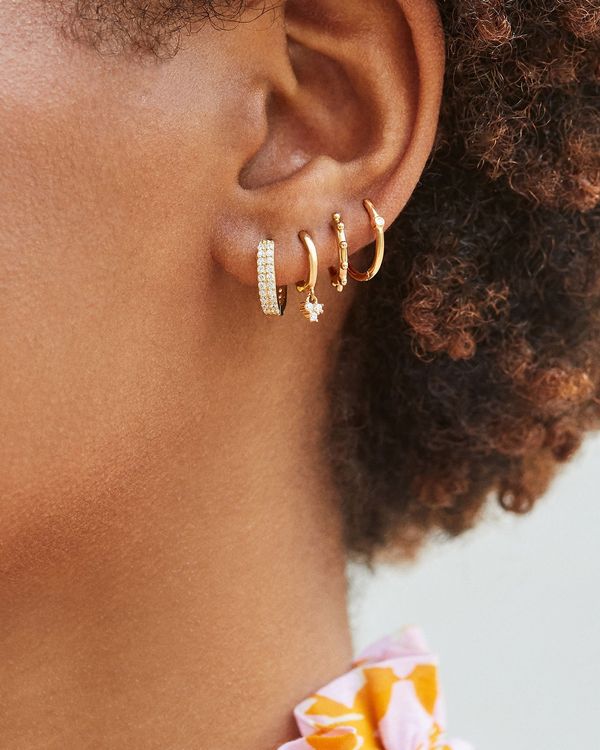 In our advice column, Ask the Strategist, we take your most burning shopping questions and survey friends, call up experts, and draw on our own personal experience to answer them. As always, please email any online-shopping-related queries to strategist@nymag.com with the subject Ask the Strategist — we're here to help.
Please help me find amazing nickel-free or hypoallergenic jewelry and accessories that are actually cool. Nickel is a very common irritant; many people get negative reactions to it, but somehow it's still everywhere (belt buckles are especially annoying if you're wearing a short top).
When I read your question, the first thing I wondered was: what exactly is hypoallergenic jewelry? It sounds obvious — anything that won't give you an allergic reaction — but people have different allergies to different metals, so to get some more information I checked in with two dermatologists, Dr. Michele Green and Dr. Debra Jaliman. "My favorite hypoallergenic jewelry is surgical stainless steel," says Jaliman. "If you want a gold option, go with a very high-quality gold, such as 24 karat. Platinum is also hypoallergenic, but it's pretty pricey." Green agreed that when it comes to gold, the higher the karat the less likely it will be to irritate your skin, and had some suggestions for additional allergen-free materials to look for: "If you suffer from metallic allergies opt for jewelry made of pure unalloyed biocompatible metal such as platinum, titanium, or palladium," she says. "These metals are naturally hypoallergenic and will not trigger an allergic reaction." In addition to looking for those metals specifically, you can also look for pieces that are marked "nickel-free" or "hypoallergenic" — many of which do, in fact, come in rather nice-looking styles. I dug around and pulled together some pieces that are nickel-free and hypoallergenic categories, and that you will also actually want to wear.
Earrings
Photo: retailer
While hunting around, I noticed that Baublebar has several pieces that are specifically marked "hypoallergenic," and after checking the FAQ page on their site, found that all of their pieces are certified nickel-free, lead-free, cadmium-free, phthalates-free — so this might be a good brand for you in general. I'm a fan of these twisty hoop earrings that are a mere $38.
For an even less expensive set of gold hoops, try this pair from Target, which Strategist writer Chloe Anello wore to her sister's wedding, and loved. "They were so lightweight that I wore them from when I put them on in the morning until 10 or 11 at night with no issues," she said, when she recommended them for our post on the best gold-plated jewelry. While the quality of the gold is not listed, the earrings are specifically described as "nickel-free" and "compatible with most skin types."
Photo: retailer
If you have multiple piercings and like the layered huggie hoop look, this pack of five pairs is one (relatively) cost-effective way to achieve the style, while not irritating your ears.
A similar style is available in surgical stainless steel — these hoops come in a range of sizes, and are on offer in both gold and silver finishes.
The brand Sensitively Yours specializes in allergen-free jewelry for kids and adults that come with a "lifetime guarantee against sensitivity." This multi-pack, which includes earrings with gold-coated surgical steel, is marketed as being for kids — but there's something charming about a pair of gold dolphin or miniature bow studs, especially for layering in multiple ear piercings.
Photo: retailer
They also make some small hoops that have a surgical stainless steel base and a 24-karat gold coating, making these a good option for those with the strongest sensitivities.
The brand Tini Lux makes titanium studs meant to be worn for sleeping or for a healing piercing — but they look nice enough for everyday wear, as well. This pair has a titanium base and backing, and is coated in titanium the color of 18-karat gold.
Photo: retailer
And if you're thinking these all look a little too sedate, fear not: I found this pair of hypoallergenic crystal-adorned martini earrings! They'll look great on your family holiday Zoom.
If you know that you're not sensitive to sterling silver or gold, Studs has some pairs that have a sterling silver core with a 14-karat gold-plated exterior, like this cubic zirconia-eyed serpent or opal spike huggie.
Necklaces
Photo: retailer
If you're looking to layer gold necklaces, Baublebar's hypoallergenic and nickel-free ones come in plenty of styles with lobster claw clasps that make them adjustable to different lengths.
Gorjana's fine jewelry line is also hypoallergenic and nickel-free, so if you know that you don't have a reaction to 14-karat gold you might consider their pieces, like this delicate diamond number.