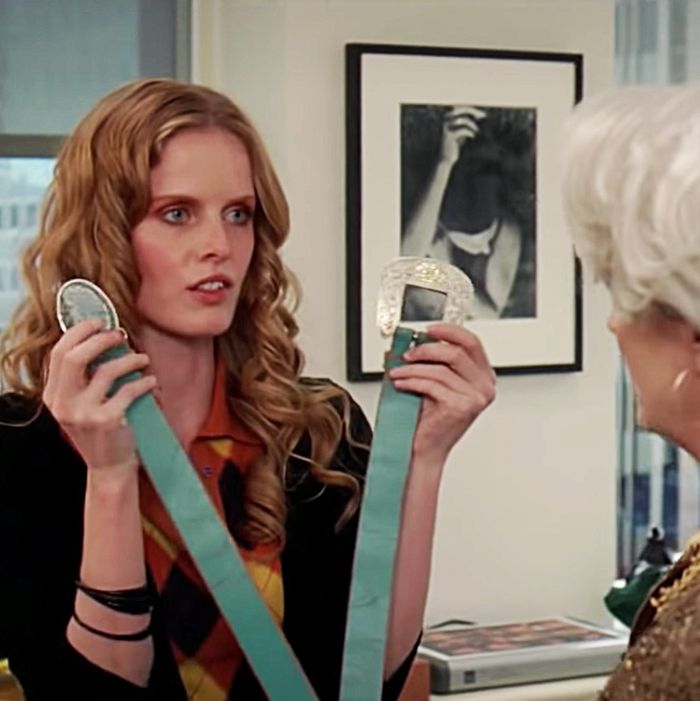 Photo: Courtesy of 20th Century Fox
Belts exist squarely at the intersection of function and style. Sure, they hold your pants up, but the right belt can bring a dose of personality to simpler items like your favorite white T-shirt and jeans. To help guide your belt search, we asked 13 stylish women which ones they use to cinch their blazers, complement their sundresses, and buckle up their bike shorts. Read on for their suggestions for belts to go with practically every outfit.
Best overall belt
Five of the women we spoke with recommend belts by French designer Isabel Marant. "She offers everything from super-classic to braided to a bit more Western and designed," explains art director Madelynn Furlong. For an everyday option, Furlong recommends this silver-buckled model she says will go with everything.
Best affordable version of the best overall belt
For a very similar look for (much) less, style expert Alison Deyette suggests this belt from J.Crew. "It has been added to the closet of many of the clients I style. It's a simple classic," she says. Artist and designer Piera Bochner also likes J.Crew belts because they are "good, easy basics." If you're looking for something a touch more unique, you can personalize this belt with a monogram (for an extra $10).
Best grommet belt
"This wide grommet belt is a favorite because it's like the grown-up version of the Hot Topic one you probably had in ninth grade," fashion writer and consultant Alyssa Coscarelli says of & Other Stories' belt. She recommends pairing it with floral prints to give them a little edge and, when cool weather returns, using it to cinch coats. "It's a compliment getter — always," Coscarelli promises.
Best statement belt
Three of the stylish gals we talked to suggest this sparkling option from B-Low the Belt if you really want to turn heads. "If you're simply looking for something functional to hold your pants up, this is not that," says Nicole Akhtarzad Eshaghpour, market editor at Who What Wear and curator of the Instagram account Trust Me Buy This. "However, it does look unbelievably cool with anything from a sweatshirt and jeans to a slip dress, so I would still recommend it."
Best affordable statement belt
Stylist Samantha Brown loves the Farah belt above but suggests this far less expensive option for those who want to "step into trendier territory" without breaking the bank. She says the belt shines best when paired with distressed denim and a simple T-shirt.
Best belt with a statement buckle
Eshaghpour loves this "special but simple" leather belt from Loewe, which features a buckle inspired by the brand's logo (this belt also comes in black). "The buckle is a touch more nondescript than your average logo belt," she says, "so no matter how many times you wear it, you won't get sick of it."
Best braided leather belt
"I prefer braided belts for their versatility because I can wear them with pants with a variety of rises," says Coveteur senior editor Hannah Baxter, who calls braided styles "the Swiss Army knife of belts." And because a braided belt can accommodate a range of waists, it's an ideal option for plus-size women. Baxter particularly likes this Brooks Brothers belt, which also comes in burgundy and brown. "Pair it with bike shorts and shit-kicker boots — trust me on this," she says.
Best affordable braided leather belt
"If your goal is to be a one-belt pony, I'll insist that it be this one," says Edith Young, photographer and writer at large for Man Repeller. The belt feels vintage-y (in a good way), and Young also points out that Nisolo is "an environmentally and socially conscious brand" (sold at reasonable price points to boot). Nisolo promises its belts are made with 100 percent vegetable-tanned leather and made by workers who are paid a living wage and have access to health care.
Best non-leather braided belt
If you're looking for a braided belt that isn't made of leather, creative director and designer Samantha Angelo suggests this multifunctional Topshop raffia belt, which she says "can be worn around the hips and waist."
Best Western belt
"At the moment, I'm very into a sturdy silver buckle without leaning too far into cowboy territory. This style strikes a nice balance," says Baxter. Bochner agrees that adding a little yee-haw to an outfit can't hurt: Her absolute favorite is a cowboy belt she got from her dad (she says he got it in Missoula, Montana, in 1972.) This belt also comes recommended by our senior editor Simone Kitchens (who heard about it from her friend Elissa, an accessories editor), who admits that "this is not cheap, even for something on sale." But, she adds, it looks like something "Julia Roberts would have worn with Levi's walking through the airport in the '90s" — a compliment we'd never be upset to receive.
Best affordable Western belt
Stylist Kiarra Logan loves this gold-accented Western belt for achieving the look at far less cost.
Best double-buckle Western belt
If you're looking to lean further into cowboy territory than Baxter is, Logan also turned us on to this belt, the least expensive Western one recommended by our cool gals, which features a bold double buckle.
Best extra-long belt
Recommended by both Brown and Angelo, this "sleek, modern" extra-long belt by Frame allows for more styling options.
Best skinny belt with silver hardware
"My forever go-to piece when it comes to a classic black belt," says photographer and graphic designer Shini Park of this skinny (just one inch wide) belt. She promises it "looks great with everything" but especially "loves the effect it has on tailored trousers."