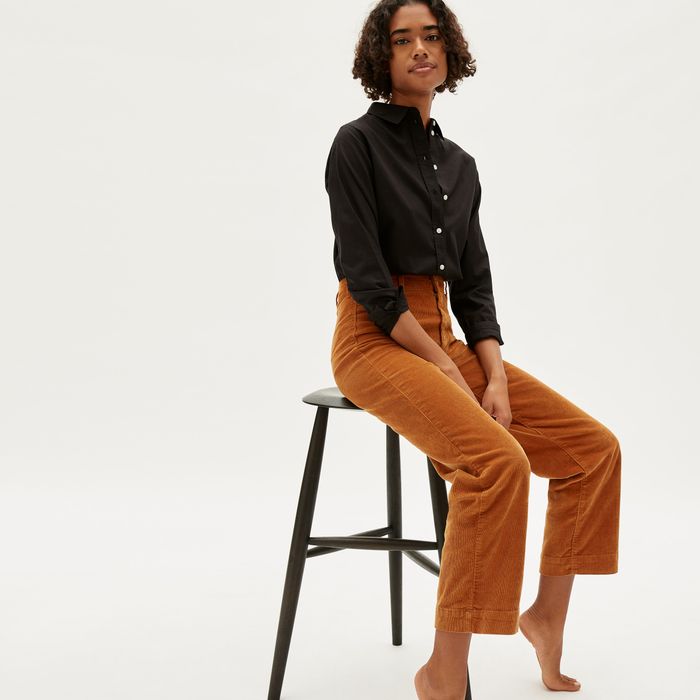 Corduroy pants have earned an unfair reputation for being stuffy and stiff — less stylish, less comfortable, and less flattering than jeans. But none of that's true. A good pair of cords is not only a cozier alternative to denim but also a much cooler-looking one. So, in an effort to dust off this oft-overlooked pant, we asked 16 cool people — including stylists, designers, and several corduroy-obsessed Strategist staffers — where they found their favorite corduroys. And while you're probably wondering why you'd invest in pants that aren't sweatpants right now, many of our experts assure that these are every bit as soft and stretchy as your favorite loungewear.
Best corduroy pants under $75
Photo: Retailer
"Thirty-dollar corduroy pants that are both size inclusive and stylish? What more could you want?" asks Austen Tosone, beauty and fashion content creator at Keep Calm and Chiffon. She thinks these are an excellent alternative to denim and particularly likes the emerald green, calling it "perfect for fall." This pair goes up to a size 18 for regular sizes and 26W in plus sizes. The plus-size range is almost sold out, but there is a skinny fit still available in a wide size range.
Photo: Retailer
This budget buy also comes courtesy of Tosone. She describes these as being "perfect for women working from home who miss the office life," because they're slouchy enough for WFH but are nice enough to wear in professional settings (whenever we return to those). These corduroys are available in khaki and ecru, and Tosone is partial to the latter because it lends itself to "epic autumn styling," she says.
Photo: Retailer
"It's superhard to find good-quality corduroy pants, but these BDG cords stretch and are great for curvy girls," says Tyla-Lauren Gilmore, a digital content creator. BDG offers lots of different corduroy pants, including a flattering wide leg that comes in bubblegum pink and a slouchy retro-looking style in a pleasing teal, but this pair offers the most colors — from chartreuse, to bright blue, to dusty coral — and sizes go up to 34.
Photo: Retailer
And then, of course, there's Old Navy, which has previously been recommended to us as a great place to buy pants. Kristine Thompson, founder of Trendy Curvy, calls this pair a "classic corduroy pant." Because they're a pretty basic style — skinny with a neutral color and high waist — Thompson notes they "can be interchangeable with denim and add more dimension to your looks." They also come in tall and petite inseams and are available in straight sizes, too.
Photo: Retailer
Gilmore says, "Levi's always fit perfectly," and while the brand is better known for denim, she thinks its corduroys are just as good. This pair isn't identical to the ones she owns, but it has a similar high-rise fit and comes in the same burgundy color she thinks is "perfect for fall." Much like its jeans, Levi's offers four inseam options, and the cords also come in khaki and pink.
"I have always found that thin wale corduroys (especially slim-fitting ones with stretch) create the illusion of curvier, plumper thighs. Since that's not my goal, the only ones I feel confident wearing are a baggier vintage pair of high-waisted corduroys from L.L.Bean in the '90s," says Strategist writer Liza Corsillo, who describes these vintage ones on Etsy as "medium wale." As she explains, they're "not so thin as to look like velvet, but not so fat as to look like something the Big Lebowski would wear." While these aren't the exact pair she has — they're vintage, after all — she says these are pretty close and have the same pleating and high waist. "I pull them out as soon as the weather gets chilly, dressing them up with heeled No.6 loafers and white socks for a flirty-librarian look."
Best corduroy pants under $100
Strategist-favorite brand Everlane offers several corduroy options, but this wide-leg pair in particular received high praise from two of our resident Everlaneologists. Strategist staffer Mia Leimkuhler says that, while she doesn't own these cords yet, she's intrigued by their shape and stretch factor. "They look really soft and comfortable, and the wide-cut legs mean I can wear them over tights or leggings when it gets really cold," she says. Elizabeth DuBois, strategic account manager at Justworks, bought them after what she tells us was a long hunt for the perfect pair. "I couldn't really find any corduroy pants anywhere, which I find bizarre," she says. "They were such a thing when I was growing up." Finally she landed on these and loves them. "Cords are such a classic, and I feel a bit dressier when I wear this style," DuBois says, even though she's mostly just wearing them while working from home. She also confirms that they're just as comfortable as Leimkuhler predicted. This wide-leg pair comes in four different colors — acorn, black, blue, and sandstorm — and goes up to a size 16. The inseam is just under 29 inches, so if you're on the taller side, check out this pair that has a 31-inch inseam.