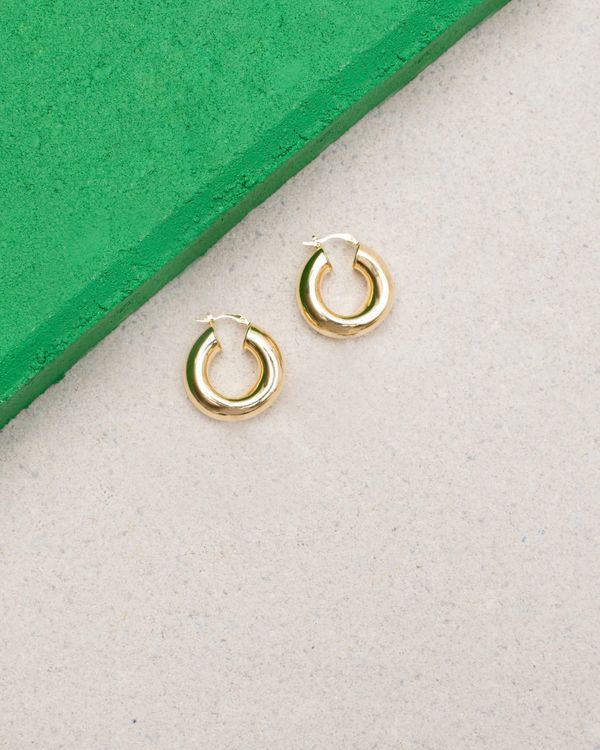 Recently, we checked in with trend forecasters about the gifts they anticipated would fly off the (virtual) shelves this holiday season. One response in particular was repeated by nearly all of them: gold jewelry. While it might sound like an obvious gift idea, the gold jewelry the forecasters were referring to was specifically layerable, "above the keyboard dressing friendly" (as in, something that will help you look a little more put-together on Zoom), and, importantly, relatively affordable. Thanks to the current boom in gold-filled, gold vermeil, and gold-plated jewelry, pieces that are almost indistinguishable from solid gold are widely available at a fraction of the price.
If you're not familiar with gold-plated or gold-filled jewelry, you might be wondering if it's … actually gold. Electric Picks, a New York–based brand known for making vintage-inspired pieces in the category, helpfully lays it out on its blog: gold-plated means that a layer of gold is applied over a metal base (often brass); gold vermeil refers to pieces made from genuine sterling silver that are plated with a thick layer of gold; and gold-filled means that the gold has been bonded with the base metal, so that gold is used both inside and outside the piece (making it the closest alternative to solid gold jewelry, at a much lower price). Pieces in any of the three categories often cost less than $100 — so to find out the best of what's out there, we reached out to stylish women to hear about their favorite necklaces, earrings, and bracelets.
Best gold-plated and gold-filled earrings
When it comes to very affordable gold vermeil earrings, Strategist writer Chloe Anello recommends these, which she likes so much she wore them to her sister's wedding. "They were so lightweight that I wore them from when I put them on in the morning until 10 or 11 at night with no issues," she says. The two-pack of earrings costs just $20, and includes earrings in small (.59 inches drop length) and medium (.78 inches drop length), making them ideal for those with multiple piercings who want to layer hoop sizes.
If you prefer something with a bit more texture, consider these gold vermeil hoops from Mejuri, which come recommended by Gabrielle Sabharwal, director of public relations for Aritzia, who wears these when she wants to "feel pulled together even though I'm totally not" on Zoom calls. "I've been a fan of Mejuri ever since it launched — as it offers great value to the customer, offering fine jewelry at fair pricing minus the markup," she says. "They also use real AAA stones and 18 karat gold plating on sterling silver, so you can't beat the quality for the price."
Strategist writer Dominique Pariso is a fan of Mejuri, as well, and has written about the brand's Editor Hoops, which she says she wears "pretty frequently to workout and in the shower, and they've held up remarkably well." According to Pariso, the price point of the earrings is part of what makes them so easy to wear all the time: "I've considered splurging on a vintage solid gold pair from New Top Jewelry or Popular Jewelry, but they were just too expensive — plus, I figured, I'd worry endlessly about losing those," she wrote last year. "The Mejuris, I realized as soon as I put them on, were the perfect earring solution: They have the look and heft of vintage gold (hence the constant compliments from friends and strangers alike), but they're comfortable for day-to-day wear (they are, in fact, gold vermeil, meaning they're made out of sterling silver and are coated with a thick layer of 18 karat gold)."
Photo: 20-02-26 Accessories AM1 B3 tedk
For days when a plain hoop won't suffice, take note from LPA designer Pia Baroncini, who loves the brand Eliou: "It's the fucking cutest shit," she says. "The designer is from Miami and lives in New York, and hand-makes everything in her apartment — I have every pair of hoops, especially all of the ones that have pearls on them." Baroncini says that if you want just a plain hoop, you can take the pearls off, but that the brand makes "a really good big, fat gold hoop," as well. "The big hoops are hollow so they're my favorite hoops to wear because they're so light," says Baroncini. She's a fan of the brand's necklaces too: "They're the only person I'll wear a necklace from that's not one of my dad's necklaces, or something." We're fans of this shell-and-pearl charm necklace from the brand.
If you prefer a small chunky hoop, consider this pair from Shashi, a favorite affordable jewelry line of candy artist Robyn Blair Davidson. "I love a small gold hoop when I want to dress up my everyday jewelry just a bit," she says. "Shashi is my go to for all reasonably priced, effortlessly cool pieces, like these hoops." Like the Eliou earrings, these are also hollow, making them comfortable enough to wear all day.
And if you really want a small hoop, you can't go wrong with Studs. I've written about them before, and will say it again: These are simply the best hoops for everyday wear if you have multiple ear piercings. The "huggie" style feels particularly secure on the ear, and the gold-plated material has never chipped or changed color in the months that I've worn them (or caused any irritation in my ears). The brand warns against wearing them to sleep or in the shower, but I've done both many times and the earrings still look as good as new.
Best gold-plated and gold-filled necklaces
When we talked to WGSN trend forecaster Ana Correa about gold necklaces, she told us "certain items like zodiac signs or protective charms are really on the rise." Stylist Jasmine Caccamo agrees, and suggests looking to Elise Paige jewelry for some affordable, glittering options. "A zodiac sign around your neck doesn't have to break the bank," she says. "Elise Paige makes super-affordable zodiacs that are petite and pretty, and come in a variety of metals. She's a fan of this pave number, which is made with 14 karat plated gold over a sterling-silver base and adorned with CZ gems.