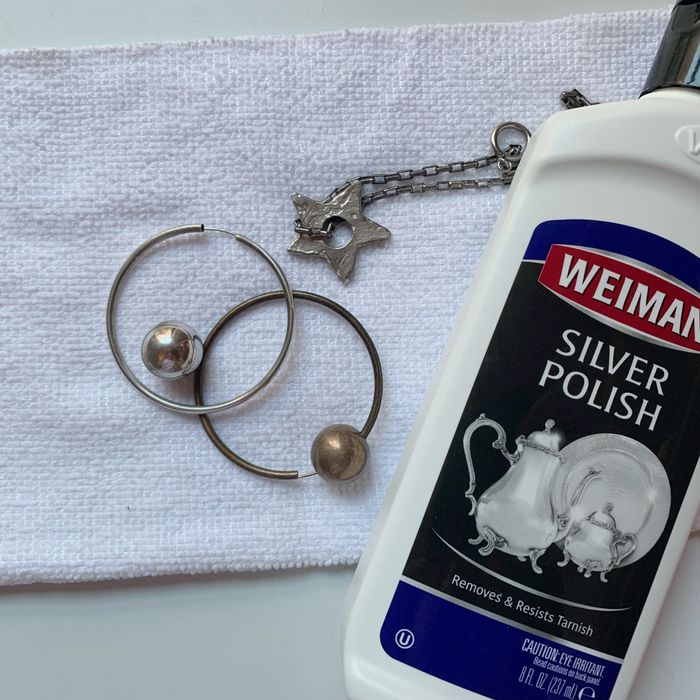 To get the most use out of your jewelry, you'll need to occasionally clean it. And although the process isn't as esoteric as it sounds, there isn't a one-size-fits-all solution: Different materials in jewelry have different needs — from porous organic gemstones like coral and pearl that need to be cleaned more delicately to scratch-prone metals like gold. The kinds of discoloration a cleaning will lift range from basic dirt and oils to the products of chemical reactions like tarnish or patina. It's important to know what you're dealing with — both the material and the type of cleaning you're trying to perform — before getting started.
Still, the experts we spoke to agree that cleaning doesn't have to be complicated, and it shouldn't be a deterrent to everyday wear. "If your jewelry is more metal-based, then soap and water — or even just your normal showering — should mostly do the trick," says Madison Snider, founder and lead designer of Fewer Finer. "The best way to keep your silver clean is to use it," says Anthony Mammon of Estate Silver Company. "Just from handling, washing, wiping, et cetera, the tarnish stays away, so the more you use it, the less you need to polish it."
Best overall | Best bargain | Best cream for silver | Best upgrade cream | Best wash | Best silver-polishing foam | Best multiuse | Best nontoxic | Best heavy-duty for silver | Best cloths | Best silver-polishing gloves | Best industrial ultrasonic
What we're looking for
Ultrasonic machine vs. analog: You may associate cleaning jewelry with a smelly polish, rags, and plenty of elbow grease, and while the hand-cleaning method works, a higher-tech alternative is an ultrasonic machine. These devices vibrate a tank of water or a cleaning solution with high-frequency waves, which create microscopic bubbles that remove debris from the items inside. The two main benefits of an ultrasonic cleaner are its ability to penetrate nooks and crannies — helpful for intricate jewelry and chains — and that it cleans through a physical rather than chemical process (although you can add a solution to the tank for a chemistry-powered clean). "If you have a lot of diamond jewelry, I think it is a good investment," says Snider. "There is no better way to get behind stones and settings."
Medium: The polishes on this list come in several formats — creams, pastes, foams, liquid solutions, and cloths. The best tool for the job depends on the jewelry, the level of grime or discoloration you're trying to lift, and how much time you want to devote to the process. For example, a foam cleaner might work best for penetrating nooks and crannies in an intricate ring setting; cloths treated with a cleaning compound may not be ideal for a heavy-duty job but work well for a quick spot clean. Cream cleaners take more elbow grease but offer more control on where to lift tarnish: According to Jim McConnaughy, senior vice-president of antiques store S.J. Shrubsole, "Some of the tarnish around and within the decoration should be left where it is; the contrast brings out the decoration very effectively."
Application: Most products on this list can be used on several kinds of metal, gemstones, or both — with the biggest division between products designed just for metal and products that can clean gemstones as well. Even within these categories, some materials need to be treated more gently. We've noted exceptions here, and if you're unsure about a product's suitability for a specific type of stone or metal, double-check the product page or contact the manufacturer.
Best overall jewelry cleaner
Photo: Retailer
Ultrasonic | All metals and gemstones
If you find yourself with a lot of jewelry to clean, this is your best bet. Although it won't remove tarnish from silver, it does just about everything else. An ultrasonic cleaner like this one uses ultrasonic waves to gently yet thoroughly clean jewelry with professional-looking results. You simply fill it with water and clean all your jewelry at once in minutes. It's also great for glasses and coins.