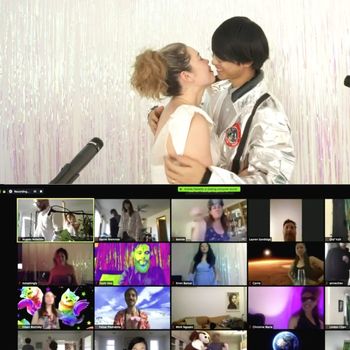 Photo: 4 moments from Sarah Shewey & Colin Ho's virtual wedding, April 25th, 2020
With no prediction of when we'll be able to host large gatherings again, many engaged couples are having to make alternate wedding plans. Some have pushed their wedding dates back in the hopes that they'll be able to celebrate in person in a matter of months, albeit with face masks and in smaller numbers. But others — whether they have elderly relatives, need shared health insurance ASAP, or just don't want to wait — are opting to stay the course and celebrate virtually. Zoom weddings may be lacking in physical affection, open bars, and the sweaty late-night fun of dancing the electric slide, but they're still weddings. And they're still memorable. Plus, they're much less expensive. (They're also an excuse to finally get out of that loungewear we've been living in since March.) To help you pull off a successful virtual wedding, one that feels romantic and special rather than desperate and exhausting, we talked to virtual wedding guests, couples who got married over Zoom, wedding photographers, and a wedding planner who helped her clients get married in their Brooklyn apartment on live TV. Here is their best advice:
Put someone else in charge
Throwing a virtual wedding is definitely less elaborate than, say, a destination wedding in Mexico. But it still takes a lot of organization to pull off. So you'll want to designate someone as your virtual wedding coordinator. That could be the same wedding planner you had hired before or a family member who's good at managing people and has an unlimited Zoom account. For Rhianna Savel and her husband, Santosh, who got married over Zoom in April, that person was a particularly tech-savvy uncle. "We ran through everything with him ahead of time," Savel says. He helped them choose the most photogenic spot in their apartment for the ceremony and organized rehearsals for the officiant, maid of honor, and best man in advance. He also took care of sending out the Zoom invite, recording the whole thing and taking screenshots, overseeing the waiting room, and unmuting certain people when it came time for speeches. Because the Savels had over a hundred guests on some 50 to 60 devices, their uncle also had the foresight to ask the bridal party and officiant to log on an hour before the ceremony so they would be easy to find on Zoom when it came time for them to speak or share their screens.
Organize pre- and post-wedding small-group hangs (and some private time)
Because large-group Zooms are exhausting, everyone we talked to suggests adding small hangouts with immediate family and close friends to the mix. Whether it's getting ready in the morning over FaceTime with your bridesmaids; sitting down to a meal with parents and siblings, rehearsal-dinner style; or playing virtual flip-cup with friends, hosting smaller, more casual gatherings gives you and your guests a chance to connect (and actually hear each other) in a more natural way. Sarah Shewey and her husband did small-group parties leading up to their wedding day with guests by table — including a virtual kids' table and a singles table, with whom they played a virtual version of the '90s Jenny McCarthy game show Singled Out. Actress Amanda Jane Cooper held a virtual rehearsal dinner the night before her wedding to introduce people who had never met. When it came to Cooper's dinner, cake, and first dance, they kept it really small. "It was just for the two of us, and it was one of the most special things. We still fed each other cake, we still ate a good meal, and then we just stood up and had our first dance together," says Cooper. The Savels started their day by exchanging vows alone in private and broke things up after the ceremony with an afternoon of phone calls and video chats to family, ending the night playing flip-cup over Zoom with friends. "It almost felt like being at a wedding and going around to each individual table talking to people and thanking them for coming," says Savel.
Take time to decorate
You don't need much to transform a corner of your home or your building's rooftop into a virtual wedding chapel — just be sure to shove any laundry or dog toys out of the shot. Ellen Hockley Harrison, founder of Greater Good Events, suggests focusing on decorations and symbolic things that really embody you as a couple. For her clients Julie Raskin and Matt Haicken, who got married live on their favorite morning TV show (Mornings on 1 with Pat Kiernan) in April, that thing was a mosaic of the Brooklyn Bridge and an improvised chuppah made out of a scarf pinned to the ceiling. "By fluke, they happened to have this beautiful Brooklyn bridge mosaic art piece in their living room," Harrison says. Depending on the amount of time you have to get something made, she suggests that couples look on Etsy for original decorative elements. Harrison says that could be a custom piece of artwork, a banner, or even matching embroidered jackets with your names on the back.
Shewey's backdrop was a clean white wall covered in iridescent tinsel. "We bought tons of this simple and cheap tinsel, and that was the backdrop for us," she says. The couple sent some of that same tinsel to all their guests to hang up in their homes so everyone would look like they were at the same party.
Do your own flowers
If you want to have a lot of flowers for your ceremony, Harrison says there are a lot of small local farmers who expected to be in the middle of a massive wedding season and now have a good amount of flower overstock. Harrison suggests contacting them and making your own floral wall hanging with chicken wire, floral tape, and command hooks. Here's how: Cut the chicken wire to your desired shape and size and affix it to the wall with command hooks. Then weave the stems of your flowers through the chicken wire covering the whole thing so you don't see any gaps and use the floral tape to help hold things in place.
You can also purchase real or faux botanical garlands to decorate a mantlepiece or a tabletop setup.
Check your AV setup ahead of time
To avoid any technical issues like a frozen bride and groom leaning in for a kiss, you should triple-check all of your equipment at least a week before the big day. The biggest thing is making sure your Wi-Fi won't cut out. Shewey, whose company, Happily, produces large-scale digital events, suggests doing what she did and upgrading your Wi-Fi service to a faster speed (you can always change it back afterward). She also recommends uploading a livestream of the ceremony to a wedding website so less tech-savvy guests can simply go somewhere and click play. Shewey used Vimeo livestream and was even able to integrate a stream of her guests in the Zoom grid.
Cooper and her husband got married on a roof where there was no Wi-Fi signal, so she used two iPhone hot spots to create a wireless connection. She also used a Bluetooth speaker to play intro music ahead of the ceremony to set the mood and give guests time to arrive.
Get a microphone …
To make sure your guests can hear your vows clearly, Savel suggests using a USB microphone like the one she plugged into her laptop and placed on a table closer to her and her husband out of sight. Savel's microphone was something cheap she already owned, but this one, which comes recommended by Strategist tech writer Jordan Bowman, isn't too expensive and will definitely do the trick.
… and a projector
Since you and your partner will be too busy to check out everyone on Zoom, marketing consultant Jennifer Machiaverna, who recently had a virtual wedding in Brooklyn, suggests projecting the app's grid view onto a wall to make it feel like your friends and family are in the same room. "It made us feel like we had an audience and could see everyone and their reactions instead of just staring at our screen," says Machiaverna. This one took the top spot in our people's-choice post on the best home projectors.
Don't forget the pictures
Wedding and portrait photographer Praise Santos suggests using a separate phone camera to take pictures outside of Zoom. She says all you need is a newer iPhone, a lens wipe to make sure the camera lens is clean, and a tripod that can hold the phone if you don't have a socially distant mask-wearing person with you. Santos has recently been shooting portraits of couples through FaceTime and says that if you set your phone up on a tripod and call a friend or a photographer on FaceTime, they can take photos through the app from their home during the ceremony. Santos says to ask them to use the live-photos setting in FaceTime, which takes multiple frames per shot and you can choose the best frames later.
To commemorate their wedding, Cooper also found a creative way to make the most of her iPhone photos: She had the best one turned into a painting on canvas.
Find (or buy) the right light
Because your guests will be seeing you through a screen the whole time, you should test the light through Zoom in your space at the time you're getting married to find the most flattering spot. Natural light is best, says Santos, but if setting up your Zoom so you're facing a window isn't possible, she suggests investing in a ring light like this one recommended by Santos. You should still do a few tests with the light and a friend or photographer over Zoom a few days ahead of time to work out any kinks.
Invite a surprise special guest
The most successful virtual weddings lean into the digital nature of the event in creative ways. That could be as simple as sharing a custom Zoom background for everyone to use or as elaborate as incorporating a Cameo celebrity appearance into some part of the wedding. Shewey and her husband used a Cameo to create an unforgettable virtual wedding invitation by hiring Japanese variety show performer Mr. Uekusa, who is famous for his comedic strip tease, to make it. And Savel says her husband's best men used it to spice up their speech. "My husband is a huge fantasy-football fan, so his best men shared their screen during their speech and played a Cameo of Steve Rannazzisi from The League congratulating us."
Hold on to tradition
Whatever you were looking forward to doing most at your in-person wedding you should try to include in your virtual one. All of the couples we spoke to stressed the importance of one or two highly specific things that made their wedding dreams come true.
Cooper always imagined her father walking her down the aisle. Since he couldn't be there in person, they made it happen via FaceTime. "I held my bouquet in my right hand, and in my left hand my dad was with me on a phone as I walked down the aisle. I wasn't able to squeeze his hand, but it meant so much that he was just there and I could glance down at his face," she says.
For couples not planning on having a virtual reception, Hoskins recommends asking close friends and family to stay online long enough to do a champagne toast or share a meal together. "I think that's a really nice way to commemorate the time and the moment. And I don't think that it needs to be anything big or fancy," she says. If you do want to make it a little fancy, you could send out bottles of your favorite champagne to your closest guests, like Shewey did, so you're all toasting with the same thing.
Machiaverna asked her friend Julia Brimelow, a brand strategist, for help pulling off a truly inspiring virtual bouquet toss. The morning of her wedding, Machiaverna called Brimelow with a request: Would Brimelow catch her bouquet? That set Brimelow on a mission to find flowers to match her friend's bridal bouquet from FDK Florals or come as close as possible in South Park Slope. When the time came, the bride tossed her bouquet over her shoulder (and off screen) as Brimelow made a show of catching hers. The trick was a huge success, and Brimelow calls it "the best day of the pandemic, by far."
The Strategist is designed to surface the most useful, expert recommendations for things to buy across the vast e-commerce landscape. Some of our latest conquests include the best acne treatments, rolling luggage, pillows for side sleepers, natural anxiety remedies, and bath towels. We update links when possible, but note that deals can expire and all prices are subject to change.