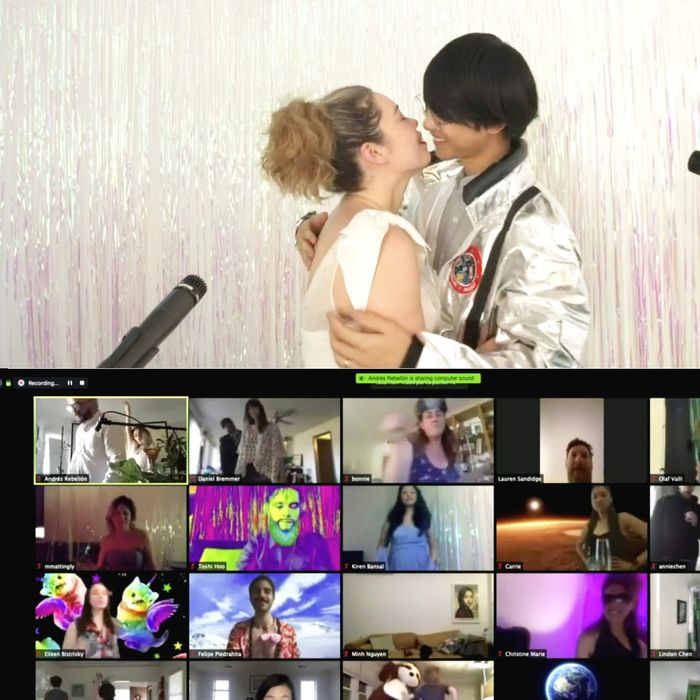 Photo: 4 moments from Sarah Shewey & Colin Ho's virtual wedding, April 25th, 2020
With no prediction of when we'll be able to host large gatherings again, many engaged couples are having to make alternate wedding plans. Some have pushed their wedding dates back in the hopes that they'll be able to celebrate in person in a matter of months, albeit with face masks and in smaller numbers. But others — whether they have elderly relatives, need shared health insurance ASAP, or just don't want to wait — are opting to stay the course and celebrate virtually. Zoom weddings may be lacking in physical affection, open bars, and the sweaty late-night fun of dancing the electric slide, but they're still weddings. And they're still memorable. Plus, they're much less expensive. (They're also an excuse to finally get out of that loungewear we've been living in since March.) To help you pull off a successful virtual wedding, one that feels romantic and special rather than desperate and exhausting, we talked to virtual wedding guests, couples who got married over Zoom, wedding photographers, and a wedding planner who helped her clients get married in their Brooklyn apartment on live TV. Here is their best advice:
Put someone else in charge
Throwing a virtual wedding is definitely less elaborate than, say, a destination wedding in Mexico. But it still takes a lot of organization to pull off. So you'll want to designate someone as your virtual wedding coordinator. That could be the same wedding planner you had hired before or a family member who's good at managing people and has an unlimited Zoom account. For Rhianna Savel and her husband, Santosh, who got married over Zoom in April, that person was a particularly tech-savvy uncle. "We ran through everything with him ahead of time," Savel says. He helped them choose the most photogenic spot in their apartment for the ceremony and organized rehearsals for the officiant, maid of honor, and best man in advance. He also took care of sending out the Zoom invite, recording the whole thing and taking screenshots, overseeing the waiting room, and unmuting certain people when it came time for speeches. Because the Savels had over a hundred guests on some 50 to 60 devices, their uncle also had the foresight to ask the bridal party and officiant to log on an hour before the ceremony so they would be easy to find on Zoom when it came time for them to speak or share their screens.
Organize pre- and post-wedding small-group hangs (and some private time)
Because large-group Zooms are exhausting, everyone we talked to suggests adding small hangouts with immediate family and close friends to the mix. Whether it's getting ready in the morning over FaceTime with your bridesmaids; sitting down to a meal with parents and siblings, rehearsal-dinner style; or playing virtual flip-cup with friends, hosting smaller, more casual gatherings gives you and your guests a chance to connect (and actually hear each other) in a more natural way. Sarah Shewey and her husband did small-group parties leading up to their wedding day with guests by table — including a virtual kids' table and a singles table, with whom they played a virtual version of the '90s Jenny McCarthy game show Singled Out. Actress Amanda Jane Cooper held a virtual rehearsal dinner the night before her wedding to introduce people who had never met. When it came to Cooper's dinner, cake, and first dance, they kept it really small. "It was just for the two of us, and it was one of the most special things. We still fed each other cake, we still ate a good meal, and then we just stood up and had our first dance together," says Cooper. The Savels started their day by exchanging vows alone in private and broke things up after the ceremony with an afternoon of phone calls and video chats to family, ending the night playing flip-cup over Zoom with friends. "It almost felt like being at a wedding and going around to each individual table talking to people and thanking them for coming," says Savel.
Take time to decorate
You don't need much to transform a corner of your home or your building's rooftop into a virtual wedding chapel — just be sure to shove any laundry or dog toys out of the shot. Ellen Hockley Harrison, founder of Greater Good Events, suggests focusing on decorations and symbolic things that really embody you as a couple. For her clients Julie Raskin and Matt Haicken, who got married live on their favorite morning TV show (Mornings on 1 with Pat Kiernan) in April, that thing was a mosaic of the Brooklyn Bridge and an improvised chuppah made out of a scarf pinned to the ceiling. "By fluke, they happened to have this beautiful Brooklyn bridge mosaic art piece in their living room," Harrison says. Depending on the amount of time you have to get something made, she suggests that couples look on Etsy for original decorative elements. Harrison says that could be a custom piece of artwork, a banner, or even matching embroidered jackets with your names on the back.