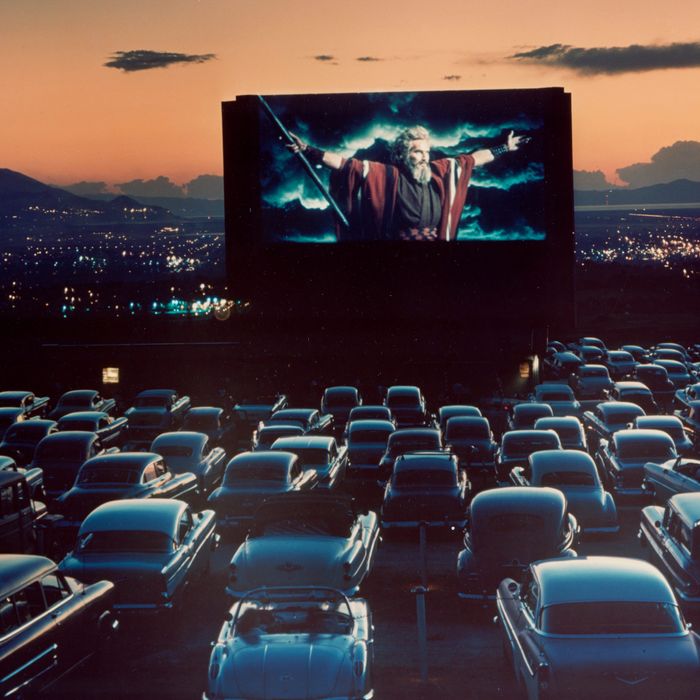 Photo: J. R. Eyerman/The LIFE Picture Collection/Getty
Here at the Strategist, we like to think of ourselves as crazy (in the good way) about the stuff we buy, but as much as we'd like to, we can't try everything. Which is why we have People's Choice, in which we find the best-reviewed products and single out the most convincing ones. (You can learn more about our rating system and how we pick each item here.)
And while we've written before about all sorts of home-theater equipment — including the best mini-projectors, universal remotes, and TVs under $1,000 — here we've rounded up the best home projectors as praised by the most enthusiastic reviewers on Amazon.
Best-rated home projector
With close to 800 five-star reviews, this home projector from ViewSonic gets praised for striking the right balance between price and performance. "Overall, a complete upgrade for less than $500," writes one purchaser. "I am blown away by the picture quality and the color depth it puts out," says another. Some reviewers note that this model costs more than they hoped to spend on an entry-level projector, but as one puts it, "In short, you get what you pay for. I was trying to save a little with a cheap [sub $100] LED projector, but it was too dim and the focus gets blurry. Seriously, don't waste your time. If you want something that will work well with ambient light, and is sharp and crystal clear, this is the move." Happy purchasers also rave about the easy setup, brightness, and attractive price. One sums it up: "Great picture. Easy setup and operation. If you want a great indoor/outdoor projector without breaking the bank, this is the one to buy."
Best-rated (less expensive) home projector
"Surpassed my expectations 110 percent," writes one purchaser, who, along with many others, finds it hard to believe how well this projector performs for such a low price. "I have to admit, I was really impressed with the quality because to be honest I wasn't expecting much," says one reviewer. Another excitedly adds, "It's almost as good as my $350 Epson projector." Purchasers say "it gets the job done" and then some, and they love the included stand, remote, and built-in speaker system. Put simply, "an outstanding choice at a great price."
And now, some micro-picks for every type of home projector you might be looking for.
Best HD 1080p home projector
This BenQ projector seems to satisfy home theatre buffs who want full 1080p HD resolution, because "1080p makes such a big difference," as one purchaser writes. Multiple reviewers say the projector displays an image that's "bright" and "crisp" enough to rival any TV, and according to at least one user, it maintains its resolution even when projecting on large walls "in the middle of the day." "It's like having a 110-inch TV," one writes, while another adds, "I'm never going back to using a TV in my living room again." Close to a dozen purchasers also praise the projector's "quiet fan," a small feature, but one they really appreciate. "It's incredibly quiet. We don't have it mounted on the ceiling yet, so we're sitting right next to it and we can't even hear the fan going at all."
Best 4K home projector
Purchasers who want the absolute sharpest picture quality possible rave about this ViewSonic projector with 4K resolution. "I can't believe the difference in resolution between this 4K projector and my old 1080p," writes one purchaser. Another impressed customer explains, "My old 1080p Epson did a decent job, but it'll be nearly impossible going back after seeing 4K at this size. With the Epson, I could pick out the pixels from the couch on test and menu items but with this ViewSonic 4K, I can barely see any pixels when standing a foot away from the screen. It's awesome." And while no one is calling this projector a bargain, purchasers feel they get a lot for their money with it. "Easily compares to a $5,000 Samsung unit," writes one. Another chimes in, "I can't believe the color and brightness I got here for $1,000."
Best home projector for outdoor movies
Many purchasers bought this VANKYO projector specifically for outdoor "movie nights," and it gets high marks for use in the yard or by the pool. "It's bright enough where I can start the outdoor movies before the sun has completely set," writes one purchaser, noting, "With my old projector I had to wait until it was almost dark, and the kids would fall asleep. Summer movies will have an earlier start time this year, we might actually get in a double feature on some nights." Dozens also note that included carrying case, designed to hold the projector and all necessary cables, is a great addition: "It's a huge bonus because we use the projector outside and need to store it indoors when not in use."
Best home projector for video games
If you're looking for a gaming projector, over 50 five-star reviewers say this is the one to get. "Latency while gaming is amazing," writes one purchaser. "If you've never played games on a 100-inch screen then prepare to be amazed." The key feature is its "low input lag," as one purchaser explains. "Input lag is what makes your controller seem out of sync with your TV, like when you hit a button on the controller to make your character do something and there is a delay before your character on screen actually executes that command." One reviewer describes "purchasing and testing seven different projectors" before settling on this one because it has "zero latency issues for fast gaming." And that means it'll also be great for other uses, because, "If a projector can handle fast gaming, then movies will not be an issue."
Best short-throw home projector
Purchasers recommend this Optoma model for anyone in need of a "short throw" projector that can cast out a wide image even when positioned close to the wall or screen. As one purchaser writes, "I'm amazed at the size of the screen this projector is able to make from just over a couple of feet away." One warns that it can take a little while to find the right positioning, since the projector is so efficient at throwing out at image. "one to two inches is comparable to one to two feet with a non-short-throw projector," they say, but once you get it down, you'll be in great shape: "I have an eight-foot screen and the projector is about three feet away."