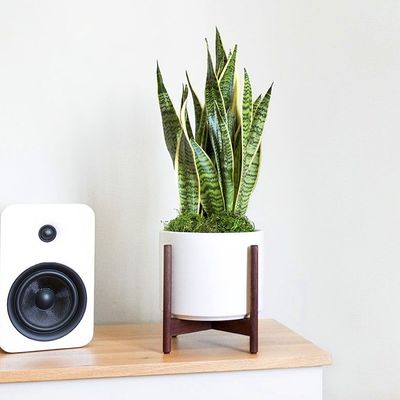 One of the nine snake plants we ordered.
Photo: Courtesy Leon and George
It's become as easy to buy a plant online as it is to order a new pair of sandals or a book, and as a result, there's been something of an explosion in the number of places to buy plants on the internet. We've used Amazon's Plants Store before, but we wanted to find out, once and for all, if some of the other, direct-to-consumer (often more expensive) options are actually worth it. So we dug deep and ended up ordering nine snake plants from nine different online greenery and plant retailers.
A bit about our methodology: We focused on merchants that sell houseplants and indoor plants, rather than flower bouquets or garden shrubbery. That's also why we excluded succulent-only shops. To be included in our testing, the retailer must ship nationally and, finally, the potted plant must be delivered to your home, not a nursery or secondary pickup point. After narrowing the field to nine vendors, we combed through their inventories to find a control for this experiment, one type of plant that we could order from each for ease of comparison. The only houseplant sold at all of them was the snake plant, which was fine by us. It's a low-maintenance plant that we've written about before because, according to experts, it's an excellent plant for the office.
With that, we placed our orders and kept notes as the snake plants trickled in to the office over the next two weeks. As each plant arrived, we judged it on three criteria and gave it a numerical rating between 1 and 5:
Shipping: How long did it take for the plant to show up? What was the condition of the packaging? Did the plant seem secure? Was the packaging plastic-free?
Plant Quality and Health: How does the plant look? Did it get damaged in transit? Is it healthy, green, and vibrant or chewed up, yellowed, and wilting?
Care Instructions: Did the merchant offer any additional information about how to take care of your new plant? Is there contact information for the company, a way to reach out with questions about plant care (or customer-service complaints)?
Below, four of our favorite places to buy houseplants online.
Best place to buy a cheap (but surprisingly nice) houseplant
Shipping: 5 | Plant Quality: 5 | Care Instructions: 3
Yes, Amazon is an actually excellent place to buy a plant. It's cheap, it's fast, and the plant itself looks great. There are several third-party merchants that supply Amazon's Plants Store, and we went with the snake plant from Costa Farms, because that is where writer David Notis purchased his fiddle-leaf fig tree to great success. And our experience with the snake plant was very similar to his with the fiddle-leaf fig. The Amazon package was the first to arrive, a speedy two days after placing the order, and the cardboard box was well marked with warnings about what was inside and how to best ship it: "Perishable, Rush, Live Plants, Keep From Heat and Frost, Handle With Care." The plant itself was wrapped in brown paper and supported by two bamboo sticks, and upon pulling it out, it looked fantastic, especially given the price.
However, I wanted to know if this shipping success was due to Amazon or the third-party retailer. It turns out the Florida-based Costa Farms also supplies plants to other large retailers, like Home Depot and Lowe's. So we ordered a second Costa Farms snake plant from Home Depot, and the result was very different. The package arrived in four days, not two, and though the plant itself looked about as healthy as the one from Amazon, but with some scratches on the top leaves, both the cardboard box and nursery pot were mangled. Plus, the plant from the not-Amazon retailer was about $7 more expensive after tax and shipping.
So it is Amazon that reigns supreme for convenience and cost. The one downside of going this route, however, is that no one's there to hold your hand once your new plant arrives. There were minimal care instructions, tucked in between the leaves of the snake plant, with tips like, "Low water needs." (However, there was a second sheet of paper that listed a phone number and email address to contact in case "your plant shows any damage due to shipping delays, cold temperatures, or a rough ride.") The snake plant also arrived in a plastic nursery pot, which means you'll have to buy potting soil and a big-enough planter and repot it yourself before you display it.
TL;DR: If you're looking for a good value, and trying to maximize the amount of plant you're getting for your money, Amazon is the way to go. But don't expect any assistance once it arrives.
Some other plants to buy on Amazon
Best place to buy houseplants if you need some help
[Editor's note: This Snake Plant Zeylanica is currently sold out, but you can join the waitlist to get notified when it's back in stock. Note that it's no longer available in a grow pot; it now comes a ceramic planter. The similar Snake Plant Laurenti is still available in a grow pot though, and it is in stock, starting at $24.]
Shipping: 4 | Plant Quality: 5 | Care Instructions: 4
If you're looking for a little more guidance than what's offered by retailers on Amazon, or you want to browse a more curated selection of indoor plants, we found the Sill to be a solid, and relatively cost-effective, option. The shipping was about as quick as Amazon, arriving three days after ordering instead of two, but we docked a point for shipping because the plant was sent on its side and was wrapped in plastic bubble wrap. (However, that was still better than the snake plant that we ordered from Greenery NYC, which cost about the same as the plant from the Sill but relied on packing peanuts for protection, a huge downside the cleanliness of the office, even more so than spilled dirt from the sideways Sill's planter. [Editor's Note: An earlier version of this story referred to the packing peanuts as styrofoam, but Greenery NYC reached out to say they are made of biodegradable starch. However, it should be noted there was no indication in the packaging that the packing peanuts were not made of styrofoam.]) We were also impressed by the little hand warmers taped to the sides of the planter to keep the roots warm during cold-weather shipping.
The plant itself was cheaper than the one we purchased from Amazon, though about half the size. The main appeal of the Sill over Amazon, however, is the instructions for care, which are detailed and come on a handy piece of card stock. In addition to suggestions on how often to water your plant, there's guidance to troubleshoot problems and help you diagnose whether you're overwatering or underwatering your snake plant under the header "Sad Plant Signs." Like Amazon, the Sill is also a one-stop shop for your plant needs, with planters and other accessories, but unlike Amazon, it's curated, and you can order a plant potted in one of its stylish pots, one of which, the Dolores, looks very much like the status-y Areaware stacked porcelain planter. And given how nice the snake plant in a nursery pot looked, we'd hope the planted one would be just as hearty.
TL;DR: The Sill is our pick for the person looking for a more full-service plant-buying experience — like a help desk to answer questions or the option to buy a stylish planter — but who doesn't want to spend too much.
Some other plants to buy from the Sill
Best place to buy houseplants if you don't know anything
Shipping: 4 | Plant Quality: 5 | Care Instructions: 5
If the idea of repotting a plant is enough to turn you off from ever purchasing something green, then you'll probably like Bloomscape. The Detroit-based greenery company is on the other end of the spectrum from Amazon in a lot of ways, most noticeably in price. Bloomscape's 36-inch snake plant cost almost $165 after tax; that's over four times the price of a snake plant of a comparable size from Amazon. But even though the snake plant from Bloomscape was the most expensive of the nine that we bought, it felt like the best value for the amount we spent. (To put it in some perspective: We bought one 14-inch potted snake plant in a teak pot from Terrain that cost almost $130, and Water and Light sold us a similarly sized plant in the nursery pot for $105 that took about two weeks to show up.)
The big selling point is that Bloomscape sends plants already potted in ceramic-looking planters, not grow pots. That means there's no repotting required, and when the plant shows up, you just unbox it and plop it down. (The company calls this "living room ready.") The planter it arrived in was pretty neutral and simple yet handsome — and still not too heavy to move around.
Bloomscape also offers the most in-depth and clearest instructions, which is especially useful for plant neophytes. The cards tell you how, exactly, to unwrap the plant, and offer specific light and water requirements, even explaining how to water the plant correctly. And the instructions included a little note about toxicity that I didn't see in any other merchant's literature. (Apparently, the snake plant is "mildly toxic" to pets and humans if ingested, so watch out, please.) Best of all, these instructions were wrapped in a transparent plastic envelope, so they weren't damaged or waterlogged when I got around to reading them. And if I did have a problem that wasn't addressed by the literature included, I could count on Bloomscape's all-encompassing customer service. You can send them a tweet, chat online, or email the official plant mom, who promises to respond within 24 hours.
TL;DR: Bloomscape is the most comprehensive online retailer for those who know they want something green but don't know where to start or how. You're paying a premium, but you're getting your money's worth with a high-quality plant in a high-quality planter with excellent customer service to boot.
Some other plants to buy from Bloomscape
Best place to buy unique houseplants


Shipping: 4 | Plant Quality: 3 | Care Instructions: 4
Like the Sill, Leon and George is a San Francisco–based greenery start-up, and like Bloomscape, it sells already-planted houseplants. But there's something about the snake plant that arrived from Leon and George that just charmed us. It started with the cardboard box, which had a unique cardboard insert with the company's initials cut out to support the plant during shipment. The wide, squat ceramic planter looked the most hefty, almost like marble, and left plenty of room for the plant to grow. And though the quality of the snake plant we received wasn't the best — since there were some chewed-up and torn leaf edges — it was also a slightly different variety of snake plant than the others. There were also clear instructions packaged in, in a little booklet that anthropomorphized the plant: "I'm unique and do well in bright or low light." Between the friendly encouragement — "You can do this! For the love of your plant, stay curious and observant" — and the email address for Leon and George's plant doctor to help answer any questions or troubleshoot issues, I felt supported in my new life as a plant person.
TL;DR: Leon and George is a good place to go for a plant that might be a bit more unique, or for those who want an even more curated selection, without sacrificing customer service or convenience.
Some other plants to buy at Leon and George
The Strategist is designed to surface the most useful, expert recommendations for things to buy across the vast e-commerce landscape. Some of our latest conquests include the best acne treatments, rolling luggage, pillows for side sleepers, natural anxiety remedies, and bath towels. We update links when possible, but note that deals can expire and all prices are subject to change.