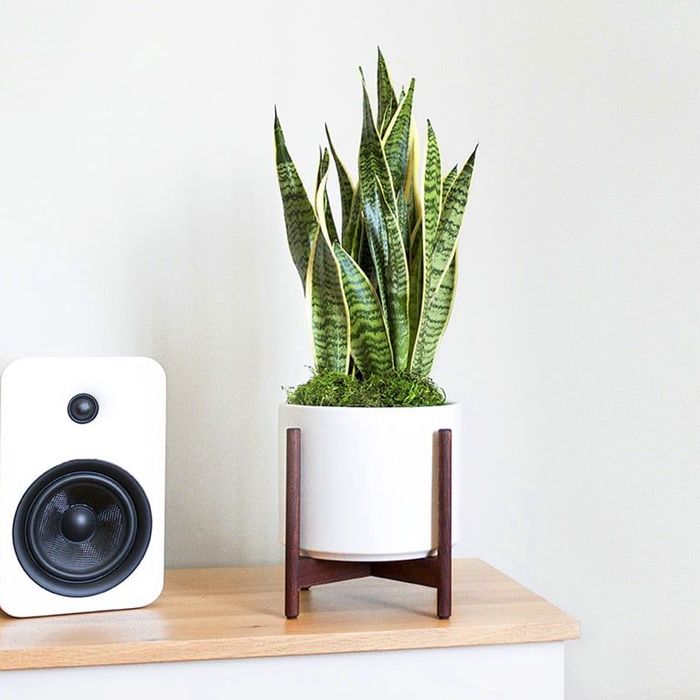 One of the nine snake plants we ordered.
Photo: Courtesy Leon and George
It's become as easy to buy a plant online as it is to order a new pair of sandals or a book, and as a result, there's been something of an explosion in the number of places to buy plants on the internet. We've used Amazon's Plants Store before, but we wanted to find out, once and for all, if some of the other, direct-to-consumer (often more expensive) options are actually worth it. So we dug deep and ended up ordering nine snake plants from nine different online greenery and plant retailers.
A bit about our methodology: We focused on merchants that sell houseplants and indoor plants, rather than flower bouquets or garden shrubbery. That's also why we excluded succulent-only shops. To be included in our testing, the retailer must ship nationally and, finally, the potted plant must be delivered to your home, not a nursery or secondary pickup point. After narrowing the field to nine vendors, we combed through their inventories to find a control for this experiment, one type of plant that we could order from each for ease of comparison. The only houseplant sold at all of them was the snake plant, which was fine by us. It's a low-maintenance plant that we've written about before because, according to experts, it's an excellent plant for the office.
With that, we placed our orders and kept notes as the snake plants trickled in to the office over the next two weeks. As each plant arrived, we judged it on three criteria and gave it a numerical rating between 1 and 5:
Shipping: How long did it take for the plant to show up? What was the condition of the packaging? Did the plant seem secure? Was the packaging plastic-free?
Plant Quality and Health: How does the plant look? Did it get damaged in transit? Is it healthy, green, and vibrant or chewed up, yellowed, and wilting?
Care Instructions: Did the merchant offer any additional information about how to take care of your new plant? Is there contact information for the company, a way to reach out with questions about plant care (or customer-service complaints)?
Below, four of our favorite places to buy houseplants online.
Best place to buy a cheap (but surprisingly nice) houseplant
Shipping: 5 | Plant Quality: 5 | Care Instructions: 3
Yes, Amazon is an actually excellent place to buy a plant. It's cheap, it's fast, and the plant itself looks great. There are several third-party merchants that supply Amazon's Plants Store, and we went with the snake plant from Costa Farms, because that is where writer David Notis purchased his fiddle-leaf fig tree to great success. And our experience with the snake plant was very similar to his with the fiddle-leaf fig. The Amazon package was the first to arrive, a speedy two days after placing the order, and the cardboard box was well marked with warnings about what was inside and how to best ship it: "Perishable, Rush, Live Plants, Keep From Heat and Frost, Handle With Care." The plant itself was wrapped in brown paper and supported by two bamboo sticks, and upon pulling it out, it looked fantastic, especially given the price.
However, I wanted to know if this shipping success was due to Amazon or the third-party retailer. It turns out the Florida-based Costa Farms also supplies plants to other large retailers, like Home Depot and Lowe's. So we ordered a second Costa Farms snake plant from Home Depot, and the result was very different. The package arrived in four days, not two, and though the plant itself looked about as healthy as the one from Amazon, but with some scratches on the top leaves, both the cardboard box and nursery pot were mangled. Plus, the plant from the not-Amazon retailer was about $7 more expensive after tax and shipping.
So it is Amazon that reigns supreme for convenience and cost. The one downside of going this route, however, is that no one's there to hold your hand once your new plant arrives. There were minimal care instructions, tucked in between the leaves of the snake plant, with tips like, "Low water needs." (However, there was a second sheet of paper that listed a phone number and email address to contact in case "your plant shows any damage due to shipping delays, cold temperatures, or a rough ride.") The snake plant also arrived in a plastic nursery pot, which means you'll have to buy potting soil and a big-enough planter and repot it yourself before you display it.
TL;DR: If you're looking for a good value, and trying to maximize the amount of plant you're getting for your money, Amazon is the way to go. But don't expect any assistance once it arrives.
Some other plants to buy on Amazon