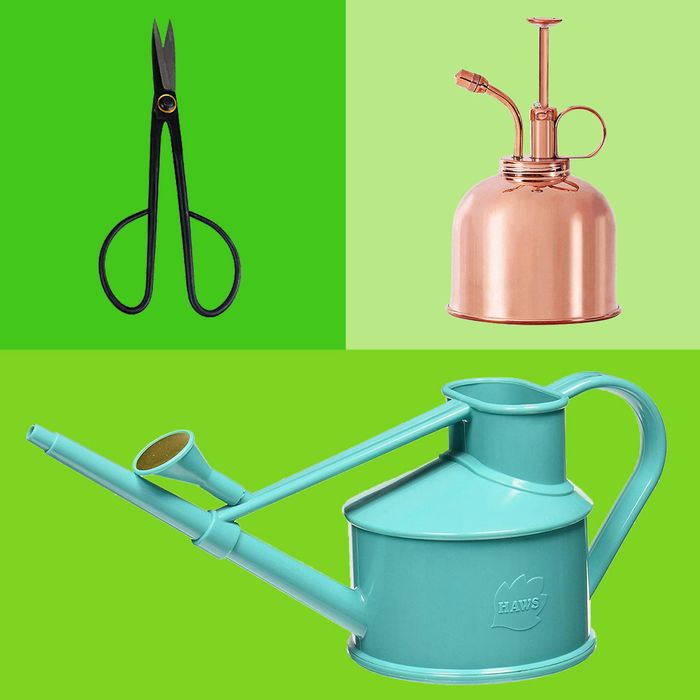 These days, who among us isn't an indoor gardener? New plant stores — both online and brick and mortar — are seemingly popping up all the time. On Instagram, plantfluencers are posting envy-inducing photos of their setups, from #monsteramonday through #sansveriasunday. And as anyone who has dipped their toes into the world of plant parenthood knows, once you get one, you're probably going to want more. Plants just look kind of sad without company, and it's only natural to want to expand your repertoire.
Like with any other hobby, the world of indoor gardening includes a wide range of accessories available for every skill level, interest, and budget, because once you start to get attached to your plants, you're going to want the right tools to take care of them. To get you started, we've rounded up 24 favorite affordable (but expensive-looking) plant accessories on Amazon — from watering cans to misters to pots to stands and more — from our catalogue of plant articles. Whether you're buying them for yourself or as a gift, you should still have some cash left for what's most important: the actual plants.
Watering cans and misters
Founded in 1886, the English company Haws is one of the most iconic names in gardening, famous for its handmade metal watering cans. We previously investigated how its copper watering can amassed a cult following of indoor gardeners (including Martha Stewart). While we love that status watering can, it's more than $100. For something with a very similar look that channels the same horticultural heritage, Haws' plastic "handy" can is a great option. It comes in a bunch of fun colors like this vibrant teal.
If you're in the market for brass, though, we like the simplicity of this Kikkerland one that looks three times more expensive than it is.
Here's another metal watering can with the same shape, but in a charming, sunny color.
Burgon and Ball is also an English gardening brand with a lot of history. It produced a series of watering cans for a gift collection with the Royal Horticultural Society, and we are very into the hyperrealistic floral design on this one. It's made from galvanized steel for durability, and the long and narrow spout should help with watering those hard-to-reach pots.
It's a little more expensive, but we had to include Burgon and Ball's handsome powder-coated steel watering can, too, for the minimalist plant parents who might prefer it over the patterned one above.
Everyone has a brass mister. (Okay, not everyone, but you know what we mean.) Stand out from the crowd with this copper mister that's as photogenic as it is functional. We featured a similar mister (just in brass) in our roundup of the best plant misters.
A similar mister, but with a vintage-looking glass bottle and matte gold hardware.
Pots and planters
We are kind of obsessed with this trio of mini terrazzo pots with bamboo trays.
From the Sill, a lookalike to Areaware's "stacked porcelain" status planter.
These miniature coated-steel pots (which match Burgon and Ball's galvanized-steel watering can above) are designed for herbs, but they would work just as well for small plants and succulents. The included tray keeps everything neat and organized.
This ceramic planter, with its dusty rose color and roughly etched geometric pattern, looks like something you'd be pick up in Sante Fe. It would certainly work well with any sort of houseplant, but we are getting a cactus vibe from this one.
To "dress up" a plastic grow pot, or to add more of a rustic look to your décor, consider this 12-inch wide jute planter that is practically begging for a fiddle-leaf fig.
A very good price for a wooden stand–and–ceramic planter combo. The legs lift the pot a foot off the ground and the pot itself is 9.5 inches in diameter.
If you're into propagating plants from cuttings, this desktop stand would be a nice place to start. The clear glass bulbs really showcase those baby roots as they grow and ensure they can get all the light they need. In addition to the double-bulb set, it's available with just one bulb or with as many as three.