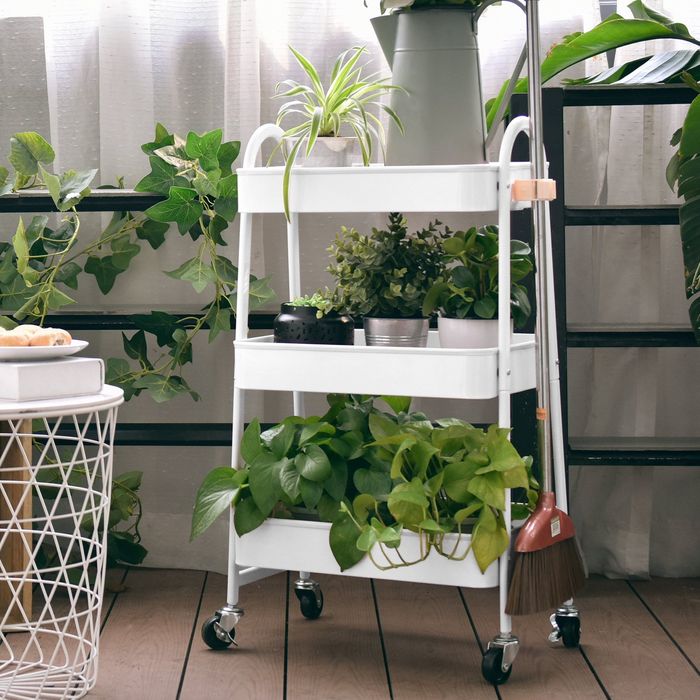 Photo: Courtesy of the retailer
Traditional plant stands basically seem to come in two styles: those mid-century-modern ones that stay low to the ground and fit just one big pot and the more bookshelf-style bamboo units with a few shelves that can hold a bunch of smaller plants. These conventional options can be good-looking and super-functional, but they're also a bit limiting. Thankfully, a plant stand can really be any object you can place a plant on, and one sweep of the internet will reveal that you can put plants on lots of things.
If you have a medium-size plant teetering off the edge of your windowsill, why not put it on top of a stool instead, or a clear acrylic sculpture stand, or a Roman-style column? If you're a bit of a plant hoarder, with every square inch of floor and table surfaces covered by them, you can use rolling utility carts, shoe benches, or leaning bookcases to better organize your collection. No matter what kind of "stand" you choose, though, you'll want something that has an open design to let in light and that can support a decent amount of weight and hold up to the occasional water spill. Below, we rounded up some plant stands we like — along with some end tables, step stools, art-supply carts, wooden crates, and more things you can also definitely put plants on.
Actual plant stands
With a bottom shelf that's only 12.6 inches square and progressively narrower middle and top shelves, this plant stand has a small footprint but can still hold a few medium-size plants. The top shelf would be great for a pothos or another hanging plant.
This style is everywhere for good reason. Mkono's 12-inch wooden stand unfortunately does not come with the white pot shown here, but it will work with any pot that's 10 to 12 inches in diameter. You can also flip the stand over to switch between two height options.
This three-tier foldable plant stand could easily fit a dozen small or medium-size plants. It's 27.6 inches wide, with shelves that get progressively less deep. Plus its naturally water-resistant bamboo material would work well indoors or out.
Sometimes there's only one corner that gets just the right amount of light. Or maybe a tight corner has the only floor space you can spare. Either way, this smartly designed plant stand lets you use your free corner space as plant storage. And with six shelves, all at different heights, you can experiment with various arrangements.
Pedestals that could be plant stands
If you want to make sure people understand just how much you love your ZZ plant, consider placing it atop this Corinthian-style column. This thing is heavy-duty: Weighing in at about 40 pounds, it's just over 28 inches high.
A clear acrylic sculpture-display pedestal for a very special plant. It's just shy of three feet tall and has a 12-inch-square footprint, so it won't take up much space.
This set of two simple, low pedestals would work well as tabletop plant stands. Each has a 6-inch diameter; the shorter one is 2.3-inches high, and the taller one is 4.6-inches.
Utility carts that could be plant stands
Metal utility carts make great plant stands because they're durable and the multiple shelves provide plenty of space. You could even hang a watering can or mister off the side with a hook. The attached wheels mean you can move the carts around for easy watering by the sink or to find the best light. The shelves on this model get slightly smaller as they go up, but each is roughly 16 inches by 11.5 inches, and the product description notes a "load capacity of 22 pounds" per shelf. Plus two of its wheels have locking casters, so it won't roll away when you aren't looking.
A similar idea but in a fun turquoise finish. The shelves on this cart are all the same size — 16 inches by 12 inches — and it has two locking wheels.
If you want more of an industrial look or need more storage space and load-bearing capacity, this utility cart — in a striking cobalt blue — is a good heavier-duty option.
Here's a rounded take on the utility-cart-as-plant-stand concept. This one's a little smaller and easier to squeeze into tight spaces, and it would be great in a home with little ones whom you want to keep away from sharp-cornered furniture.
Stools that could be plant stands
Speaking of little ones, we've written about this set of bright, kid-and-adult-friendly stacking stools before. Beyond being great to have on hand for extra, easy-to-store seating, each stool (or all) would nicely double as a more unexpected plant stand.
If you're into the stool-as-plant-stand thing but prefer a more minimalist aesthetic, here's a set of simple wooden ones you can use the same way as those above.
End tables that could be plant stands
This geometric wood end table folds flat for easy storage, making it a great option for smaller spaces.
With four thin hairpin legs and a thick wood top, this end table would make another interesting-looking plant stand. The top is 16.9 inches square, so it could fit a bigger pot. At a relatively low 21 inches tall, it's something of a middle ground between the mid-century-modern Mkono stand and some of the taller pedestal-style stands.
This 20-inch-tall end table is almost the same height as the one above, and the all-metal construction and removable tray make it super-easy to clean.
We're very into Japanese brand Yamazaki Home's wall ladder, and this end table has that same clean design. Unlike most of the options on the list, this one is long and narrow — 17 inches by 7 inches — so it's probably best for a row of small pots or maybe a single orchid. You could use the bottom shelf to store supplies.
Storage units that could be plant stands
At 41.7 inches long and 43.5 inches high, this unit offers a lot of space to display plants. The dynamic layout makes it easy to customize your setup, so this could easily hold speakers, books, storage baskets, and more as well.
Shoe benches can make good plant stands. This one is designed to support a seated person, so it should be sturdy enough for even the heaviest pots. At 44.1 inches long and 17.7 inches high, it's wide and low, so you could put a taller plant on the shorter shelf and a few medium-size plants along the top and still use the bottom shelves to store your shoes or other stuff.
More things that could be plant stands