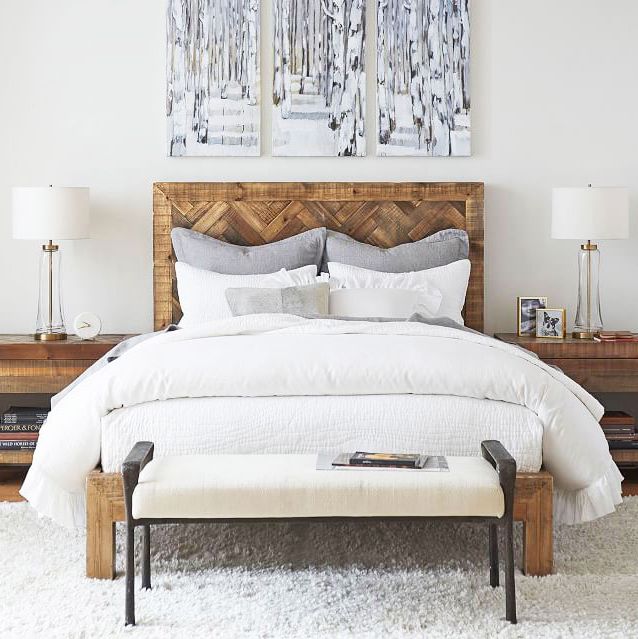 If your bedroom has the space for it, a bedroom bench (also known as an end-of-bed bench) is one of those pieces that can tie a space together while also being quite functional. They can be used as "a place to set your decorative pillows at night when you need to sleep," according to interior designer Joshua Jones, or "as a halfway point or 'step' for some pets that may have difficulty jumping into bed on their own." Depending on the size of your pet (and how pristine you want to keep the bench), they can even be used as spots for furry friends to sleep at the foot of a bed, or, of course, for human seating, too. In choosing an end-of-bed bench for your space, you'll want to consider a couple of things, like material, which we'll get to below, but the size of a bench in proportion to your bed matters, too. Says Jones: "I would recommend a bench around 45 inches long for a queen bed and between 60–65 inches for a king-size bed." To help you find the right end-of-bed bench for your bedroom, we talked to 13 interior-design experts about their favorites. Read on for their picks.
Best overall | Best modern wooden | Best wooden with storage shelf | Best wooden woven | Best wooden woven with backrest | Best colorful woven | Best wood-upholstered | Best sculptural wooden | Best faux-leather-and-wood | Best upholstered | Best patterned upholstered | Best upholstered metal | Best leather upholstered | Best upholstered with storage | Best (less-expensive) upholstered with storage | Best tufted upholstered | Best striped wood-upholstered | Best striped metal-upholstered | Best modern upholstered | Best customizable upholstered | Best (less-expensive) customizable upholstered | Best mixed-material upholstered
What we're looking for
Material: When looking for an end-of-bed bench for your space, think about how a bench's material will suit your needs. Upholstered benches, for instance, will be more inviting for people to sit on, while wooden benches will often look a little sleeker or, if they have woven seats, more bohemian. You'll also want to consider what type of bed frame you have when choosing a bench. If you don't want your bedroom to look too matchy-matchy, Decorist's Casey Hardin suggests "contrasting the bench with the material of your bed to ensure that it adds visual interest — for example, if you have an upholstered bed, try a wood bench; alternately, a wood bed would pair well with a fabric bench."
Size: As noted above, it's all about getting the proportions right. For queen- and full-size beds, which are typically about 60 inches wide, our experts suggest going for a bench that's between 45–50 inches. King-size beds are typically around 76 inches wide, which is why Havenly's managing editor of design content Heather Goerzen suggests looking for an end-of-bed bench no smaller than 60 inches wide (she's "partial to ones that are closer to 70 inches," but interior designer Kendall Wilkinson notes that you want to ensure there is some air at either end of the bench to avoid making the setup feel too crowded). I've denoted the width of these benches so that you can make your own determination, as it really comes down to a matter of personal taste.
Price: You can find bedroom benches in a range of styles to fit your budget, from more traditional, tufted-and-upholstered benches to sleek modern ones. I've included a bunch of options in the $500-and-under range, which I've marked with $ in the specs. Benches that fall in the $500 to $1,000 range are designated by $$, and anything above $1,000 will be denoted by $$$.
Best overall bedroom bench
Photo: Retailers
Wood, woven | 42 inches | $
"For a smaller bedroom where you want that polished touch of a bench at the end of the bed but can't do anything too bulky," said Katherine Tlapa, a creative stylist at online interior-design service Modsy, who recommends this woven bench from Urban Outfitters. Made with mango wood, the bench has a seat that's woven from jute, making it minimal and light, according to Tlapa, who adds it has a slightly smaller footprint (it's 42 inches wide). This bench also comes recommended by Decorist designer Christina Manzo, who says its design will "complement a variety of spaces," noting that its smaller size means you can "easily use it as an entryway bench," too, should you ever tire of it in a bedroom. I've dubbed this the best overall bedroom bench for its compact size, value, and versatility, plus the fact that it's a favorite of two of our experts.
Best modern wooden bedroom bench
Wood | 44 inches | $$
We've written a lot about Alvar Aalto's furniture, particularly the designer's minimalist stools (and their dupes), which are beloved by small-space experts. This wooden Aalto bench, which comes recommended by interior stylist and photographer Tommy Lei, has the same sort of pared-down aesthetic of the stools — which is one reason why Lei simply calls the piece "timeless." At 44 inches wide, it would also be a good choice for smaller bedrooms, according to Lei, who adds that the bench's birchwood is "naturally very calming" to look at.
Best wooden bedroom bench with storage shelf
Photo: Retailers
Wood | 59 inches | $$$
This bench, which you can get in oak or walnut, comes recommended by Havenly designer Melissa Wagner. It has a super-simple look that reminds us of the Aalto bench, with a seat you can "toss your throw pillows on top of when you crawl into bed each night" and a bottom shelf that offers space to store stuff you might also want to show off, like "your collection of throw blankets and slippers," according to Wagner. It's currently available for preorder and is estimated to ship next month, according to the retailer.
Best wooden woven bedroom bench
Wood, rattan | 48 inches | $$
Here's another wooden bench inspired by an iconic chair, namely, Swiss architect Pierre Jeanneret's lounge chair. It comes recommended by Modsy creative stylist Karina Lameraner, who says that the piece's natural materials make it especially striking. Indeed, with its chunkier acacia-wood frame and woven rattan seat, this may be even more interesting to look at than the Aalto bench. It's definitely an investment piece, though — and likely a bench you'd use to temporarily stow pillows or other lighter things; while the rattan seat is supportive, it's not exactly designed for heavy use (or for pets).
Best wooden woven bedroom bench with backrest
Wood, seagrass | 64 inches | $$
This wooden bench with a seat and back woven from seagrass has what Goerzen describes as an "organic, artisan appeal." Its construction suggests it may be best used for sitting, though because it has a back, you'll want to make sure the top of the bench is lower than your bed.
Best colorful woven bedroom bench
Wood, woven | 59.5 inches | $$
For those looking to incorporate a bit of color into a woven bench, interior designer Victoria Adesanmi recommends this checkered nylon rope bench from Anthropologie for the way it adds both "texture and color to any bedroom." She thinks the checkered pattern that mixes peach, ivory, black, green, and teal would look especially nice against white bedding, adding "an extra element of style."
Best wood-upholstered bedroom bench
Wood, upholstered | 47.5 inches | $
Manzo and Jessie Yoon, a Decorist designer and the founder of interior-design firm Casa Nolita, both told us that this end-of-bed bench from Safavieh would make a good option for those who like the look of a wooden bench but seek a bit more comfort when it comes to seating. While predominantly made of wood, the bench has an upholstered velvet seat that both experts say give it a bit more comfort and an antique-y appearance. Yoon calls it Parisian, while Manzo describes its look as modern vintage, noting the bench "feels found and collected."
Best sculptural wooden bedroom bench
Wood | 60 inches | $$$
If you're looking for a wooden bedroom bench that can double as a sculptural statement piece, consider the Laney bench from Lulu and Georgia that Adesanmi recommends. "While it's simple in shape, the silhouette is both sculptural and modern," she says, adding that it's a great way to incorporate natural elements into a room. Because of its blocky wooden shapes, she says that it would work well with an upholstered bed, "bringing juxtaposition" in a space.