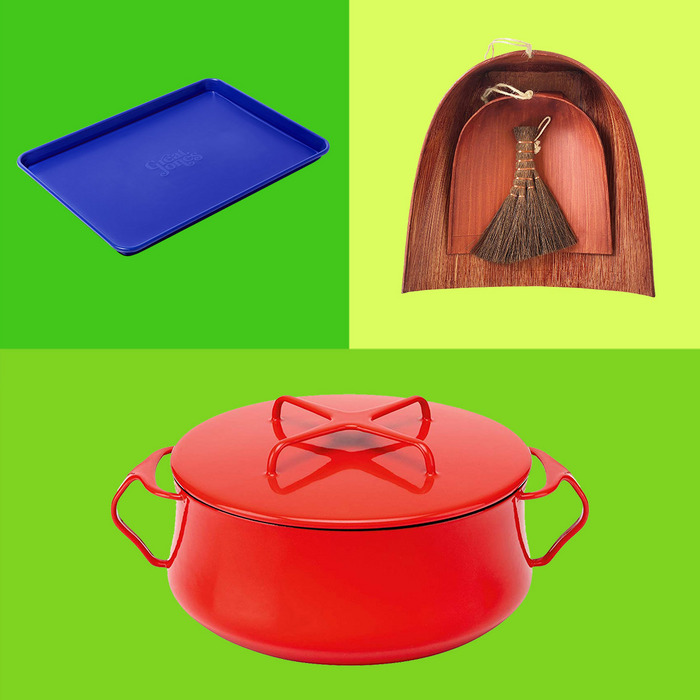 Photo: Courtesy of the retailers
Wedding season is nearly upon us, which means that wedding-gift season is rearing its (anxiety-inducing) head. But while the process can be a beast, we here at the Strategist have honed a pretty good sense about what makes a great wedding gift. We combed through our archives, cherry-picking the best things that any newlywed would want (other than the Le Creusets, Cuisinarts, and KitchenAids you're probably already drowning in). Think of it as the Strategist's Greatest Hits: Wedding Edition. Whether you're looking for something off-registry, or trying to find the just-right thing to put on your own, we've come up with a megalist of all of our favorite items. It's the ultimate alt-registry. (If you're feeling inspired, you can get started on your own Amazon registry, too.)
These are the luxurious linen sheets that former Strategist writer Lauren Levy tried and loved. They feel expensive, but aren't prohibitively so.
In addition to Brooklinen, Linoto, which is based in upstate New York, makes some of the best linen around.
Non-fusty quilts are hard to come by. This one, from Joinery, is crafted by a team of six weavers from of São João del Rei, Brazil.
One of our favorite weighted blankets to gift, the Baloo is made from breathable cotton so its weight feels soothing, not suffocating.
When we asked 130 tasteful people about their favorite gifts to give, Tabitha Simmons, a fashion stylist and creative director, pointed us to these beautifully packaged soaps from Portuguese brand Claus Porto.
These lightweight towels are quick-drying as well as soft and cozy. Strategist senior writer Karen Iorio Adelson notes, "They actually dried me off quicker than my old towels and didn't get wet and soggy in the process. Apparently the secret is the towel's loose weave, which promotes air circulation."
Strategist editor Alexis Swerdloff owns this bamboo bath mat and much prefers it to her formerly soggy cloth one. "No longer must I step on a sad and flattened terry-cloth bath mat," she says, "and my bathroom suddenly feels like a spa."
Matching bathrobes make a nice gift. These plush ones from luxury linens brand Frette come recommended by Dinah Cooke, who directs social media for the Joanna Vargas spa. "I'm absolutely in love with mine. It's luxurious yet simple," she says. "I wear it after taking a long bath or while I'm sheet-masking."
This eye-catching bottle of olive oil will complement all of their shiny new kitchen gear. And it's not just a pretty package: The Tuscan oil is made from olives harvested only in October (when olives are green and just starting to ripen) for the most potent flavor.
Whether the newlyweds prefer cocktails or mocktails, these bitters (which include citrus, lavender lemon, and wild mountain sage) will add depth and flavors to any drink.
Hands down, no question, this is the chef's knife to get. We talked to more than two dozen experts and even tested some ourselves: It's the best.
Experts have told us to forgo the standard cheese knife set and instead buy a universal cheese knife, like this stainless-steel version from Swissmar.
Forget the usual suspects (though if you are going to go with a usual suspect, go with this one), and instead get this copper-plated pepper mill. Writer Juliet Lapidos says it "always attracts attention at dinner parties. Once a guest asked if it was a family heirloom."
They likely already registered for a Lodge cast iron pan or Le Creuset Dutch oven which are both fine for baking bread, but Mia Leimkuhler, manager of audience engagement at the Strategist, tells us this is the best option for flavorful loaves with crisp crusts.
One of our favorite gifts for home cooks, this Dutch oven (that's made from carbon steel so it's lighter than cast iron) can also be found in the kitchen of chef Samin Nosrat, author of Salt, Fat, Acid, Heat and host of the Netflix show of the same name. She has a vintage yellow version.
Sure, All-Clad is great, but this copper pan from Mauviel is a work of art. It's the favorite of Vic's, Rosie's, and Cookshop chef Marc Meyer, who told us why he loves this pan: "It's beautifully made, and the handle stays cool, even when using high heat. It's a pleasure to cook anything in this pan."
Another alternative to the All-Clads and Cuisinarts of the world is chef-beloved French cookware line Matfer Bourgeat. This pan was recommended to us by John Fraser (Dovetail, Narcissa, Nix).
As for what to do with all that new cookware, they'll get plenty of ideas from this cookbook from chef Joshua McFadden. Janna Gur, author of Shuk, loves Six Seasons for its "beautiful writing, terrific (and meticulously developed and tested) recipes, mouthwatering photos, lots of veggies and seasonality."
Sierra Tishgart, co-founder of cookware brand Great Jones, loves this leather-bound edition of the classic Joy of Cooking. While "it's definitely a little bit more expensive than the regular edition, it's really beautiful," she says.