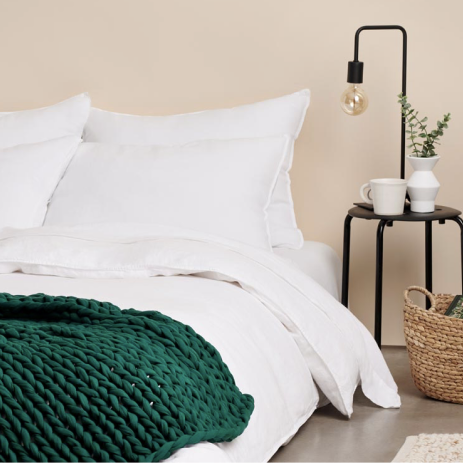 The pressure of a weighted blanket can reduce stress and increase shut-eye time — but that heaviness may seem like a nightmare to a hot sleeper. Thankfully, you don't have to sweat through the night with one, since an ever-expanding category of late is cooling weighted blankets.
The cooling factor actually comes from the outer-cover material, like bamboo, though a few rely on innovations like "hydro-powered technology" (or, in layman's terms, water — but more on that later). There are also weighted blankets that are comparatively cool, like those made from cotton or cotton-bamboo blends, that just aren't as actively cooling. "Ultimately, a weighted blanket isn't necessarily cooling just because it's advertised as such," warns Sarah Riccio, senior writer and bedding expert at Sleepopolis. "Ask yourself, 'What part of this blanket's construction is the cooling part?' If there are no special textiles or cooling fabrics to be found, chances are, it's just a regular, temperature-neutral weighted blanket." Those special textiles include Tencel, Lyocell, viscose, and wool, experts tell us. But Ben Trapskin, founder of Sleep Sherpa, explains that it's important to temper your expectations: "There's only so much cooling that fabric can provide."
Scientifically speaking, while "more extensive research is needed before we can pinpoint the effectiveness of weighted or cooling blankets," says Dr. Sanam Hafeez, a neuropsychologist in New York City and faculty member at Columbia University, "anecdotal evidence shows those who purchase either or a combination feel very happy with its effect on their sleep." Over the years, we've heard from all sorts of sleep specialists about how the right temperature can make the difference between sleeping through the night and tossing and turning. Dr. Michael Grandner, the director of the Sleep and Health Research Program at the University of Arizona, probably put it best when he previously said, "Your body's ability to regulate temperature is a big part of how it regulates sleep."
Below, we consulted a panel of sleep experts, health specialists, and sleep-product reviewers on the best cooling weighted blankets (and a few simply cool ones, if that's what you're after). Before we go into their recommendations, we have to note that most agree you should pick a weighted blanket that is 10 percent of your body weight. If you fall between weight options, the recommendation is to size up, says Meghan Hunter, senior editor at Mattress Nerd. "The 10 percent value is used because you're looking for the blanket to give you a feeling of a bear hug," she says. But she adds that you don't want it so heavy that it's hard to move around underneath it.
Best overall cooling weighted blanket
The Tree Napper is the weighted blanket we heard about most. Almost every sleep-product reviewer cited it as among their top two picks (the only one who didn't prefers the brand's almost identical but slightly more affordable Cotton Napper). This blanket features an ultrathick knit design that gets its heft from jumbo-size yarn made of organic Tencel Lyocell fiber.
"It's made with a chunky knit that allows a lot of air to get through, making you feel less trapped in your body heat," explains Logan Foley, managing editor at Sleep Foundation. Riccio similarly raves that the open-loop-weave design is breathable and distributes weight evenly over the body, something most duvet-covered weighted blankets (cooling or not) don't do. The effect feels "soothing on the skin and can help stave off night sweats," Riccio says. Robert Pagano, co-founder of Sleepline, compares it to the cool side of a pillow. And Hunter says it has almost a massaging feel thanks to the weave.
This one's also sustainably made and biodegradable, in contrast to the synthetic cover materials and plastic pellet or bead fillings of many weighted blankets. And one of the writers of this story, Alexandra Ilyashov, finds the holes between the yarn strands to be anxiety quelling to poke and curl your fingers through while dozing off. There's a downside to all that yarn, though. Although you can wash the entire Bearaby blanket — unlike most other weighted blankets, which have a cover that has to be washed separately — it takes a long time to dry, and you're better off with line drying, Trapskin tells us.
Best (less expensive) cooling weighted blanket
Gravity's cooling weighted blanket was created based on customer feedback that reported the brand's original version was too warm. Now the cooling variety outsells the original during hotter months, according to Mark Wynohradnyk, Gravity's brand director. The inner layer is the same as the brand's regular weighted blanket, filled with special glass beads designed to be breathable. What sets this one apart is the technical polyester that wicks moisture away from the skin. "It's covered in the brand's proprietary fabric that's designed to actually cool the body down and relax you at the same time," Riccio says. Hunter says you can tell the fabric wicks moisture because you don't wake up sweaty and hot, and she recommends it "for anyone looking for a cooling weighted blanket with a luxurious feel." Ilyashov says at first this blanket is a little like sliding under a sheet that has been stored in a freezer, but the effect becomes more subtle after an hour or so. Foley seconds this, saying that you won't overheat with this blanket, and she echoes Hunter, explaining that it has a more traditional blanket feel than Bearaby's. 
Best luxury cooling weighted blankets
Trapskin calls this one a "a completely different take on weighted blankets." He notes that it's quite expensive, with prices starting at $329, but it may be worth it for those who "live in a very hot climate and don't want to run the AC all day." The fuzzy fleece cover and heftiness are similar to most weighted blankets, but that's where the similarities end.
The inside layer of this blanket is laced with rubber tubing filled with temperature-regulated water. Once the control unit's water chamber is filled, you plug it in, power it on, and set it to an exact temperature of your choice (which you can do on the buttons of the unit itself or from the included remote). Riccio praises its hydro-powered tech as "super-innovative," though she says "it requires much more maintenance than other weighted blankets on the market," such as cleaning and refilling the water chamber.
Fans say it's worth it, though. Juliet Starrett, co-founder of online fitness platform The Ready State, has used this blanket for six months and says her sleep quality "immediately improved." She's tried weighted blankets in the past, "but even as a colder sleeper, it would feel like 1,000 degrees. I'd be sweating and would have to take it off immediately." With this one, "I don't necessarily feel like it's cooling me, but it makes me not hot." The control unit's gentle whirring took her a few days to acclimate to, but ultimately the white-noise effect became an "extra bonus I didn't really anticipate." In Ilyashov's experience, the ongoing water flow inside the blanket creates a hypnotic, slightly tingly sensation that takes some getting used to but that ultimately becomes soothing.
Riccio's colleague Zoë Ettinger, editor at Sleepopolis, says this blanket is on the pricier side, but like Saatva's other high-quality sleep products, it's well worth it. Ettinger appreciates how luxurious the cotton-velvet cover feels. Velvet may seem like an odd choice for cooling, but since it's made entirely of cotton, it's going to feel much more breathable than other velvets, she explains. It features all-natural glass beads inside, which she feels don't trap heat as other fill materials do.
Best double-sided cooling weighted blanket


Another favorite of Riccio's is this clever double-sided style. She likes the duvet cover's flexibility factor, as "one side is warm and cozy, and the other is cooling on the skin, which gives sleepers the chance to pick the side that best suits their temperature preferences at any given time." Ettinger similarly calls it a "winner for all seasons." She describes the cooling side as actively working to keep you cool since it's made from silky-feeling Tencel. 
Best (less expensive) double-sided cooling weighted blanket


Trapskin's top pick is this double-sided option from Helix (which makes one of Strategist's favorite mattresses, as well as gift-worthy weighted blankets). "It keeps you just as cool as the other weighted blankets on the market but still feels super-cozy," Trapskin says. It's also a touch cheaper than Brooklyn Bedding's version. "The sheared microfiber gives an extra-soft, plush feel, and if you want a smoother feel, just use the other side," he says. He also likes the glass-bead filling, which doesn't trap heat (though it does make for a notably heavy blanket, he adds), and says the removable, washable cover is convenient to clean. "Overall, it's quality construction with a great feel at a really good price," Trapskin says.
Best bamboo cooling weighted blankets
This Kickstarter-fueled blanket has a bamboo-cotton blend cover that feels like a really soft set of T-shirt sheets and promises to be "the coldest fabric in your house." Riccio tried the Hush Iced at a friend's house and was impressed by the "soft and breathable" feel. "The bamboo-cotton blend is moisture-wicking and airy," though she notes that it doesn't actually feel cold to the touch, unlike some other cooling blankets. Susan Murphy, a digital-marketing entrepreneur and weighted-blanket enthusiast, loves this Hush version so much, she raved about it on Twitter. In just a week, Murphy says the Iced had "already made a huge difference" on her sleep quality. "I suffer from anxiety, and this blanket really helps me to fall asleep fast and stay asleep," she explains, adding that it's "remarkable how temperature-regulating it is."
For Pagano, this blanket comes in a close second to Bearaby's, which he likes for its handwoven feel. But this one feels more like a soft throw blanket that just so happens to draw heat away from the body, he explains. He describes it as both light and airy when it's on top of you.
Best (less expensive) bamboo cooling weighted blankets
Dani Donovan, creator of ADHDDD, a community platform for adults with ADHD, says this Amazon reviewer favorite YnM bamboo-covered option is "one of the best purchases I've made in a long time." She ordered the YnM after first trying the classic Gravity Blanket, which she liked but ultimately found too hot. "I couldn't use it while sleeping without getting sweaty," she says. In her search for a cooling version, Donovan went with the YnM because of its more affordable price point, and she calls it a "game changer." She says the blanket "gently cools me off without being too cold," and she likes that she "can control the amount of cooling by putting it above or below my sheet." She's also sleeping better: "My husband told me he's noticed I don't move around in sleep anymore," Donovan says. "All in all, it exceeded my expectations and has significantly improved the quality of my sleep."
Alex Savy, founder of Sleeping Ocean, describes this blanket as well made despite its less expensive price tag. He tells us it has a somewhat silky feeling, and the smooth texture makes it cool against the skin. Savy felt fresh when he slept under it, as the bamboo let air circulate and didn't trap heat.
Best cotton-cover weighted blankets
This is the weighted blanket of choice for Dr. Frank Lipman, chief medical officer at The Well, and while it isn't technically cooling, the 100 percent–cotton cover makes it more breathable than many other weighted blankets on the market. "I have it myself and have a number of patients with good results who have tried it," Lipman says. The blanket's design has cool quilted channels rather than the gridded quilting most bead-filled styles, which makes for better airflow.
Savy agrees that cotton is the best material for hot sleepers because it allows for "unobstructed air circulation" to maintain a normal temperature. He explains that even if a sleeper sweats just a little, this blanket makes excess moisture seemingly disappear instead of building up. He describes the cover as gentle on the skin with just enough weight to get all the benefits of a traditional weighted blanket.
Best thermal-regulating blanket