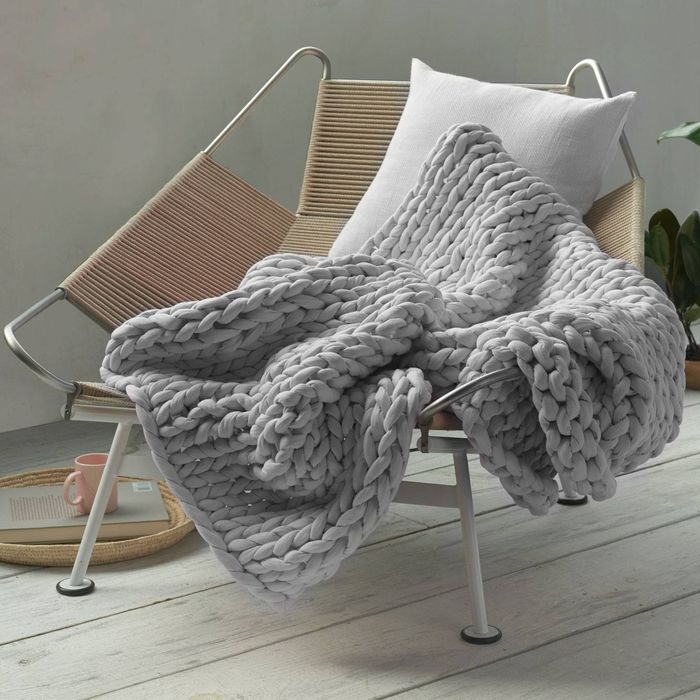 While occupational therapists have used weighted blankets for years to treat patients with sensory processing or autism spectrum disorders, it wasn't until the introduction of the widely popular Gravity Blanket in 2017 that they became mainstream options for dealing with occasional insomnia or everyday anxiety. Since then, dozens of brands have popped up with their own versions of the weighted blanket. And in these stressful times, they're in even higher demand than normal — and can be an even more useful gift.
Dr. Raj Dasgupta, an assistant professor of clinical medicine at the University of Southern California's Keck School of Medicine, compares sleep to a puzzle, with factors like light, temperature, sound, and physical comfort as the pieces. It's with that last puzzle piece that weighted blankets make a difference. "People want that snuggly effect," he says. Dasgupta explains that while there hasn't been a perfect, double-blind study (there's no version of a weighted blanket you're oblivious to sleeping under), self-reported questionnaires support claims that weighted blankets may prolong sleep times and relieve anxiety. Ideally, a weighted blanket should weigh in at around 8 to 12 percent of the user's body weight in order to provide enough heft without being uncomfortable.
To find out which weighted blanket is truly the best to gift, we consulted with sleep experts and tested out a few on our own. To rank their giftability, we considered how each functioned but also how nice they look, and what sort of impression they'd make right out of the box. Ultimately, we named two winners as the most giftable weighted blankets. But in case your giftee is looking for something slightly different, we also included several runners-up on this list, which we've grouped by like characteristics. If you're looking for even more options after reading this list, check out some of the best-reviewed weighted blankets on Amazon and the ones experts recommend for kids.
Best overall weighted blankets to gift
Bearaby launched in 2018 with an entirely new kind of weighted blanket. While most weighted blankets are filled with glass or plastic beads to add heft, Bearaby's weight comes entirely from knit layers of sustainable cotton or cooling Tencel (each material comes in a 15-, 20-, and 25-pound version). Instead of a therapy device, it just looks like a handmade, chunky throw blanket. Writer Kase Wickman calls it "deceptively heavy" and likes that the weight distribution stays consistent, as there are no little beads to shift around during the night. Joe Auer, the founder of sleep-product review site Mattress Clarity, says he was "especially impressed" with Bearaby's unique design. And Bill Fish, a certified sleep-science coach and co-founder of the review site Tuck, says it's "one of the most unique weighted blankets we have ever tested."
I had a chance to try out their Tencel blanket, and I'm happy to report it more than lived up to all the hype. As someone who sleeps hot, I liked that the open weave and smooth material kept me much cooler than any other weighted blanket, while still making me feel enveloped in its calming, soft pressure. Plus, the bright white blanket (it also comes in a handful of other pleasing shades) looked crisp and elegant on my bed. Bearaby also makes a breathable weighted comforter that's filled with eucalyptus fibers and fine glass sand. The king-size comforter unzips down the middle, making it easy for one bed partner to toss off their portion if they get too warm.
As for the best traditional-style weighted blanket out there, Baloo stands out among the rest of the bunch for its thoughtful design. Available in 15 or 20 pounds, it gives you that soothing, grounded sensation while still being aesthetically pleasing. Besides feeling calmed and relaxed underneath it, I never needed to adjust it during the night and it has a surprisingly thin profile for a heavy blanket. It's filled with tiny glass beads that stay concentrated in their quilted pockets so the weight never feels unevenly distributed. In comparison to other bead-filled blankets that are noisy when their beads shift around inside, it's totally quiet and the beads are barely noticeable. Because it isn't superthick and is made from breathable cotton, I felt cooler sleeping under the Baloo than most of the other blankets. It's only available in a soft white color, which looks crisp and clean on a minimally styled bed, but it also has loops on each corner to conveniently secure a duvet cover — either the company's linen ones (in pretty shades like blush pink, dove gray, and oatmeal) or your own favorite.
Best (less expensive) weighted blankets to gift
We first discovered the affordable YnM blanket while searching for the highest-rated weighted blankets on Amazon, and sleep experts agree that this is one of the best. "It conforms well to the curves of your body, so you really feel like you are getting hugged," says Auer. He likes that YnM offers lightweight, bamboo blankets for hot sleepers in a range of weights (from 7 to 30 pounds) and colors. Strategist junior writer Jenna Milliner-Waddell told us her YnM blanket helps her fall asleep faster and wake up feeling refreshed. "Using the blanket, I couldn't tell you how long it takes me to fall asleep, because I'm actually sleeping instead of having nightly staring contests with my ceiling," she says. The brand also makes one of the only truly couple-sized weighted blankets. But if you are sharing your blanket with a partner, bear in mind that you'll only feel the effect of half the blanket's weight.
Another blanket that's both expert- and reviewer-approved, the ZonLi uses breathable, 100 percent cotton to keep sleepers cool. "It's one of the cooler sleeping weighted blankets," says Auer. With lots of size options (from 5 to 30 pounds) and many under $100, it's also one of the best values.
Best luxury weighted blankets to gift
Available in 15- and 20-pound weights, the $259 Sunday Citizen blanket isn't the cheapest option, but it's certainly unique. Along with your standard glass beads, this blanket is filled with tiny amethyst and quartz crystals that, at least according to the brand, have certain healing properties and can ease anxiety. It's a good pick if you're shopping for someone who's into that sort of thing, but even if they're not, it's still a cozy, nice-looking weighted blanket with a plush, microfiber cover.
Also on the expensive side (starting at $295), the Saatva blanket is for the discerning recipient who will appreciate that it's made with 100 percent organic velvet, and not the velvet-esque polyester you'll find on many other blankets. It's one of the few blankets that comes in a supersized, 25-pound version that'll drape over a king-sized bed, and its diamond-shaped quilting keeps the interior glass beads in place for even weight on both sides of the bed.
Best warming weighted blankets to gift
Although it's not particularly thick, the Layla blanket has a solid, heavy (even for a weighted blanket) feel that would probably work best if you sleep cold. Like some other blankets described below, it's double-sided, with one side that's soft and velvety and one that's smooth cotton. Layla uses glass beads sewn into hexagonal pockets so the weight is distributed evenly inside the blanket and isn't noisy as you move it around.
The Helix blanket (from the makers of one of our favorite mattresses) garnered lots of praise upon its release last year. Fish says it's "quite the value play with all weights [10, 15, and 20 pounds] coming in at $115 or below." He also likes that the brand offers a 100-night sleep trial, so you can easily return it if it doesn't work for you. The Helix blanket is very well-made, with glass beads (an ecofriendly alternative to plastic), grid stitching for even weight distribution, and a removable, washable cover that's velvety on one side and sheared fleece on the other. While the blanket helped me fall asleep quickly, it ended up being too warm for me, as I'd often wake up in the middle of the night sweating and need to toss it off. If your bedroom is especially cool, though, or you know you get cold at night, you'll likely love this warm and hefty blanket.
Best cooling weighted blankets to gift
Casper's weighted blanket eschews the fleecy (and oftentimes too warm) cover common among its competitors in favor of crisp cotton, which promotes air circulation and keeps you cool. According to Casper, the quilted design was inspired by "performance outerwear," and it keeps the inner glass beads from shifting around. While this weighted blanket comes in 10-, 15-, and 20-pound weights, all three are throw-blanket size, so it's a good option for those who want to use it on the couch rather than in bed. In case the blanket isn't right for you, Casper offers a 100-night trial during which you can return it at no cost.
If you're serious about staying frosty at night, Chili's weighted blanket takes things to the next level. On the surface, the 20-pound blanket looks similar to all the others on this list, but it actually contains a series of small tubes that connect to a control unit (a boxy gadget that also needs to be plugged into an outlet). Before going to bed, you fill the control unit with water that then gets pumped throughout the blanket at whatever temperature you set via the included remote control. The water adds only a half-pound to the blanket, and lets you get all the benefits of a weighted blanket with none of the sweat.
In sharp contrast to the Helix blanket, the Luxome (another well-regarded newcomer) excels at keeping you cool, thanks to its thin weave and bamboo covering. "The bamboo kept me quite cool while I was sleeping," raves Auer, and I had a similar experience. The blanket's exterior feels like a silky sateen that glides over the skin without absorbing any heat. It's available in three sizes (8, 15, and 18 pounds), and as the weight increases, so does the surface area of the blanket, which isn't the case with every brand. The 8-pound version is more of a throw, the 15-pounder would cover a twin bed, and the biggest size would fit a queen. According to Auer, this means "all their blankets provide the same amount of pressure, no matter what [weight] you choose," so even the larger blanket is thin enough to not feel hot or suffocating. If you prefer a fleece-like feel, the brand also sells their blankets with removable covers in a "minky" fabric (sort of like a velvety fleece) that's nice to snuggle up in and found in many weighted blankets.
An all-around satisfying blanket, this one from Nest Bedding is very soothing to sleep under. It's grounding and warm — without being too hot — and I felt calm and at ease as I fell asleep. Nest offers three weights (15, 20, and 25 pounds) and like Luxome, heavier blankets correspond with more surface area, which is probably why it felt so balanced. Its 25-pound blanket is one of the few that'll cover a king-size bed. Like some of the other blankets, this one has double-sided (but nonremovable) cover that's mink-y on one side and cooling on the other. The cool side is made from cotton, which keeps the blanket from getting too hot during the night.
Best starter weighted blanket to gift
Since it's only available in one weight (a relatively light 10 pounds), Comphy's mink-y blanket would be a good introductory option if you aren't sure how a recipient might take to sleeping under a weighted blanket. After testing blankets that were twice as heavy, I still found it comforting, with the lighter weight offering a more subtle pressure. It's a gentle embrace instead of a bear hug, but it managed to help me fall asleep faster and stay asleep, just like some of its heftier competitors. To help match your bedding, it comes with a zip-up microfiber cover (we've written about Comphy's signature synthetic blend sheets before) in three color options: white, gray, or cream. But the cover wasn't very breathable, so I actually preferred using the blanket without it.
Best double-sided weighted blankets to gift
Yogabed's blanket itself is fairly standard with its quilted design and glass-bead fill, but its unique cover sets it apart. One side of the machine-washable cover is smooth and velvety, while the other side is mink-y with raised dots like those found on a lot of kids' weighted blankets (therapists say that feeling these little bumps can help with sensory-processing issues). Even as an adult without any sensory issues, when I used similar blankets in the past I thought it was incredibly soothing to rub my hands over the dotted side. Neither side has a particularly cooling feel, so hot sleepers might want to look elsewhere.
Even with the explosion of new brands on the scene, Logan Block, director of content at mattress review site Sleepopolis says, "Gravity is still the big name on the market when it comes to weighted blankets," and it's the one he uses himself: "It is a great product," he says. "I have the 20-pound version and was surprised by how much it actually felt like it weighed me down." Former Strategist deputy editor Jason Chen reported that the original Gravity blanket (which is mink-y on both sides) felt too hot in warmer weather, but this version (a collaboration with the mattress brand Purple) is dual-sided, pairing that mink-y fabric with a side made of moisture-wicking material for a cooler feel.
The Strategist is designed to surface the most useful, expert recommendations for things to buy across the vast e-commerce landscape. Some of our latest conquests include the best acne treatments, rolling luggage, pillows for side sleepers, natural anxiety remedies, and bath towels. We update links when possible, but note that deals can expire and all prices are subject to change.
Every editorial product is independently selected. If you buy something through our links, New York may earn an affiliate commission.