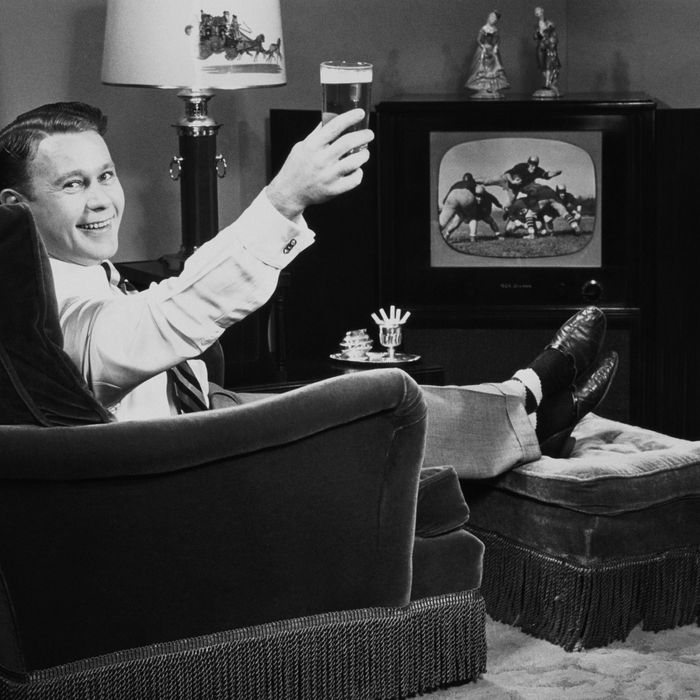 Photo: Lambert/Getty Images
If you're trying to find a Father's Day gift for a dad who loves beer, you could do worse than giving him a six-pack of his favorite brew. But chances are good that it'll be gone before the week's over, and sometimes you want to give a present that'll actually last (or something that you could easily ship to him if you're not seeing him in person, unlike a bottle or two of beer). So to make it a little easier to find a practical present this Father's Day, we've found some of the best beer gifts for Father's Day for every type of beer-loving dad.
For the dad who drinks beer while doing DIY projects
Give him the satisfaction of using a bent nail to open his bottle of beer.
For the dad who already has a handsome bar kit
This asymmetrical brass bottle opener is a decorative — yet still practical — addition to any bar cart or coffee table.
For the dad who drinks beer discreetly
Photo: Courtesy of the vendor
Former Strategist editor Jason Chen tipped us off to this bottle resealer a couple of years ago: "The German-made bottle opener also functions as a resealer for unfinished beverages (it has fun diagrammatic instructions etched right on it)." That makes it a great gift for someone who buys a lot of large-format beer bottles and doesn't want them to go to waste.
For the dad who loves his local brewery
This stainless-steel insulated growler can be filled up at his local brewery whenever he wants to stop by.
For the dad who really loves his local brewery
This pressurized growler will keep craft beer fresh and carbonated for up to two weeks, which is great for the dad who loves his brewery's beer but can't pay them a visit every weekend.
For the dad who wants to home-brew
This starter kit comes with all of the basic equipment your dad will need to brew his own beer. Bonus points if you also gift him the ingredients so you two can brew his first batch together.
For the dad who likes to give his home brews to the neighbors
Nothing says "welcome to the neighborhood" like dropping off something homemade. If your home-brewing dad agrees, then gift him this bottle capper, which makes it easy to put shiny new bottle caps on recycled beer bottles. It's a real money (and environment) saver, and once the neighbors are done, they can return the bottles and eagerly wait for the next six-pack to arrive.
For the dad who wants to take his home-brew to the next level
If your dad already is a proficient home-brewer, consider getting him some high-end equipment, like this copper wort chiller, which will quickly take his brew from boiling hot to room temperature for bottling.
For the dad who loves to get scientific about his brews
While brewing beer is incredibly easy, there is a lot of science that goes into it. For dads who care about the nitty-gritty of beer-making, a hydrometer is essential. It'll allow him to measure the alcohol by volume, Brix value (grams of sucrose present per 100 grams of liquid), and gravity (the amount of dissolved solids in water) throughout the brewing process, which is great if he's looking to hone a signature brew.
For the dad who dreams of opening his own brewery
This book, written by Brooklyn Brewery founder Steve Hindy, tells the story of how this former foreign correspondent for the Associated Press came to open his own brewery, along with some actually useful business tips.
For the dad who likes retelling drinking stories