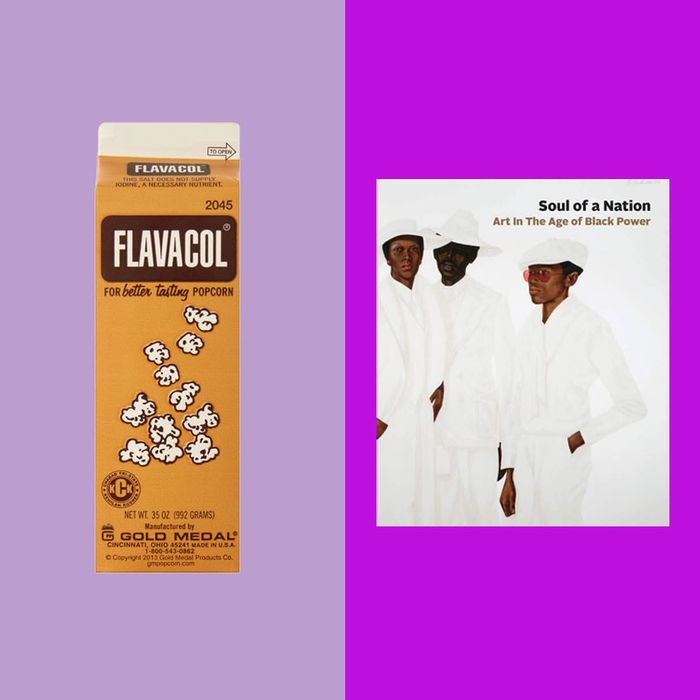 Photo-Illustration: Netflix/CBC
As is true of moms, there's not just one type of dad. There are golf dads and tech dads and dads who drink beer, to name three of the oh-so-many kinds of patriarchs. So we racked our brains to come up with the best gifts for the many different types of dads you may be shopping for, and we put together the following list of 80 options. Many are dad-worthy things we've tried and loved ourselves, while others are recommendations from some of the cool people we've talked to over the years like Sean Paul and author Gary Shteyngart. There are even ideas from actual dads themselves. (We've done the same digging to find great gifts for moms, too, in case you're looking.) Since the big day is right around the corner, we've noted below which gifts won't arrive in time to make it under your tree for December 25.
To make it even easier to shop this list, we've arranged the items by category; click here to jump to gifts under $25, under $50, under $100, under $200, and under $500.
Gifts under $25
For the dad who turns every walk around the block into an urban-planning lesson
Photo: retailer
On his 99% Invisible podcast, Roman Mars educates listeners about the hidden architectural and design elements that make our streets, buildings, and cities function as they do. Mars and his team translated some of the show's greatest episodes into this coffee-table book that will allow Dad to further geek out over those power grids and street signs he's always pointing out.
For the dad with a grout vendetta
Strategist editor Maxine Builder calls the Drillbrush — a brush attachment for your power drill — the best thing that ever happened to her shower: "The drill did all the hard work, scrubbing faster and harder than I ever could by hand, and the results were noticeable even after the first pass. All the built-up grime had basically disappeared, though I did a second round just to be sure. The nylon bristles were gentle enough that I couldn't find a single scratch afterward."
For the dad who asks waiters for the closest available outlet
If your dad is the type to bring his charger everywhere (including restaurants), he will surely appreciate this super-slim charging bank that works just like the one musician Tom Grennan told our friends at Strategist UK about. Small enough to fit in a wallet, using a thin power bank like this has "saved my phone many times," Grennan says.
[Editor's note: This gift will arrive after December 25.]
For the dad who just turned 60 (or 70, or 80, or 90)
When we spoke to people who have turned 60 about the best 60th-birthday gifts, architect Christopher Choa said one thing people start asking themselves at that age is "Are you living an eudaemonic life?" The term refers to living a truly happy life, and Choa says few books provide as much of a blueprint for how to do so as How to Live, which chronicles the life and philosophical discoveries of 16th-century essayist and philosopher Michel de Montaigne.
For the dad with sweaty feet
According to us, cool people, and Transportation Secretary Pete Buttigieg, Darn Tough sells some of the best wool socks out there. They're made in Vermont and come with a lifetime guarantee.
[Editor's note: This gift will arrive after December 25.]
For the dad who watches the same movie over and over again
Author Jenny Han calls this carton of flavored salt "the secret to movie-theater popcorn at home." A three-quarter teaspoon of this and he'll swear he's at the movies (even though he's just rewatching Braveheart on the couch).
[Editor's note: This gift will arrive after December 25.]
For the dad who likes heat
Created by chef Jing Gao, Fly by Jing's chili crisp is beloved by foodies and chefs alike.
[Editor's note: This gift will arrive after December 25.]
For the dad who (really) likes heat
If your dad is really into fire, Strategist contributor (and fellow fire dad) suggests these tumbleweeds, which he says "burn hot and clean" and "last for nearly ten minutes, which is plenty of time for Dad to get larger logs or a pile of charcoal going."
For the dad who thinks he's Melissa Clark
This paste (known as "vanilla caviar") comes recommended by pastry chefs from Gramercy Tavern to Sqirl alike.
For the dad who's always chasing neighborhood kids off his lawn
If Dad likes to spend his time outside tackling projects in the garden or yard, he should try these nifty leaf scoopers. "The dorky, low-tech scoops are bright-yellow, Pac-Man-shape plastic disks with a strap that you slip your hands through; imagine those little monkey toys that play the cymbals," says Strategist contributor Sarah Z. Wexler of the slightly silly tool. "And I am in love," she concludes.
For the dad who's into a different kind of grass
We suggest this multi-tool that contributor Aleta Burchyski told us about. "It's dead useful: The sharp tip and serrated edge break down boxes better than a house key, the screwdriver makes quick work of opening battery compartments, and the one-inch and three-centimeter rulers come in handy at the hardware store," she writes. But what really makes it special is a hexagonal bowl and pipestem "surreptitiously built into its body" that can be used for taking the occasional puff while tackling projects around the house. That bowl, Burchyski swears, is discreet: "It blends right in next to the hex-wrench cutouts, so you can add the multi-tool to your key chain or clip it to a zipper and no one has to know."
[Editor's note: This gift will arrive after December 25.]
For the dad who needs to upgrade his Hanes
These affordable tees are the jewels of Strategist UK writer Chris Mandle's 48-piece T-shirt collection. "While some of my more questionable T-shirts gather dust — like those from my regrettable foray into tie-dye, circa summer 2020 — these Pro Club ones have only got better with age," Mandle writes. And at under $10 a tee, you can buy Dad a week's worth without breaking the bank.
[Editor's note: This gift may arrive after December 25.]
For the existential dad
If your dad is the type with a tightly scheduled Google cal (or is the type who likes to contemplate his own mortality), then this is the book for him.
[Editor's note: This gift will arrive after December 25.]