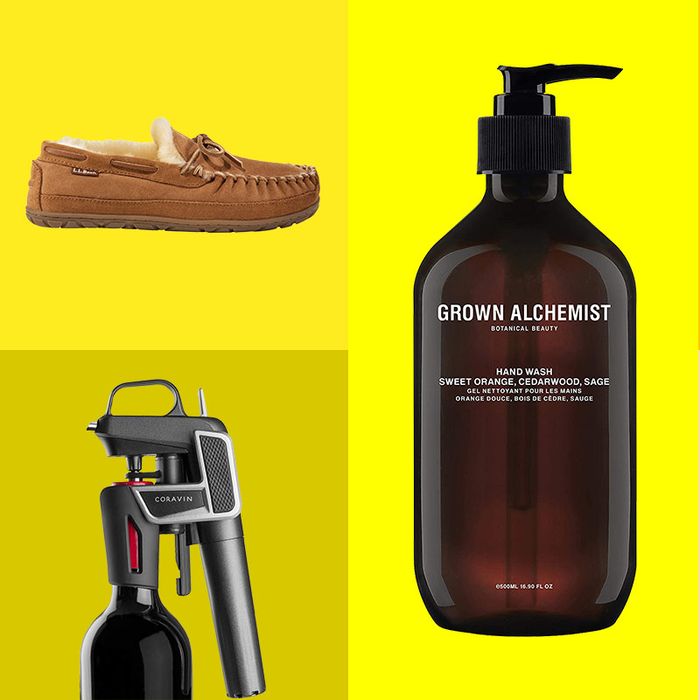 As is also true of moms, there is not just one type of dad. There are golf dads and tech dads and dads who drink beer, to name three of the oh so many kinds of patriarch. So we racked our brains to come up with the best gifts for the many different types of dads you may be shopping for and put together the following list of 96 options. Many are dad-worthy things that we've tried and loved ourselves, while others are recommendations from some of the cool people we've talked to over the years, like rapper G-Eazy and DJ Steve Aoki. There are even ideas from actual dads themselves. (We've done the same digging to find great gifts for moms, too, in case you're looking.)
To make it even easier to shop this list, we've arranged the items by category; click here to jump to gifts under $25, under $50, under $100, under $200, and under $500. While we made these categories based on retail price, you'll see that many gifts are on sale — at least for now. With December 25 getting closer and closer, there are a few items below that now may arrive after the big day. We've noted where this is the case, but chose to keep these things on the list because the perfect gift is always one worth waiting for.
Gifts under $25
For the dad who asks the big life questions
Aarmy co-founder Akin Akman was the latest person to tell us that reading this best seller has sparked countless interesting conversations in his life. Despite its heavier subject matter, the book's fast-moving prose makes it a great gift even if dad hasn't turned a page in a while.
For the dad who still buys Barbasol
For a few dollars more, you can upgrade him to Italian brand Proraso's (toning) shaving cream, which barbers told us is the best on the market and what they use on their own faces.
For the dad who loves to take notes
A set of five handsome (but not precious) notebooks to help keep his scribblings in one place.
Editor's note: Though you can order this from Amazon now, it won't arrive until January 6 or later, according to the retailer. If you're sold on the notebook idea, the Midori MD Notebook is a Strategist-approved pick available on Amazon for $10 and, as of now, slated to arrive by Christmas.
For the dad who loves to write (thank-you) notes
The black border gives this set of otherwise simple cards and envelopes a distinguished touch. Your note-writing dad will appreciate that this set comes from Crane & Co., a brand that stationery people have told us about many times.
Editor's note: You can order these now for delivery on December 30 or later.
For the dad who makes the family's lattes
Photo: retailer
If he's the only one who knows how to use the milk frother, these barista-approved stencils will let dad have a bit more fun while doing it.
Editor's note: These stencils are sold out at most major retailers, but if you order them now on Amazon, they'll be sent out for delivery between December 30 and January 5.
For the dad on morning dog duty
Harry Litman, a former U.S. deputy assistant attorney general in the Clinton administration, is just like your dad in that he, too, has to walk the dog. He told us this hands-free leash is the best thing he bought himself this year because it "has a waist belt," which means he can use his hands for phone scrolling, eating, and more. "A lot of people use it for jogging with their dog," Litman adds.
For the vegan (or dieting) dad
This neat tool from our list of great gifts you can get for under $10 converts zucchini, carrots, squash, and more into healthy noodles for a low-calorie spaghetti alternative.
For the dad who asks waiters where the closest available outlet is
We know he probably hasn't asked many waiters that question this year, but if your dad is the type to bring his charger everywhere (including restaurants), he will surely appreciate this super-slim charging bank that works just like the one musician Tom Grennan told our friends at Strategist UK about. Small enough to fit in a wallet, using a thin power bank like this has "saved my phone many times," Grennan says.
Editor's note: This tiny charger is back in stock on December 31, but you can place your order now.
For the dad who likes smoky reds
This habanero-laced hot sauce (with the cutest mascot we've ever laid eyes on) should hit the spot. For value hunters, we've noticed that you can currently get a little more sauce for a little less money at Instacart.
For the dad who likes oaky reds
This book on wine written by The Infatuation founder Chris Stang and Grant Reynolds, the sommelier at restaurants Legacy Records, Pasquale Jones, and Charlie Bird (which is well-known for its stellar cellar), covers everything from terminology to guides on shopping your local wine store.
For the dad who drinks beer
Photo: Courtesy of the vendor
"The German-made bottle opener also functions as a resealer for unfinished beverages (it has diagrammatic instructions etched on it)," says former Strategist deputy editor Jason Chen.
Editor's note: This bottle opener is currently sold out, but we're also fans of HAY's Cap Bottle Opener, which won't ship before Christmas but will make a stylish pre-order.
For the dad who prefers water
Nalgene's water bottle has GOAT status (it's on the list of our 100 most-stood-behind products ever). He'll appreciate that and also that this looks cooler than the company-branded water bottle from that work conference in 2011 that he still carries.
For the dad who needs a better home-office setup
First of all, he needs a better desk chair! Barring that, he might want to try this half–balance ball on his seat, which will help keep his core engaged and posture straight during the workday.
For the dad who could use a pedicure
If dad's toes are starting to look a little gnarly, our beauty-obsessed writer Rio Viera-Newton says these heavy-duty clippers took her nails from "talons to human feet in mere minutes."
For the dad who keeps track of every cent