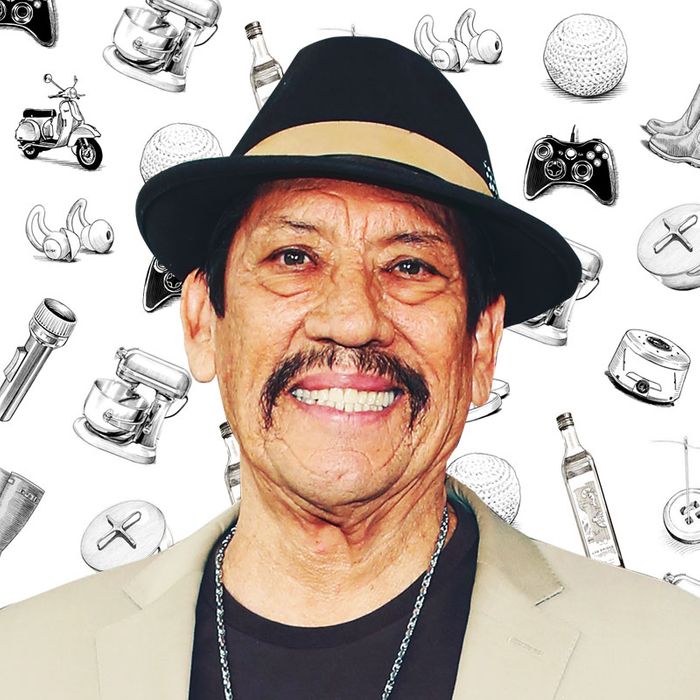 Photo-Illustration: The Strategist; Photo: Getty
If you're like us, you've probably wondered what famous people add to their carts. Not the JAR brooch and Louis XV chair but the hair spray and the electric toothbrush. We sat down with actor, chef, and now-author Danny Trejo — whose memoir, Trejo: My Life of Crime, Redemption and Hollywood, and cookbook, Trejo's Tacos, recently came out — to talk about the cloth hair ties for his iconic ponytail, the car accessory he buys specifically for his collection of lowriders, and the gardening tool he also uses in the kitchen.
I did not always have a ponytail. I had short hair until 1970. I missed most of the '60s because of jail, but the Beatles became a thing and everybody started growing their hair long. I didn't jump on the long-hair bandwagon until I was out. I was like, Wow, this is great. I can save on haircuts! I cut it short for a movie called Runaway Train, but as soon as I was done, I let it grow again. I started using a ponytail, too, to keep it back. These ones are the best because they're actually cloth. A regular hair tie breaks your hair, but these little ones are the best because they don't damage your hair. I sound like a little girl, but I'm 77 years old and have a full head of thick hair. I don't want to ruin it. And my agent won't let me cut my hair anyway. Every time I think about cutting it, she's like, "Well, we'll have to use extensions for your next movie, then," because people always want my hair long for the role. So I just don't cut it.
Let me tell you something: After we did Machete, all these kids came to my door on Halloween dressed as Machete with these little painted mustaches on. I couldn't believe it. I almost started crying. I'm a costume! Because I've become known for this look so much that kids dress as me for Halloween, I'm not allowed to shave my mustache either. Unless they want me to play a used-car salesman or some Republican, I can't take it off, and movie people tell me that I can't shave. I don't like when my mustache curls up, so this mustache wax keeps it straight and neat.
I have a 1936 Dodge touring sedan that's cherried out completely. I have a 1942 Dodge Stylemaster that's really rare because in 1942 they stopped building cars like this and built automobiles for the war — that's why you never see a '43 or '44 car. Next is my 1966 Chevy Bel Air, which is lowered and bounces up and down. There's my 1965 Buick Riviera, which is absolutely gorgeous. I have a 1997 Land Rover sport and two Cadillac Eldorados, plus a 1976 Cadillac Seville, which is very cool because all the doctors and lawyers in Beverly Hills had that. I put bags on mine, so I love to go driving through Beverly Hills and watch all the people go, "Look, we had one of those back then!" Then I hit the switches, and it drops to the ground. Bouncing down Rodeo Drive in a '76 Cadillac Seville? Just immaculate. Of course, real lowriders need fuzzy dice. It's just a thing. In the late '50s, '60s, '70s, your girlfriend would get you fuzzy dice to put on your dash or mirror to mark her territory in a way, so if another girl got into the car, she would see the dice and ask, "Who are the dice from?" She would instantly be suspicious. We were all pigs back then, so we would lie and say we bought them ourselves. Now, I do actually buy my fuzzy dice myself for my lowriders.
A machete is a chopping tool. It was used in the cane fields and in the jungles because that's what it was good for: chopping things quickly and cleanly. I love to use my machete to cut leaves and stuff in my backyard. This machete will take a branch in a minute. And any time I do a cooking video, people always want me to use a machete to cut meat, so I've gotten very good at chopping carne asada with a machete. I'm kind of associated with a machete now. God, I couldn't even count how many machetes I've signed. People walk into my restaurant with a machete almost every day and ask me to sign it. Once, a guy came into a club with a machete and asked me to sign it. I was like, "How did you get that in here?" And he was like, "I'm cool with the bouncer. Just sign it quick."
I own about 30 hats. If you're wearing a suit, you can't wear a baseball hat, so the fedora is my expensive, fancy hat. But the Dodgers hat is one of my daily hats. I like the fit and the size of it. When they were building the stadium in Chavez Ravine, my friends and I would climb over the hill after we cut school and watch them build it, because at that time I lived in Echo Park. I've been a Dodgers fan since day one.
I like clean teeth. I chew on toothpicks all the time. I've always got them around. In my car, there's a little bottle with toothpicks. I don't like the wood taste, so I buy the mint-flavored ones. It's like chewing gum. It keeps your breath nice. And it keeps your teeth healthy. I'm 77, and I've still got all my teeth. If you take care of your teeth, they'll take care of you.
I'm a huge Rams fan, too. I wear this jersey any day, any time. Aaron is actually a good friend of mine. He eats at my restaurant. I told him, "You can eat for free," until I found out how much he ate. But he's amazing. He's so graceful. He walks like he's floating, which is unbelievable for such a big guy. He could crush your head with two hands, but at the same time, he's such a nice guy. And on top of that, he's one of the greatest defensive linemen ever. I call him the emperor of defense because he gets two or three sacks every game. He's so powerful, they have to put three men on him. And he moves so fast that you think, How can a guy this big move this fast? He's very talented, and I'm proud to wear his name on this jersey any day of the week.
Why do I like the all-white sneaker? Hello? I'm a male Mexican. Our uniform is white tennis shoes, long socks, and a T-shirt. That's what I'm wearing right now. It's just a standard. I've got every kind of tennis shoe you can imagine: Nike, Converse, Adidas, Fila. I like having a little bit of a heel on my sneakers. They're more comfortable. I remember when I met a rapper named Flava Flav, I was wearing these Filas. He saw my shoes and went, "Oh man, you're a fan of Flava Flav?" I was like, "What are you talking about?" And he points to the initials on my shoes. It had "F" for Filas, but I was like, "All right, yeah! I have Flava Flav shoes."
Everybody kept asking me at my restaurant what my recipes were. I would tell them while I'm trying to work, and they would write it down. I talked to my business partner, and he was like, "Why don't you do a cookbook?" I thought, All right, that would be easier. So now when people ask me for a recipe, I tell them it's all in the book. Don't tell anybody, but my favorite dish is the cauliflower tacos. I'm kind of a manly guy; I don't know if I want people to know my favorite recipe is a vegan thing. But you know what? Forget it, that taco is healthy and delicious. I love good and healthy food, honestly. I do enjoy a good carnitas taco, of course, with lots of spice. Spice is life. I like seasoned meat, but I don't like things smothered in sauce. I like my sauce on the side, so I can add what I want and eat how I like it.
The Strategist is designed to surface the most useful, expert recommendations for things to buy across the vast e-commerce landscape. Some of our latest conquests include the best acne treatments, rolling luggage, pillows for side sleepers, natural anxiety remedies, and bath towels. We update links when possible, but note that deals can expire and all prices are subject to change.