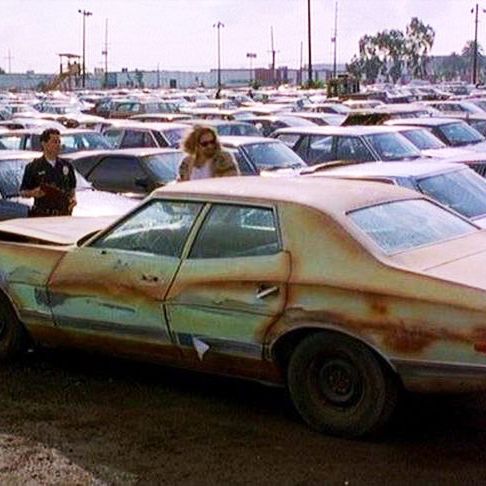 Photo: Universal Pictures
I've been driving the same '99 Toyota Corolla since I got my license almost a decade ago. After years of being in the sun, what was once a lush caramel color paint job is now more of a dull beige. The suspension does squeak a little, but that's pretty easy to fix by turning up the radio. The appeal, for me, is that it is a car. It was cheap, and it works, and now that I've driven it for a while, we have a special bond.
As much as I love my Corolla, however, I wouldn't mind if it had a few more modern features, like Bluetooth or a GPS, or a way to play music that didn't involve a cassette tape. Since I'm not going to buy a new car, I had to find ways to make my old car feel new(er). And I'm sure I'm not alone: There has been a surge in used car sales as people try their best to avoid public transportation. To help them (and me), I consulted four experts, including a car expert and Strategist staffers who are updating their own vehicles. Here are their recommendations for bringing your old car into the modern age.
If you don't have Bluetooth
Strategist writer Chloe Anello bought this cassette-tape adapter for a "new" 2003 Subaru her family bought in 2014. "I wasn't about to buy a bunch of cassettes in 2014, so we got this and it worked so well," she says. Place the cassette into the player and connect it to the headphone jack on your phone, and instantly you can play music, podcasts, or hear your GPS directions through the car speakers.
My old Corolla has a similar tape-deck-only setup. I've bought a few different adapters to try to fix it over the years, and while many of them frayed and eventually broke, I've used this model for five years, and it's still holding up.
If you don't have Bluetooth (or a cassette player)
If your car is new enough not to have a cassette deck but old enough not to have an auxiliary outlet, Strategist writer Lauren Ro recommends this radio transmitter, which lets you connect your smartphone to the car speakers over Bluetooth and radio waves. After plugging it into the power outlet, you pick a radio frequency on the device (usually something down in the low NPR range that no one is using), then tune your radio to that channel to hear your music. "Once we settled on a few open frequencies and programmed them, we would more or less listen to whatever we wanted," Ro says. "Except when we went out of town and had to pick up new stations." She's used hers for almost seven years with no problems.
If you don't have a USB outlet
Chargers are necessities: I've had multiple Mission: Impossible moments where I thought my phone might die, taking Google Maps with it before I got to my destination. This Anker fast charger has dual ports, so your passenger can charge their phone while you do, and enough wattage to get your phone battery to 80 percent in about 35 minutes. My favorite feature is the light up LED ports, which make plugging in your phone at night a lot easier.
If you want to save a little money, this option doesn't have LEDs and charges your phone about half as quickly.
If you don't have built-in GPS
"A good cell phone or device holder for your dash has become basically essential these days, especially for those who do any decent amount of traveling," says Garret Davis, a writer and editor at AutoAnything.com. This product slips into the vents on your dashboard, holding your phone at eye level while you're driving.
I used this suction-cup phone mount for an entire summer while I traveled an hour and half each day to do local reporting on Long Island. It was one of the best accessories I ever bought for my car, saving me from having to look down at my phone in the cupholder to make sure I got off at the right exit. The suction cup hooks to the windshield, and the gooseneck lets drivers of nearly any height find a comfortable viewing position.
If you prefer a phone mount that's not going to take up part of your windshield real estate, a cup holder mount might be the right choice. It won't keep your eyes on the road as well, but at least it won't be constantly interrupting your field of view.
When our resident adviser on all things cool, Chris Black, was asked about upgrading used cars, he recommended a magnetic phone mount like this one. The base of the mount has an adhesive that sticks on your dashboard. Place a small magnetic plate to the back of your phone or case, and it sticks to the magnet on the other end. "This mount adjusts a full 360 degrees," Black says. "Suction doesn't do it for me. But remember: Eyes on the road!"
If you don't have built-in GPS and never want to take your eyes off the road
A heads-up display projects information onto a transparent screen in front of your windshield while driving, so you can see your speed or the next step in your directions without even shifting your gaze from the road. This device can also receive incoming messages and calls.
If you don't have great insurance
"A quality dash cam is an underrated accessory," Davis says. They can save you in accident situations where it becomes your word against the other driver's. And you can find some that have modern features like Alexa support or "bump detection to automatically record incidents while you're away from your car."
If you don't have that new car smell
Long gone are the days of the pine cone freshener. Black recommends this chic "fragrance car tag" from Japanese brand retaW. In terms of scent, instead of trying to recreate that new car smell, he prefers Natural Mystic, which he describes as "a spicy mix of patchouli and vanilla."
If you don't have proper floor mats
No matter how old your car or the condition, when you go to sell, certain products will also get you a better price, Davis says. "Interior protection items like sunshades, good all-weather floor mats, and seat covers help preserve your car's value so you can get the most back from your investment when it's finally time to sell. "Floor mats may seem inconsequential but they can help you keep the interior of your car clean. Davis says it's an important used car accessory, which can help you protect your car from nasty spills, snow and rain.
The Strategist is designed to surface the most useful, expert recommendations for things to buy across the vast e-commerce landscape. Some of our latest conquests include the best acne treatments, rolling luggage, pillows for side sleepers, natural anxiety remedies, and bath towels. We update links when possible, but note that deals can expire and all prices are subject to change.