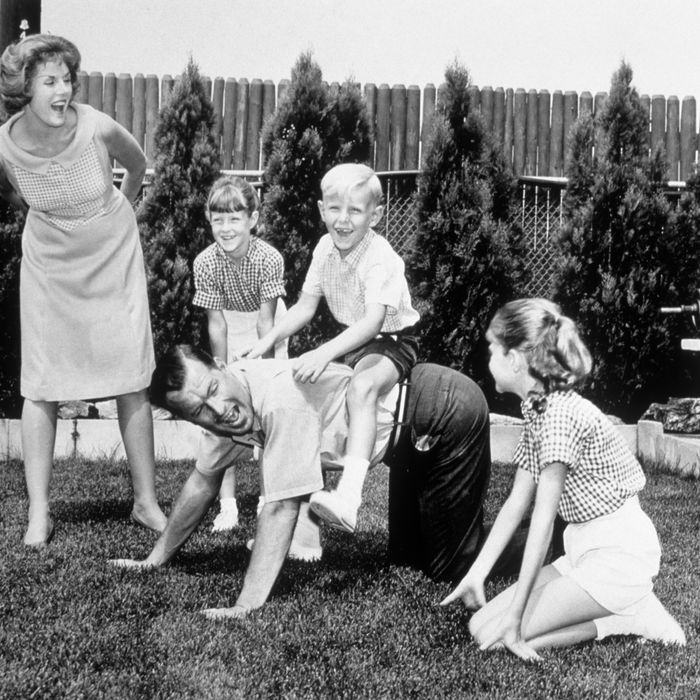 Photo: Camerique/ClassicStock
Between long days at the office and squeezing in workouts, dads can have a lot on their plates. Add in the the stress of daily life, discomforts of travel (think cramped economy seating), and sport-specific aches (we know golf dads are hard at work on their swings), and it's not surprising that back and neck massagers are often among our best-selling gifts for Father's Day each year.
To help you find the perfect gift for your dad and his particular aches and pains, we asked a panel of chiropractors, massage therapists, and athletic trainers to share their muscle-soothing recommendations. With options ranging from a travel-friendly folding foam roller to a wearable posture-corrector, their picks below will leave dad sighing with relief.
Best vibrating massage tools for dads
By far the most popular product among our experts, with all five mentioning it by name, the powerful Hypervolt massager will help dad work out the kinks in his back or anywhere else that's sore. "If you don't have time for a massage or can't afford to do it regularly, this is the next best thing," says Jan Lefkowitz, a chiropractor at Body in Balance Chiropractic. He explains that "vibration helps to loosen up the muscles and increase blood flow which flushes them out and will also decrease pain and tension." Chiropractor David Perna of Back & Body Medical says, "this device is used a lot by therapists, masseuses, chiropractors, and athletes alike. [It's] also great for personal use to massage sore muscles."
Vanessa Chu, co-founder and COO of Stretch*d, calls it "the ultimate tool for working out sore areas or knots. It's the strongest percussive massage gun on the market," and is a popular add-on to her studio's assisted stretching sessions. David Vargas, a massage therapist and founder of Momentum Sports Recovery, agrees that it's a "fan-favorite of physical therapists for being more cost effective," and Christina Nassaney, an athletic trainer at Fusion Physical Therapy & Sports Performance says it's great for "relaxing the central nervous system which allows the muscles to relax."
For an under-$200 option, Vargas likes the TimTam massager that's similar in style to the Hypervolt.
There's also this very affordable percussive massager that has over 2,000 reviews on Amazon and comes with four attachments for different types of pressure.
Last summer we investigated the percussive Theragun massager that was gaining popularity on YouTube and among professional athletes. Vargas says it's "the original therapy gun," and is "great for myofascial work." While the first model retailed for nearly $600, this smaller, lightweight version is a slightly more affordable gift.
Like the Hypervolt, the Vyper foam roller soothes sore muscles through vibration. "I have seen clinically in my practice, and from using on my own body, that vibrational technology does some pretty amazing in terms of decreasing pain and muscle recovery," says Lefkowitz and he explains that the Vyper is "great for rolling your IT bands, quads, hips, [and] glutes." Nassaney also likes that the dense, vibrating foam roller breaks up adhesions in the muscles.
Best heated massage tools for dads
It might take a little convincing to get dad to try out this inverting massage table, but Perna swears by it for those with chronic back pain. "Inversion tables tip back and hang you upside-down. When hanging your body weight will gently stretch in a lengthening direction. This will take pressure off the joints of the low back and discs," he says. "This one is awesome — it has heat and massage, also, for an achy back."
For a less intense heated massager, this shiatsu pillow targets the neck and upper back. Along with being a lot more affordable, it's one of our perennial favorite last-minute Father's day gifts.
Best manual massage tools for dads
You don't need high-tech tools for getting a good rub down, though, as Vargas points out. He calls this simple yet effective massage stick "an oldie but a goodie [that's] good for the more get-it-done type individual who wants to actively get after the knots."
We're already fans of Trigger Point's knobby foam roller, and this set pairs it with a massage ball and a strap for easy carrying. Vargas says, "use the foam roller for broader surface areas and the ball for those smaller harder-to-reach areas."
Another one of Vargas's non-mechanical picks, the hook-shaped Thera Cane is perfect for a dad with an aching back. He can use it to reach those sore spots that he might not otherwise be able to get to by himself. The round nodes along the cane allow him to get deep into muscle knots.
Best massage tools for traveling dads
If dad travels a lot he'll appreciate this space-saving foam roller. "This folds down and is light enough to fit in a suitcase," says Chu. "It is also the perfect density — not too hard, not too soft — to work out tight hip flexors and glutes from travel." By the same logic, it's a good choice for dads who sit all day and also want a foam roller that can be easily tucked away.
For dads who love their vibrating foam rollers but don't have room for them in their carry-ons, Lefkowitz likes this smaller ball that's actually better for targeting specific aches and pains. He says, "it can get [into] smaller places than the Vyper due to its shape."
Also small enough for easy packing, this vibrating mini foam roller comes highly recommended by Vargas who likes it specifically for back and neck pain. It features indents and ridges that squeeze muscles and improve circulation.