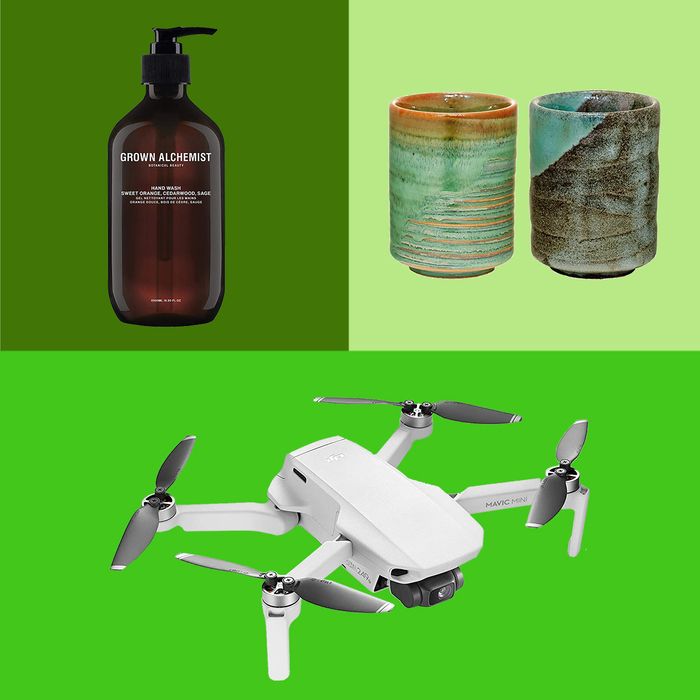 Photo-Illustration: Courtesy of retailer
With Father's Day just days away (as a reminder, this year it's this Sunday, June 20), we're really down to the wire for buying gifts. But there's still just enough time to sneak in some great last-minute Father's Day surprises. Maybe your dad needs something to help him get back in shape after months of isolating at home. Maybe his T-shirts, towels, or Dopp kit could use an upgrade. Or maybe what he really needs is a way to host socially distant movie nights in his backyard. To help you find the right gift for your dad (and quickly), we found the best last-minute Father's Day gifts for all kinds of dads — all of which will get to him in time for the big day.
Note: Shipping times vary based on your location. Be sure to check the delivery date before ordering.
For the achy dad
Whether he's sore from a new workout routine or hours spent bouncing a new baby to sleep, he'll get relief from this curvy foam roller that actress Kaley Cuoco loves. She tells us its big divots allow her to "wiggle around on my side or back or legs and get the spots that are extra tender."
For the dad planning a family camping trip
He'll be the campfire hero roasting up marshmallows and hot dogs with these extra-long sticks that are a favorite of fire-loving dads.
For the mixologist dad
Photo: retailer
To take dad's boozy creations to the next level, cocktail expert Fred Minnick recommends this food dehydrator for creating elegant garnishes. As he says, "the taste of whatever spirit is poured, be it a $10 bourbon or $100 Scotch, is made better by just one dehydrated orange slice. As the citrus marinates in the drink, its flavor will change with every sip." It can also make jerky, dog treats, cured egg yolks, and more.
For the forgetful dad
This Bluetooth sensor is the size of a nickel and will stick to dad's keys, wallet, or anything else he tends to misplace. Next time he loses the remote he can just pull up the Tile app on his phone to find it.
For the deep-thinking dad
Architect Christopher Choa tells us this book — that's both a guide to living a truly happy life and a biography of 16th-century essayist and philosopher Michel de Montaigne — would make an excellent 60th birthday gift, but we think dads of any age who like to ponder life's biggest questions would enjoy it.
For the dad who listens to podcasts in the shower
For the new dad with no time to shower
A 20-pack of Ursa Major face wipes that will make him feel refreshed, while exfoliating and hydrating his skin.
For the dad who dries off in style
Whether they're used at the beach, pool, or just out of the bath, striped Turkish towels make drying off look good. Plus they're compact and easy to store in both a cramped linen closet or beach bag.
For the birder dad who's always yelling at squirrels
A bird feeder designed to thwart his worst enemies.
For the dad who runs marathons
This dry bag will help him store all of his wet gear after a race without getting the rest of his belongings soggy. Ultramarathoner Michael Wardian says it's the best gift he's ever received.
For the dad who needs a little workout motivation
Obé Fitness offers thousands of on-demand and live weekly classes across multiple practices, including yoga, pilates, cardio boxing, HIIT, and more. Each class is 28 minutes long and requires no equipment beyond a mat.
For the dad who wants to make pickles
He'll appreciate this handy fermentation kit from our recent guide to fermenting. It comes recommended by Michael Perrine, founder of rejuvenation and detox clinic Vitality NYC.
For the dad who can never find his charger
This wireless charger, which doubles as a hands-free phone stand, is hard to lose (especially if given a dedicated spot on his desk or nightstand) and will keep Dad's phone from dying.
For the dad who needs new basics
Fill his dresser drawer with a bunch of pigment dyed pocket tees from Maine-based basics brand Comfort Colors. These T-shirts are a favorite among cool guys including designer Mickey Pangilinan and Writer Max Lakin.
For the adoptive dog dad
Just like a human DNA test but for dogs, Embark helps owners of adopted pups find out whether they're a Corgipoo, a Beaglier, or a Border Chow.
For the dog dad who has separation anxiety
Furbo's dog monitor cams help worried pet owners keep a close eye on their pups while they're away. This model even dispenses treats.