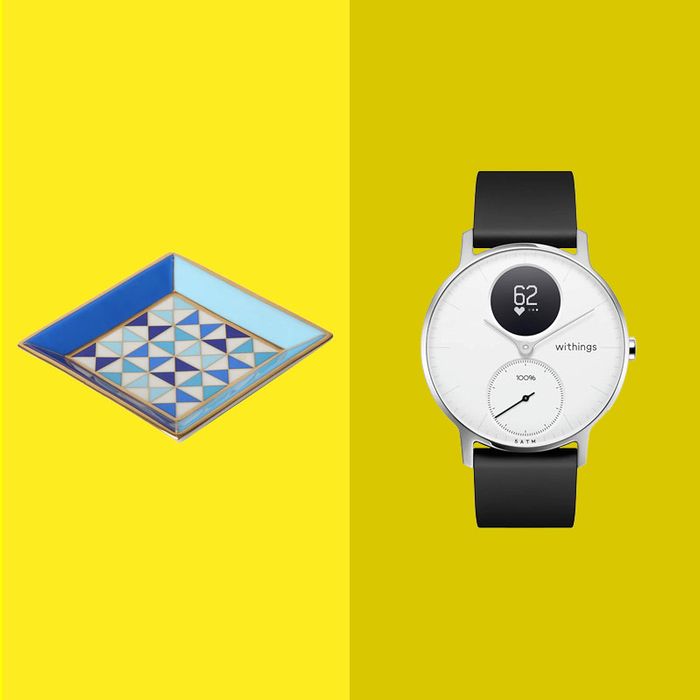 Photo-Illustration: Courtesy of retailer
With Father's Day just a few days away (as a reminder, this year it's Sunday, June 19), you may be feeling a bit frazzled about finding a gift. So for all the procrastinators out there, we've put together a list of last-minute gift ideas for every kind of dad, whether he's into food, tech, beer, high-end design, golf, philanthropy, the great outdoors, or some other hobby or interest. From workout gear and gadgets to the best basic T-shirts, towels, and comfy socks, you'll find plenty of options below that are sure to make him smile — and arrive on his doorstep in time to celebrate.
For the dad who doesn't drink but still loves his bubbles
Get him an 18-can flavored seltzer variety pack to sip as he gets the grill going.
For the dad who loves wildlife
For a Father's Day message he won't forget, send him a Cameo from Teddy the Famepark Bear or another famous zoo animal.
For the dad who's a mosquito magnet
If he's always the first to get bitten, he'll appreciate this ten pack of DEET-free insect-repelling bracelets.
For the hairy dad
In our quest to find the very best grooming tools for every part of the body, from beards to pubic hair, the Wahl Peanut trimmer has come up again and again. Barber Mark Miguez uses it to trim his chest hair and around his shoulders. "It's easy to maneuver and get right up against the shoulder blade and around the neck," he says.
For the achy dad
Whether he's sore from a new workout routine or hours spent bouncing a new baby to sleep, he'll get relief from this curvy foam roller that actress Kaley Cuoco loves. She tells us its big divots allow her to "wiggle around on my side or back or legs and get the spots that are extra tender."
For the dad who spends his weekends pruning
These ultra-sharp loppers are designed to cut through branches like butter so he can make quick work of all his trimming chores.
For the dad who needs a place to put his change
This little tray will make whatever he pulls out of his pockets look like a curated collection instead of a mess.
For the dad who needs new glasses
If his current frames are no longer cutting it, he'll appreciate this gift card for an eye exam and pair of prescription glasses. The best part of this Father's Day gift is how quickly New York brand Heywear can turn around his new specs — from exam to on his face in half an hour. If your dad can't make it to Heywear in person all he has to do is upload his prescription to order online. And if he doesn't like his new glasses he can return or exchange them for free.

For the dad who's planning a family camping trip
He'll be the campfire hero roasting up marshmallows and hot dogs with these extra-long sticks that are a favorite of fire-loving dads.
For the mixologist dad
Photo: retailer
To take dad's boozy creations to the next level, cocktail expert Fred Minnick recommends this food dehydrator for creating elegant garnishes. As he says, "the taste of whatever spirit is poured, be it a $10 bourbon or $100 Scotch, is made better by just one dehydrated orange slice. As the citrus marinates in the drink, its flavor will change with every sip." The specialty device can also be used to make jerky, dog treats, cured egg yolks, and more.