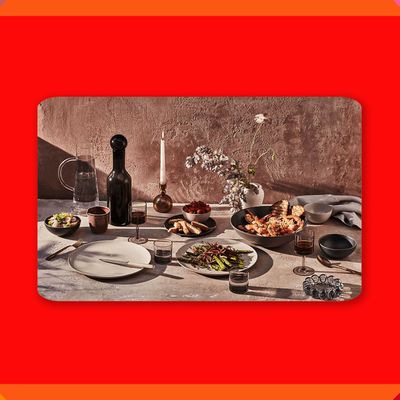 Photo-Illustration: Courtesy of Getty Images
It happens to the best of us: Whether you've forgotten an upcoming birthday or anniversary, underestimated how long shipping will take, or just put off shopping for a Christmas present until the 11th hour, you've found yourself empty-handed, sans a physical gift. That means it's time to pull out the Hail Mary that's guaranteed to delight: the e-gift card.
It's not our best idea, but an e-gift card will at least let your giftees pick out what they want and have something to open — even if it's just an email. Plus there are nearly endless options, from nice-to-have gift cards for their favorite clothing store to truly useful ones for services or stores where they do their daily shopping.
To get you started, here are 95 different gift cards to Strat-approved retailers that will delight anyone on your list, from the outdoor adventurer to the gamer to the avid cook to the jet-setter. If you want to earn bonus points for presentation, we recommend taking the extra step of printing out the gift card (even though a code will be emailed to them) and sticking it in a (thoughtful!) card. Or better yet, put the printout in a box and wrap it up. It's the little things that count.
Food and drink e-gift cards
Travel and experiential e-gift cards
Tech e-gift cards
Fashion and accessories e-gift cards
Beauty and grooming e-gift cards
Home e-gift cards