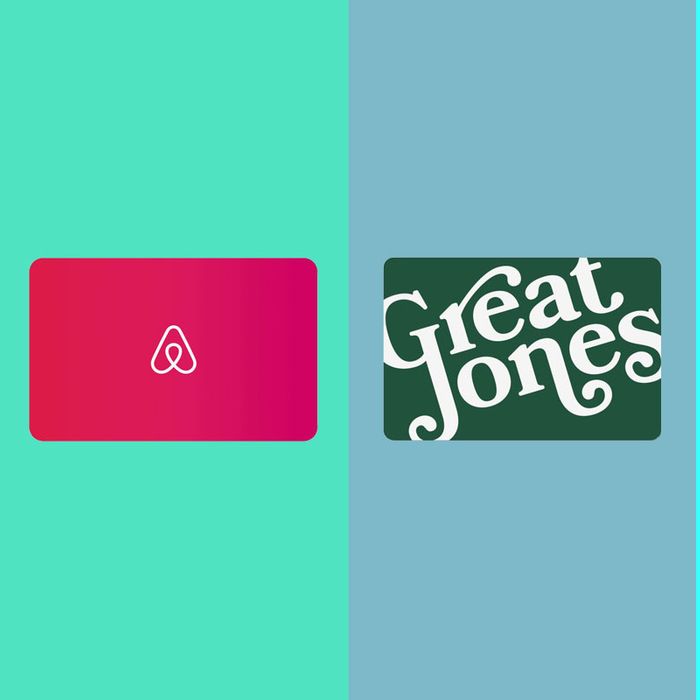 Kristen Bell and Dax Shepard, not included.
Photo-Illustration: Courtesy of Getty Images
At this point, you've probably been affected by pandemic-related supply-chain issues at least once. And while you might be fine waiting those extra months for your new sofa or mattress to arrive, when it comes to holiday presents, we bet your girlfriend, mom, best friend, or child may feel a little differently. We know: It's way too early to be talking about the holidays. But we also know that the only gift that's never been affected by shipping or stock issues (and never been taken by a package thief) is the e-gift card. So this fall, if your proactive shopping plans fall through and you find yourself in a bind, there's no shame in sending a thoughtful e-gift card. At least this way, they'll be able to pick out what they want and you won't have to stress about the perfect gift being stuck on a container ship somewhere off the coast of California. There are seemingly endless options — from the nice-to-have gift cards to their favorite clothing store, to truly useful ones for services or stores where they do their daily shopping.
To help get your search started, we found more than 70 different gift cards that will delight anyone on your list, from the home chef to the person who started making TikToks of their ASOS hauls. Since you still have plenty of lead time, you can take the extra step of printing out the gift card (even though the gift code will be emailed to them) and sticking it in a (thoughtful!) card. Or better yet, put the printout in a box that you then gift wrap. It's the little things that count.
If you follow our monthly hauls you've probably noticed home décor from Hay pop up dozens of times. Any Strat stan will have no problem filling their cart with some of our favorite items.
If they need any suggestions of what to buy with their Golde gift card, we're big fans of the Superwhisk and Turmeric latte blend.
For the avid reader who also likes to support small businesses.
Photo: Retailer
According to teens, Lisa Says Gah is the perfect place to get hair clips for a "Phoebe Buffay or any girl who fits the wacky artistic-but-cool archetype."
Photo: Retailer
If they're anything like Strategist writer Tembe Denton-Hurst, who checks the retailer's website daily, they'll be happy to have this ASOS gift card to cover their next haul.
Lately our staff group chat and Friday sale's posts have been buzzing with affordable designer finds in End's sales bin, so a gift card here should go a long way.
For the person who finally got their hands on a Switch after last year's shortage, a membership to Nintendo Switch Online will help them get the most out of their new device.
Strategist tech writer Jordan Bowman called the Xbox Game Pass Ultimate "the best value when it comes to video-game subscription services."
The hard-to-shop-for guy in your life will find everyday wear as well as gear for just about any outdoor activity at Huckberry.
For the person who just moved and could use some shiny new home goods.
For the person whose art is tacked to the wall with push pins.
Photo: Retailer
In addition to Anthropologie's in-house brand, your giftee will be able to shop brands like MOTHER, Calvin Klein, Levi's, Sunday Riley, and more from Anthropolgie.
Photo: Retailer
For the person who loves classic leather goods.
If they'd prefer an experiential gift, look to 57Hours. They'll help you plan everything from ski day trips to 22-day glacier hikes.
Photo: retailer
From the CloudKnit sweatpants to the MegaFleece to the exercise dress, Outdoor Voices has plenty of Strat-approved workout wear turned WFH wear to choose from.