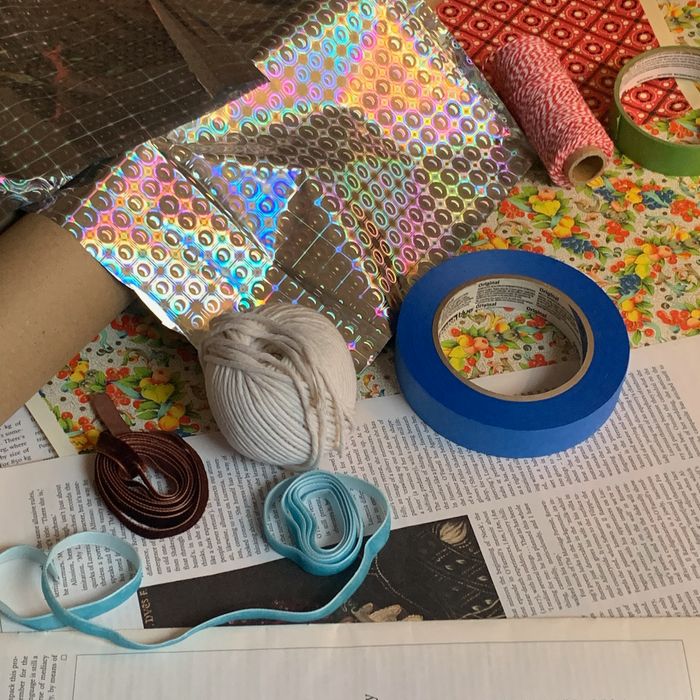 In the past few years, the corner of my mind that fusses over details and values the appearance of things imprinted on gift wrapping. It's one of the best shortcuts to delight: You find a great paper, fold sharp creases, tie it up with a bow, and make your gift recipient feel like a million bucks. After scoping out other people's wrapping jobs, I assumed that leveling up the hobby would mean spending more money on supplies: fancier paper, some niche tools like a bone folder, nicer ribbons than my roll of baker's twine. But although the final product may look luxurious, people known for impressive gift-wrapping jobs tend to be constitutionally thrifty.
"I will reuse proper wrapping paper for years — salvaged into smaller and smaller pieces until it disintegrates," says Kelsey Keith, editorial director at Herman Miller. Designer Erin Jang says that she doesn't "believe in spending a lot of money on luxe gift-wrapping supplies," preferring to use DIY tools and recycled supplies. Some of this rationale is pragmatic. "My theory with gift wrapping is that most people are going to just shred the paper off the gift and throw it away," says small-business consultant Caroline Weaver, former owner of stationery shop CW Pencil Enterprise. In terms of what can be reused as gift wrap, it has to be large enough for the gift and foldable — other than that, the sky's the limit.
People told me about using pages from calendars, wallpaper samples, video-game posters, bodega flower wrap, kids' drawings, old copies of Interview magazine, leftover luxury-brand boxes, and sheets from the art section of the New York Times to wrap gifts. "I like how newspaper looks as a wrapping paper," says Helena Barquet, co-owner of Coming Soon, which wraps gifts in a custom newsprint pattern. "With a ribbon, it's really beautiful."
Even the world's most resourceful paper-saver occasionally needs to replenish their gift-wrap stash and stock up on other supplies — from decorative ribbon to colorful tape and gift-labeling tools — that help add "a layer of unexpected delight," as Jang phrases it, to the gift-giving experience. (And if you're still shopping for gifts, we have guides for everyone on your list.)
Wrapping paper
Almost everyone I spoke to mentioned undyed brown kraft paper as the Platonic ideal for gift wrapping. "I'm a complete sucker for brown-paper packages tied up with string," says Harper's Bazaar fashion news director Rachel Tashjian. "They just look so right! Especially if you have a great little gift card with a winky phrase." Weaver keeps a roll of brown kraft paper in her gift-wrapping cabinet, and Jang says her preference is "any kind of matte recyclable paper that has a bit of weight to it" — including kraft paper. The paper is designed for shipping and packaging, so you can buy an inexpensive roll at office and shipping stores as well as at art stores.
Barquet once wrapped a gift in leftover Mylar — "It looked like something you might get if somebody's giving you a bottle of champagne" — and says that it appeared fancier than the sum of its parts. (You can buy it on Amazon, and I've had good luck finding it at 99-cent stores.) Mylar's slinky, liquid texture makes it hard to fold, so Barquet's trick is to scrunch the material around the gift into a ball, then tie a ribbon on top.
"Wrap and Red Cap Cards make the best one-of-a-kind papers out there," says Jang. Although she prefers non-holiday-specific paper, which is easier to reuse for other occasions, she says she'd break her rule for this NJ Frith snowman pattern, which "feels straight out of a beautiful children's book."
Jang likes to wrap presents in tissue paper, which she buys in rolls from City Papery in midtown Manhattan (the storefront was formerly the site of Paper Presentation, which has since relocated to New Jersey but still sells online). She doubles up the paper to keep it opaque and adds multicolor circle stickers on top to "give it a Yayoi sticker treatment."
Photo: Retailer
Per our collection of holiday tips, Italian Carta Varese wrapping paper — according to the brand, it has roots going "back to original Renaissance patterns used as decoration of chests, cradles, or combs" — has beautiful, densely colorful prints, many of which pass Jang's rule of not being so holiday-specific that they can't be used beyond December. You can find it at McNally Jackson's stationery store (Goods for the Study) or online. (My favorite source, Etsy store 32NorthSupplies, is taking a break but will be back after the holidays.)
Photo: Retailer
"I'm not gonna lie: I do sometimes, every once in a while, love to go to CVS and get fun holiday wrapping paper," says Coming Soon co-owner Fabiana Faria. (She mentions that 99-cent stores are also a great source for paper with zany prints.) Since drugstore paper tends to be on the thinner side, she goes for anything "you think is going to look fancy" to compensate — like a shimmer or a graphic pattern.
For a reusable gift box you don't have to wrap, Keith recommends Hay's glossy cardboard storage boxes. "You can reuse them as photo storage, a container for stashing office supplies, a sock organizer, et cetera," she says.
Ribbons and tape
"I'm obsessed with buying ribbon," says Weaver. "I might not buy wrapping paper, but I sure as hell buy a lot of ribbon." She gets it from fabric stores and Paper Mart (one of the retailers Rachel Comey switched to when she quit Uline), which Weaver says has "the best ribbon on the internet." She likes this double-face satin ribbon that comes in more than 70 colors.
Weaver stockpiles grosgrain ribbon from Mokuba, a Japanese brand known for high-quality trims. "I have more rolls than I'm willing to admit," she says. Weaver bought hers in the Garment District IRL (East Coast Trimming has some), but if you want to stick to shopping online, you can find miscellaneous colors and sizes on Etsy. (Mood Fabrics sells similar garment-quality grosgrain ribbon in a wider range of sizes and colors online.)
For gift-wrapping decorations, "the hardware store is a treasure trove," says Keith. "Painter's tape can be used as tape or to create negative space if you're doing a DIY pattern. I love twine or brightly colored nylon cord as package string. Both are very sturdy."
Several people we spoke to mentioned patterned washi tape as an easy way to make a gift look special. (According to Faria, it's "very forgiving": If you forget what's in a gift, the tape makes it easy to open, peek, then reseal.) There are plenty of places to buy it IRL and online — Strategist senior editor Chelsea Peng recommends getting it at Yoseka in Greenpoint — and Weaver recommends MT tape in particular. "I very strongly feel that MT makes the only washi tape that is actually sticky and actually removable," she says. "It is significantly stickier than any other washi tape. They have so many solid colors that are really lovely, and the finish is really flat too."
"In the store, we do masking tape, because you can peel it off," says Faria. She buys colorful multipacks, which is "very inexpensive, you can get all these different colors, and it looks like you've done something." (Jang likes using masking tape and recommends looking for fun colors at an art store like Blick.) Plus it can serve as an ad hoc gift label: "You can write little messages on the masking tape," Faria says, and your giftee can remove them if they want to recycle the paper: "It comes off really nice and clean."
Photo: Retailer
For the fanciest of fancy papers, Weaver uses Glue Dots instead of tape. (The removable sticky dots are beloved by scrapbookers.) They "work a lot better" than double-sided tape, she says, and they're easy to remove without tearing the gift wrap: "If I'm using a gorgeous marble paper that I just really do not want to damage at all, I think this is the best option."
Labels and pens
"I have a collection of little hang-tag labels, most of which I've bought over the years in that area in the front of Target where they sell the really cheap stuff," says Weaver.
Jang says that "the only gift tags I adore" are these cardstock tags from Knot & Bow. They come in more than a dozen colors — from off-white to highlighter yellow.
If you want to make your own gift tags, a tag punch is "really, really great to have around," says Weaver. (At her shop, they used a similar punch to make gift tags out of the pads of paper shoppers scribbled on to test out pens.) It's pragmatic: You usually can't reuse a gift tag, so DIYing it is a way to avoid splurging on something that's going straight into the recycling. "I'm not gonna invest a lot of time or resources into a fancy tag when I could just DIY one that's cuter," she says.
These are Weaver's "general favorite holiday-season envelope-addressing, label-writing, everything pens." The pen has a brush tip that's similar to that of a calligraphy marker, but "it's the most user-friendly version of that type of pen," she says. "They make anyone's handwriting instantly look fancier."
"I love writing someone's name in script in huge letters right on a wrapped package," says Keith. Jang recommends marking up a solid-color paper as a last-minute gift-decorating hack: "Get a fat Sharpie marker and write a message or draw on the face of the package — or, even better, on all sides of the box! Use enormous bubble or block letters or stretched-out script to write the person's name or a short message."
The Strategist is designed to surface the most useful, expert recommendations for things to buy across the vast e-commerce landscape. Some of our latest conquests include the best acne treatments, rolling luggage, pillows for side sleepers, natural anxiety remedies, and bath towels. We update links when possible, but note that deals can expire and all prices are subject to change.