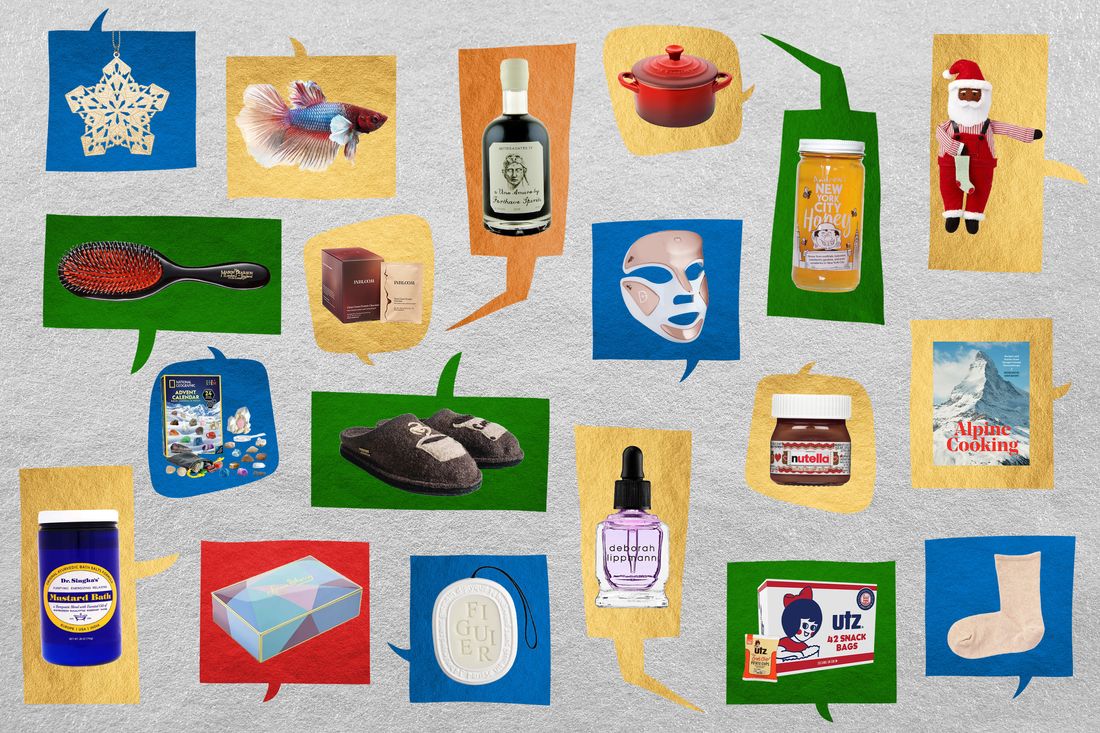 Photo-Illustration: The Strategist; Photos: Retailers
This article was featured in One Great Story, New York's reading recommendation newsletter. Sign up here to get it nightly.
.

If you're buying a gift you hope they'll use forever, cross-check it against the Buy It for Life sub-Reddit.
Community favorites include Zojirushi's rice cookers and Canada West boots. —Erin Schwartz
.

Update their old jewelry.
.

Diptyque makes a weightier version of its candle, meant for closets or dresser drawers.
.

Every Friday, TikToker Emma Ungaro posts vintage designer bags she's spotted on resale sites.
Turn on notifications and grab one for the purse snob in your life. —J.M.W.
.

Give a one-on-one reading with an astrologer.
I like Rose Theodora, Janelle Belgrave, and Lisa Stardust. Everyone loves an opportunity to talk about themselves. —D.P.
.

A gift for your Moon Juiciest friend: single servings of actually delicious vegan anti-stress chocolate protein powder from Kate Hudson's (weirdly good) brand InBloom.
.

The best skin-care tool to give is a high-quality LED mask.
It's one of the few instances in which price really does, always, correlate with efficacy. Dr. Dennis Gross SpectraLite mask is best for those with acne, and CurrentBody is best if breakouts aren't a main concern. —Jolie De Feis
.

If they've expressed the desire to travel more often, offer to pay for their Global Entry. —J.M.W.
.

A few Muji stores, like the one on Fifth Avenue, offer embroidery on in-store purchases (from $5).
Their right-angle socks or gingham pajamas both would make nice gifts. —L.C.C.
.

Present them with a membership to the Noguchi Museum.
.

With an annual subscription to Wonder Valley, they'll get a different beautiful bottle of olive oil four times a year.
.

Instead of the usual crate of pears, introduce your recipient to the delights of sapote and rambutan with a variety box of tropical fruit.
Or if your recipient has a reasonably green thumb, send a Meyer lemon or Australian finger lime tree, which both grow well in containers. —W.Y.
.

Pair a cookbook with a tool or special ingredient for an especially thoughtful gift.
Example: a copy of Jess Damuck's Salad Freak with a greens stripper. —E.W.
.

Nutella releases one-ounce jars specifically for the holidays that make fun stocking stuffers. —Jen Trolio
.

Not everyone can subscribe to every newsletter, so give someone a membership to a Substack.
Blackbird Spyplane (for more interviews and its "Cla$$ified Recon Tier") or the new Passerby Club (to access its Discord and get discounts at brands like Saie and Mater Soap) are good options. —M.R.
.

Send them an only-available-during-the-holiday-season treat.
My favorites: aged-one-year fruit cakes by Robert Lambert and Leckerlee lebkuchen that comes in special-edition tins. —W.Y.
.

When in doubt, send dinner from Goldbelly.
My favorites are muffuletta from Central Grocery in New Orleans and BBQ from Snow's in Lexington, Texas. —Kayleen Schaefer
.

The most highly coveted gift in my group chat of professional Brooklyn-based bakers is a White Bark Workwear hemp apron.
.

A tiny Le Creuset Dutch Oven only costs $36 (about $340 less than an actual Dutch oven) and is great for serving sides. —E.W.
.

Consider the group buy.
.

You can't go wrong with a Lauren Manoogian sweater. —Katy Schneider
.

Barefoot Dreams makes the most luxe, fuzzy blankets and can be found heavily discounted at Nordstrom Rack. —Zoe Denenberg
.

Shinola has lovely linen-bound journals that are the same style as mainstays like Moleskine and Leuchtturm but are higher quality and made in the U.S.
And it monograms them for free. —C.W.
.

A betta fish will delight at any white elephant exchange. —D.P.
.

A good last-minute gift: Go to a newsstand and get trashy gossip magazines, bundle them with a scratch-off lottery ticket. —Alexis Swerdloff
.

Band-Aids in fun colors, character prints, and patterns are the perfect stocking stuffer for kids up to 6 or 7 (ideal for ages 2 to 4). —J.T.
.

Support a radio station that gives a branded baseball cap as its member thank-you gift and then give the hat as a gift. A good local one is 90.7 WFUV. —M.R.
.

Persephone Books in the U.K. reprints books by women writers that never got the attention they deserved when they were first published.
.

If you're out of ideas, getting a bunch of hair accessories from Amazon in 50 different colors is an easy and very pleasing gift. —L.C.C.
.

One thing I always put in my kids' stockings is an interesting piece of fresh fruit.
Star fruit, persimmons, even a pineapple — whatever you think they will like but haven't tried. —J.T.
.

A literal rainbow of solid-colored T-shirts and leggings from Primary was a huge hit with my older daughter when she was 6 and super into dress-up. —J.T.
.

Eva Chen just ordered this National Geographic gemstone Advent calendar for her daughter, and now I want one, too. —C.P.
.

Target, in collaboration with L.A.'s Sugar Paper, makes perfect red gift boxes.
.

For kids, The Picture Book Club's subscription (hand-curated, nonobvious children's books that arrive every month for six months) is really a gift that keeps on giving. —A.S.
.

And for adults, try a subscription to London's Heywood Hill Bookshop's "A Year in Books."
.

If I know that someone loves white bedding, I'll always buy them bedding from Italic.
.

For any amaro fan, Forthave's Reserve 1 magnum will make a splash.
You'll have to do some digging to score one of the few remaining bottles of Reserve 1, but for a more readily available (and no less special) amaro, try the distiller's just-released Mithradates. —C.P.
.

Roll up to a holiday party with a few cases of Zuzu's bottled agave-spirit cocktails, which are chic and contain only five ingredients
.

If your giftee is into aperitifs (or aperitif-curious), you can't go wrong with a bottle of St. George Bruto Americano.
.

Reality-star Cameos are generally affordable and well received.
.

I'm gifting multiple pairs of cute well-priced wool slippers from the German brand Haflinger this year.
.

I have a habit of getting my husband high-end sweatshirts that he'd never buy himself.
Hits through the years have included Save Khaki, Jungmaven, and Buck Mason. —A.S.
.

Never forget that popes have been getting their cardinal-red socks from Mes Chaussettes Rouges since 1798. —L.C.
.

The Met has released a collectible star ornament annually since 1972, which means this year's is the 50th-anniversary edition.
You can also find stars from years gone by on Etsy, if you want to buy someone an ornament from their birth year. —Katherine Gillespie