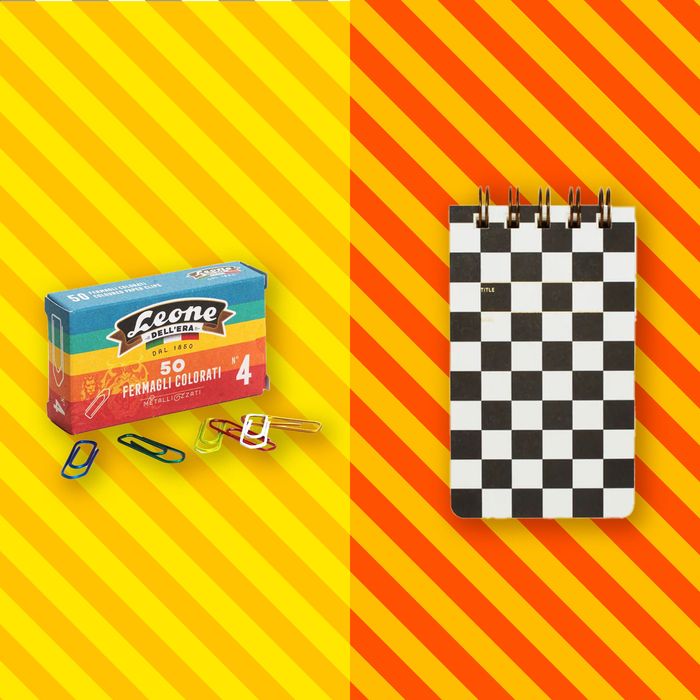 Photo-Illustration: The Strategist; Photos: Retailers
When I was a child in the early aughts, Christmas at my divorced dad's house meant a stocking full of things he'd bought at Staples the day before. Fresh Post-its, mini-staplers, a pack of Pilot G2 pens — it was almost always the same each year. The thing is: My siblings and I loved it. Who isn't satisfied by the pointy feeling of a brand-new marker or the novelty of a miniature item that's still completely useful? I think fondly of those stockings at this time of year and have spent much of my adulthood hawking similarly utilitarian pleasures at my onetime stationery shop. What I've found is that as we become more and more dependent on technology-based work and communication, the more we appreciate and crave the analog version. For the self-proclaimed stationery nerds in your life, or the ones who don't know it yet, I've got a list of stocking stuffers that are sure to delight and impress.
You haven't tried a glitter pen until you've tried these. By "dual," Pentel means they're two-tone. The gel ink is one color, and the super-fine glitter is another, making your handwriting look dimensional and shiny yet still surprisingly legible. The best part is they're satisfyingly inky and virtually clogproof.
Since 1948, Fisher Space Pen has been manufacturing this icon of design and engineering right here in the U.S. The cartridge is pressurized so it works normally in a zero-gravity environment, but for the regular user on Earth, it's a really high-quality ballpoint with a cool story. The Bullet version is elegant and pocket size, and it comes in a cute gift box that evokes the surface of the moon.
If you crossed a Sharpie with a Flair pen, this is what you would get. The Teranishi No. 300 Magic Pen is a felt-tip marker that is water based but permanent and comes in terrific colors. If you don't want a set, you can buy individual pens from East Village Postal. Gift a few to your favorite doodler or Bullet journaler.
These days, most pencils are made from California incense cedar, but at the dawn of the American pencil industry, they were made of a more fragrant, yet more unpredictable, Tennessee red cedar. A few years ago, the family-owned, Tennessee-based Musgrave Pencil Company started making a pencil from its native wood again, and the result is a truly spectacular writing tool with gorgeous wood grain and an intoxicating scent.
For the past ten years, Blackwing has been inching its way up the ladder when it comes to the most popular currently manufactured pencils (the Palomino is a Strategist favorite). The brand was inspired by a pencil of the same name originally made by Eberhard Faber in NYC at the beginning of the 20th century and known to be a favorite of John Steinbeck. This year, Blackwing has produced a stunning limited edition pencil that includes the most special small details of the original 1930s Blackwings — a perfect, historically accurate homage to a classic American writing tool.
It's important not to take all of this too seriously, which is why I just love the middle-school vibes of these Pop a Point pencils. They remind me of something you redeem tickets for at an arcade and are surprisingly pleasant to write with — and even more fun to use as a fidget tool.
My friend Barry Gabay is a fountain-pen expert and writer for Pen World magazine, so I asked him for his favorite fountain pen under $50 and he suggested the Lamy Safari. This pen is beloved among newbies and seasoned pen users alike (it's also a Strategist favorite) and has been a mainstay in the fountain-pen world since the 1980s. You can find it in a variety of colors including a lovely limited-edition cream.
Three years ago, I bought a pack of these highlighters at a department store in Japan simply because they were a Snoopy limited-edition set and I thought they were cute. When I actually used one, I was blown away by its unfailing juiciness, flexible tip, and the fact that it's actually smudgeproof over water-based ink. Buy these for the students on your list.
Frivolous versions of everyday objects are the best category of small gift, and this fancy eraser is exactly that. Astier de Villatte is a French ceramics and perfume studio, and its erasers are scented with signature fragrances (including Rue Saint-Honoré and Naples). Despite what you might assume, the erasers actually function quite nicely for their intended purpose!
Don't be fooled by the simplicity of this pencil sharpener. It does the sharpest, longest, easiest point you've ever seen and will astound any pencil user. NJK is a family-owned company based in Osaka that specializes in pencil sharpeners, and its motto couldn't be more accurate: "Light as an apple peel, sharp as a Samurai sword."
Field Notes is singularly responsible for popularizing the staple-bound pocket notebook. Its fan base is unrivaled, and the creative team churns out new limited editions all the time. This year, it teamed with the U.S. Postal Service for a collection of notebooks to celebrate recent postage-stamp releases, such as this pack of Charlie Brown Field Notes. Notebooks and snail mail: a match made in analog heaven.
Designed and made in L.A., this modern version of a reporter's notebook is sturdy enough to use standing up and has creamy paper that's suitable for all writing tools. Legend has it that this style was invented when a newspaper reporter was frustrated that his standard spiral-bound notebook didn't fit in his pocket, so he cut it in half.
Inspired by the waves of the Ultrafragola mirror, by Ettore Sottsass, Poem Press makes simple note cards in a range of subtle colors from the most deluxe paper stock. Any stationery aficionado knows it's important to keep a box of all-purpose notecards on hand at all times, and these are much cooler than your average boxed set.
Although they aren't a requirement for international mail anymore, airmail labels hold a special place in any avid letter writer's heart. For those interested in Bullet journaling, ephemera collecting, or mail art, a well-edited selection of vintage airmail labels like these are a small and thoughtful gift.
For writing tiny notes, labeling boxes, or addressing envelopes, these stunning letterpress cards are useful in a number of applications. It's surprisingly hard to find quality well-designed small paper goods like bordered labels nowadays, and these are just right for someone who appreciates classic design or has a penchant for organizing.
Imagine these little people scattered among the pages of your planner: yoga person on Wednesday morning, cleaning person on Saturday, grocery shopper on Sunday. Planner accessories are a huge industry, and these are an unusually lovely and personal way to customize your system.
Since 1927, these almond-scented glue sticks have been a staple of Italian stationery. Sure, they're aesthetically beautiful, but they're also nontoxic and solvent free and smell good enough to eat, though I don't recommend doing so. Gift one to a friend who loves making collages or an aunt dedicated to curating a pleasing deskscape.
For those unfamiliar: Washi tape is a type of Japanese paper tape often made in decorative styles. It's a superior type of tape because it's more environmentally friendly than its plastic counterpart and because it's sticky but easily removable. Kitta makes these washi-tape-strip sets in a variety of cute themes (including cats, maps, and meadows), eliminating the need to tear or cut and, more important, the commitment to use a whole roll of a single design.
Instead of a stack of sticky notes, this roll is one giant sticky note — writeable, removable, and printed with a dot grid on a color background. Cut off as much as you need and stick it to any surface.
On eBay, there's a huge collectors' market for vintage scratch 'n' sniff stickers from the '80s, which may or may not still smell or stick. For a significantly lower cost and with guaranteed effectiveness, you can get a similar style of silly scratch 'n' sniff sticker from Beautiful Days, the brainchild of illustrator Chris Uphues and his wife, Jen Koehl, who make them in a variety of smells, including sweet pickles, pizza, and cola.
Elegant Italian paperclips are prime stocking-stuffer fodder, especially when they come in a variety of hues for color coding and marking pages. Leone Dell'Era has been making small metal products since 1850, and this particular slightly pointed paperclip shape is its specialty.
This scissor is life-changing. It looks like a pen, but pop the top off and it becomes a scissor short enough to be TSA-approved! It's amazing how many things you realize you need a scissor for when you've got one on hand all the time. Want to cut an itchy tag out of a sweater? Have a package to open on the go? Notice a weird piece of hair sticking out? Everyone needs this magic tool in their EDC.
Endlessly handy and shockingly chic, this tiny ruler is easy to slip into any pencil case for when you want to measure something or need a straightedge. I use mine for things like measuring my knitting, drawing address lines onto postcards, and folding paper.
There's a collectible surprise box for just about everything in Japan, and stationery is no exception. This set of iconic Japanese stationery items is made by miniature specialist Ken Elephant and curated by popular Japanese stationery journalist Kan Misato. Each one is exceptionally detailed and affixed to a key chain.
If you've made it this far, you may be interested in taking the theme to another level with pencil-shaped candy. Kanro's colored-pencil hard candies come in many flavors and in packages detailing pencils with extremely specific personalities. They're hilarious and delicious.
The Strategist is designed to surface the most useful, expert recommendations for things to buy across the vast e-commerce landscape. Some of our latest conquests include the best acne treatments, rolling luggage, pillows for side sleepers, natural anxiety remedies, and bath towels. We update links when possible, but note that deals can expire and all prices are subject to change.