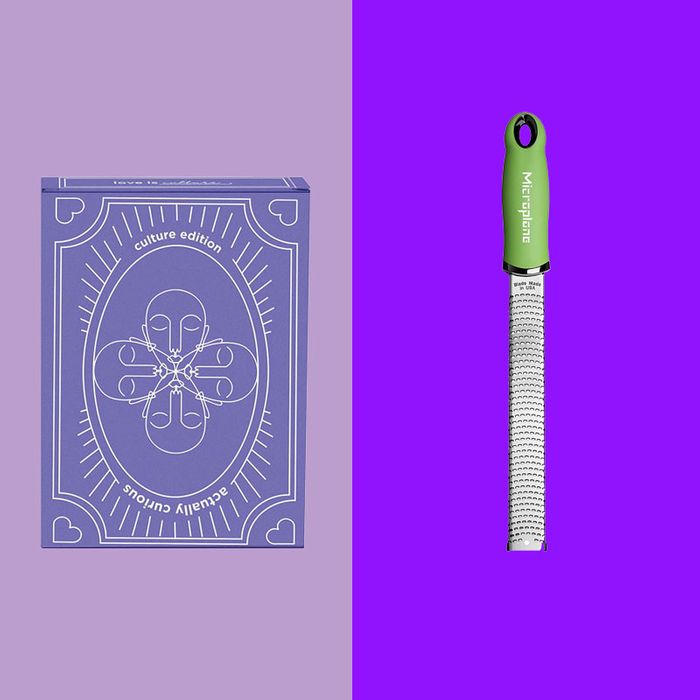 Photo-Illustration: Courtesy of the retailers
Some of us are proactive and shop early for the big holiday gifts, but it's a special type of gift-giver who picks stocking stuffers with months to spare. This year, don't be the person who left stocking stuffers to the last minute, only to wait in line at Starbucks on December 24 to buy whatever remaining gift cards they have in stock. You can squirrel away the little items months in advance, just like you might with this year's most coveted gifts.
We've made it even easier to find a stocking stuffer that will look like you put a lot more thought into it than you actually did. Below are 45 great gifts you can give to just about any family member, from a boyfriend who could use some grooming advice to your grandmother battling hot flashes. They're all under $25, so they won't break the bank, and all from Amazon, so even if you don't purchase today, they'll arrive in time so long as you purchase at least a couple days before Christmas.
For the dog parents who like to take their fur baby on hikes
This portable water bottle will come in handy when Fido is over it halfway to the top.
For the marathoner with a busy schedule
If evenings and early mornings are the only time they can get their training in, this beanie with a built-in light will keep them warm and visible to vehicles when it's dark. When you gift it, be sure to mention it also made Oprah's list of favorite things.
For the high schooler wanting a bedroom makeover
For just $25, these TikTok-famous light strips can make a huge impact on the vibe.
For the budding content creator
A simple countertop tripod like this could be the only thing standing between them and their first brand deal.
For the dad with a touch of absentmindedness
Help Dad locate his phone, keys, and wallet with these remote tracking devices.
For the toddler that can't sit still
Forget fidget spinners — fidget poppers are the next big thing, and these colorful rainbow ones will keep your restless kid enthralled for hours.
For the college student trying to make friends in the dorm
With this get-to-know-you game in tow, they'll be bonding with their floor-mates in no time.
For the cousin whose wallet is a rubber band
Like their iconic backpacks, this wallet from Herschel Supply Co. is simple, slightly sporty, and highly functional.
For your husband who always loses his scarves
If he misplaces this one too, it was only $20. But if he miraculously keeps up with it, he'll enjoy a 100 percent cashmere scarf for only $20.
For your wife who could use five minutes' peace
Help her unwind with these ylang-ylang- and vanilla-scented salts. (Just know she'll want to spend way more than five minutes with them.)
For your sister-in-law who's really into skin care
This cold gel roller takes the cooling, calming joy of the classic jade roller to the next level. Cool the head in the freezer and roll puffy under eyes and irritated skin — bonus: It's big enough to treat sore muscles, too.
For the neat-freak dad
One side of this pen-size brush can wipe the camera lens on his phone clean while the other can sweep away crumbs on his laptop keyboard.
For your mom who's finally giving the flat iron rest