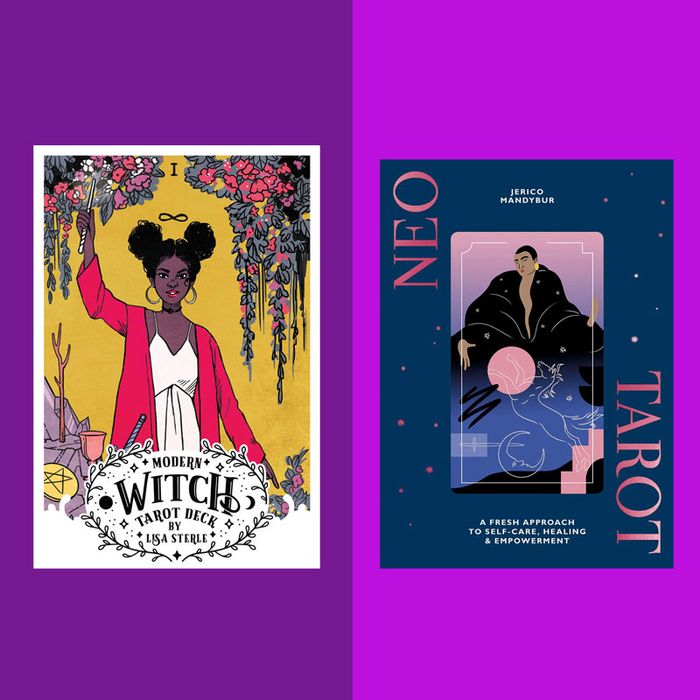 Photo-Illustration: The Strategist; Photos: Retailers
If you're anything like me, your For You page on TikTok is filled with tarot readers who declare, "If you're seeing this, it's for you." They're promising abundance, a new job, and the return of your ex. For some, TikTok might be your first experience with tarot, which is, simply put, a deck of 78 cards depicting images traditionally used for divination fortune-telling and as a tool for spiritual and psychological introspection. They've been around for centuries, but have become increasingly mainstream, especially in the last year and a half of the pandemic.
"Tarot is a set of images that — depending on which deck you're working with — can be very activating and stirring for the soul," says tarot reader and author of Tarot for Change Jessica Dore. She says that it makes a lot of sense that we're collectively drawn to tarot right now. "We're needing to access our ability to make meaning and understand our realities."
It's commonly believed that tarot came out of Northern Italy in the 1400s, but many Asian and African cultures contributed to tarot as we know it today, says Benebell Wen, reader, tarot-deck reviewer, and author of Holistic Tarot. Wen explains that playing cards originated in China in the 1300s, and the Mongol Empire brought them west when they ruled over Egypt and most of the Mediterranean. Thanks to trade between Northern Africa and Europe, bits of each culture went into creating tarot. But the Christian and European symbolism is what stuck. By the late 18th century, occult circles started using tarot as a form of divination — a way to contact angels and demons and perform ceremonial magic. "Now it seems to be more of a psychologically oriented tool for people," says Wen.
There is no shortage of decks out there, but to narrow it down, pick one of the three main systems to follow. Rider-Waite-Smith is the most common and good for beginners. Tarot de Marseilles is the oldest, out of Italy, and lastly, Thoth and Golden Dawn centers around the occult. Ignore the myth that have to be gifted your first deck and buy one for yourself. The most important thing is to find a deck with art that speaks to you. Specifically, "one that you feel that makes you feel seen," says Wen.
With that in mind, we asked Wen, Dore, and three other experts about their favorite decks — though just because they are their favorites doesn't mean they have to be yours, too. Just browse the below and see if anything catches your eye.
This is the most commonly known tarot deck. It's a classic and has been around for a while, which means it's not as inclusive as some of the others. It's very Eurocentric, Christian, and hetero, says Dore, but she still almost exclusively uses this deck. "I'm really interested in interpretation, and the art that's by Pamela Colman Smith in the Rider-Waite-Smith deck is so beautiful," she says. Dore works with these images a lot, which is why she sticks to this deck. She says, "I find so much there and I think it's useful to go really deep with a deck." While this imagery might not speak to you, many modern decks are still based on the Rider-Waite-Smith deck and follow the same number system. Even if you're drawn to different artwork, all our experts recommend beginners start with a Rider-Waite-Smith–based deck as most of the resources and tarot reference materials are keyed to that.
This centennial version of the above is "the most popular modern deck by far," according to Jerico Mandybur, an author and tarot-card reader. She appreciates that this edition pays tribute to the illustrator, Pamela Colman Smith, who wasn't originally credited or compensated for her work. The coloring of the art is slightly different, which Wen likes. "People don't love the coloring of the original Rider-Waite-Smith," she says. "The Smith-Waite Centennial has a more muted color palette that's really beautiful. That's a good one to go with to get you off the ground."
Mandybur is also a fan of this Elemental Tarot deck, which came out earlier this year. "I was really drawn to its bright colors and description," she says. Artist Caroline Smith and her astrologer husband developed these cards. The description says this deck is meant to be a distillation of the many perceptions of tarot. It doesn't follow the Rider-Waite-Smith system, but one reviewer describes the images as "intuitive and striking."
"I adore the Major Arcana–only Black Power Tarot deck by King Khan, which is based off the Marseilles tarot," says Mandybur. It's a tarot deck, but it only focuses on the Major Arcana, so it is just 25 cards. As the name suggests, the artwork is geared toward Black people and features prominent members of the community as well as celebrities ranging from Malcolm X to Tupac to Erykah Badu and Andre 3000. Mandybur notes that Alejandro Jodorowsky, a Marseilles tarot expert, signed off on this deck.
In 2019, Mandybur created her own deck. "I wanted to make a deck that felt like a modern, queer, and inclusive homage to Colman Smith's work," she says, which comes across in the artwork. The deck also has a push for using tarot as a healing tool, and the guidebook not only explains the meaning of each card, but also lists what the self-care takeaway should be if you pull it.
Wen categorizes Light Seer's Tarot as a modern classic, and it's also a favorite of Adama Sesay, founder, intuitive astrologer, and oracle reader behind Lilith Astrology. She's an astrologer, not a tarot reader, but she does use the cards to amplify her practice. Sesay explains that much of the symbolism in tarot cards stems from the cosmic energies, astrology, and the 12 signs, so she likes to use them during in-person readings to show people a visual journey as well. This is one of the decks she relies on. "This is a great deck because it also offers information on the shadow energies of each card," she says. Sesay is a shadow worker herself, and explains that shadow work uses divination to help empower the individual and help them heal and transcend any challenges they're having in their life, and this deck lends itself more to healing, which she appreciates.
"The reason I like the Modern Witch Tarot deck is because it connects with people of color and Black ancestry," says Natija Cave, who considers herself more a healer than a reader and has amassed over 300,000 TikTok followers giving readings to her collective. This deck uses the same symbolism of the traditional Rider-Waite-Smith deck but with more diverse images, which is important to Cave, who says, "A lot of these concepts go back to Indian, Native, and African roots, so I really like to find decks that have those depictions."
Another diverse deck Wen recommends is the Tazama African Tarot. It's an African interpretation of the traditional Rider-Waite-Smith deck, with the cards depicting real historic African women and men from different places and times. It's the most expensive deck on this list, but it would make a nice gift given the boxed packaging and gold-foil details on the cards.
If you're into pastels, Wen recommends this deck. The colors are more muted than some of the modern decks, but this one still aims to be inclusive, picturing people of all races, ages, and sizes.
A few of the experts we spoke to are also fans of oracle cards. "Oracle cards are different from tarot cards in that they don't follow the 78-card framework, but rather include any number of cards representing any themes of the artist's choosing," says Mandybur. This is one of her favorite decks. It just so happens to have 78 cards like tarot, but unlike tarot, which follows a formula, "the images and ideas formed in a more loose and intuitive way" for this deck, according to the description. Some of the images depicted include a volcano, a labyrinth, and gifts from the past.
Sesay actually prefers oracle cards to tarot. "Oracle decks are a chance to really take your interpretations to a different level," she says. "It can be based around what the author of the deck wants." As a Black woman, she appreciates that the women in this 44-card deck look like her. It's based in African spirituality and was created as a tool for divination, healing, awakening, and personal development.
As an astrologer, Sesay also likes this deck that blends her practice and oracle cards. "It's based on placements and planet and energies and astrology, so it's a really nice combination of cards, but then you're also utilizing astrology with it too," she says. According to the description, the cards also come with divinatory meaning, key words, and tarot correspondence, so no matter what your base knowledge is, you can get into this deck.
Cave recommends Moonology to beginners. "I think the booklet is incredible," she says. "It explains blockages, and it's very easy to read. It actually even lists additional meanings for the cards, and I think for beginners, a good booklet is really important." Like the previous deck, this one is also based on astrology and it explains the different moon cycles. It was one of Cave's first decks, and she says, "I still use it all the time with my clients."
Cave recommends this deck to people already on a spiritual journey. "I would say this one is more medium or intermediate," she says. "It talks about gifts, about clairvoyance, and how to use your gifts to help you in a situation." The images on the cards depict spirit animals, divine feminine archetypes, and sacred geometry. Cave says the included booklet also connects the imagery to Native ancestry, which she appreciates.
"White Light Oracle is really good for healing, especially when people are going through a really hard time," says Cave of this 44-card deck. "The booklet talks about healing and it even gives affirmations in it." But no matter what you learn from any of the cards on this list, Cave says, "Don't let them control you, don't let them scare, and just use your intuition and follow your heart."
The Strategist is designed to surface the most useful, expert recommendations for things to buy across the vast e-commerce landscape. Some of our latest conquests include the best acne treatments, rolling luggage, pillows for side sleepers, natural anxiety remedies, and bath towels. We update links when possible, but note that deals can expire and all prices are subject to change.