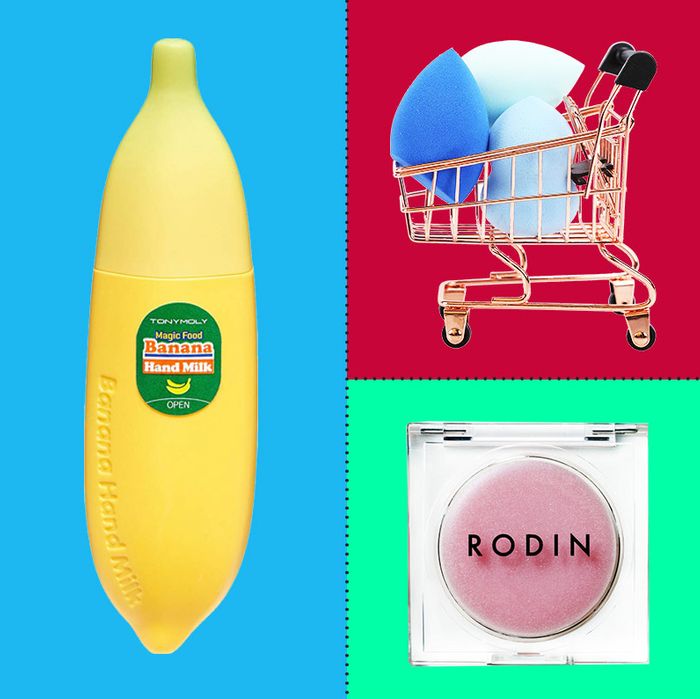 Photo: Courtesy of the retailers
Here at the Strategist, we're in heavy gifting mode: Sometimes, not any stocking stuffer will please the beauty obsessive in your life, so here we went deep on the best beauty gifts under $30 on Amazon that you can order now–and will still arrive in time for Christmas. Depending on their level of obsessiveness, we have sugary bath cubes (a crowd-pleaser) to cult-favorite Korean beauty products we love — plus even a derma roller for the hard-core redditors on your list. Don't miss all of the Strategist's holiday gift coverage right here, too.
This cute pocket-size Rodin lip balm fits in even the teeniest clutches, and just looks mood-lifting in its little acrylic case.
A primer on beauty, food, and mindfulness from the CAP Beauty founders that would make a good coffee-table book for wellness enthusiasts.
A design-y, pale green bar of soap that's made with goat's milk, from New Zealand brand Beauty Dust Co.
Writer Molly Young buys this coconut-scented lotion in bulk because "its presence assures me of continued corporal smoothness." It's a nice non-drugstore lotion to give as a gift that won't look like an afterthought.
For the person who wants to dabble in light therapy.
A cushion compact made to resemble a hamburger on the outside, from beauty-blogger-beloved Korean brand Swanicoco.
A very giftable set of essential oil towelettes for the frequent traveler or new mom on your shopping list.
A crystal glass nail file that's much better for your nails than your average emery board — it comes in a sleek case that looks much more expensive than it actually is.
One of our favorite pint-sized sunscreens from Korean beauty brand Missha: It doesn't leave a white cast on skin, so it's nice for layering under makeup, and is very travel-friendly.
If they've yet to delve into hair perfume, this fresh lemon-and-tangerine-scented R+Co spray would be a nice gateway.
For the Merlot enthusiast in your life who could use some wine-scented exfoliation.
A gentle silicon facial scrubber in the shape of a jellyfish.
One of our favorite new beauty launches, this velvety beauty blender, in a soothing shade of blue, from Juno & Co. It comes in a bundle of four for less than $20, which is a steal.
Or you could buy a beauty-blender set that comes with a shopping cart to store them all.
For mask enthusiasts, a delightful carbonated Korean-beauty face mask to add to their top shelf, which will bubble up on their skin (and make a great selfie). Or, for the truly gnarly, get them the Elizavecca "hell pore" blackhead mask that writer Garrett Munce described as "a Dyson for your pores."
One of the best and softest hair towels out there: The microfiber cloth sops up hair moisture with less friction involved, so your hair doesn't frizz. We own it and never travel without it (it's that good).
For the person who wants a fuller look, try this brow- and lash-enhancing serum that gave editor Jason Chen the "eyebrows of a Jonas brother."
For the person who's always too impatient to wait for her nails to dry, this LED lamp should prevent any chips.