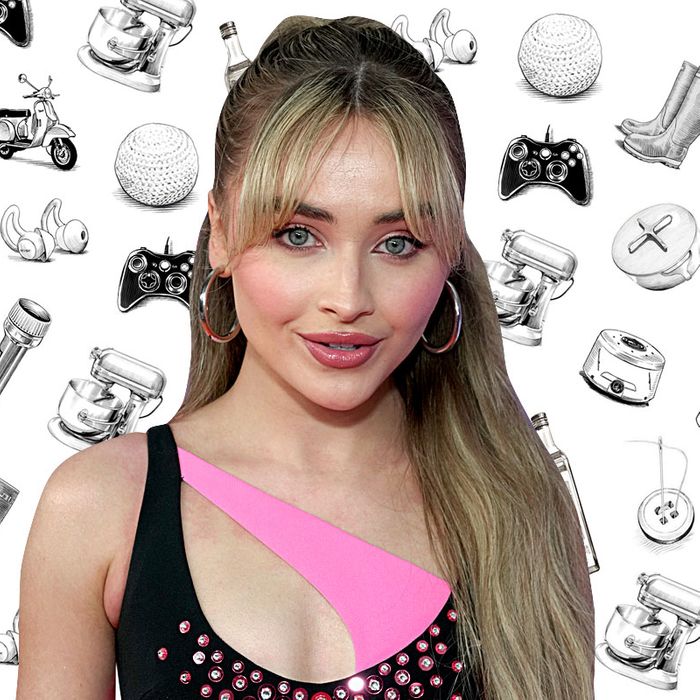 Photo-Illustration: The Strategist. Photo: Kevin Mazur/Getty Images
If you're like us, you've probably wondered what famous people add to their carts. Not the JAR brooch and Louis XV chair but the hair spray and the electric toothbrush. We asked singer Sabrina Carpenter — whose new single "Vicious" comes out July 1 — about the body oil she says smells like heaven, the keyboard she considers her safe place, and the gumdrops she eats before nerve-racking performances.
I went to Argentina when I was 17 and fell in love with this drink. I have a little refrigerator in my room full of the mint flavor. I prefer it over coffee because, for me, coffee can be a little hard to finish. It's heavier, whereas this is a lot lighter. This is on my rider — it's my everyday drink (that's not water). If I'm in the studio really late and I need to stay up, there's quite a lot of caffeine in it. It tastes like sweeter mint tea and feels like I'm doing a two-for-one: mouthwash and drinking something I enjoy.
This is probably the most important on the whole list because one day I was going on a road trip and my mom put a roll of paper towels in my car and I was like, "Mom, why do I need this?" She was like, "Sabrina, you will always need a roll of paper towels wherever you go. You never know what's gonna spill. You never know what you're gonna to clean up. You just never know." And I was like, "Okay, fair enough." And I was like, I'm not gonna need these. When I tell you, I used the entire roll in like two days and I was like, Oh my gosh, she's so right. Like I didn't realize how much I used paper towels, how much I need them, but apparently I'm a little clumsy and these have really come handy. There have been many times I've been singing in the car and gotten carried away and knocked over a beverage or two. So I highly recommend having them always within eyesight, at least if you're me.
Whenever I'm tired or my skin doesn't feel super great, I love rose-water spray. This one in particular, I usually get it at Whole Foods so I can always source it wherever I am. It smells really good. I use it on the plane, and I have one in my car as well. Sometimes when I'm in the studio or on set it's just so easy for me to get tired, so this also wakes me up in a sense. It's really great for sensitive skin, and it's never made my makeup run.
This is the piano I've had with me for seven years. I first started doing covers on it when I was younger, posting them on YouTube and Instagram. It's my go-to no matter what. I have a few more keyboards now (and a Wurlitzer), but this is my standard, and it's never, ever done me dirty. This is where I write a lot of my songs, and it's my safe place when I'm at home. I'm very picky with keyboards because sometimes I use them and I'm like, This one is just not it. These are really lightweight keys, which is what I prefer. I'm a lightweight in more ways than one, but definitely with the piano.
I've tried a bunch of different CBD products, and I actually feel these working. I will usually take these before performances or meetings I'm really nervous for. And then also when I'm sore from being on the road or dancing a lot for a specific job. It's great for healing pain naturally and also anxiety. I don't even really realize they're working, but then I look back and I'm like, Oh, I've been much calmer for the last three hours. These don't make me sleepy, which I like. I discovered these through a friend of mine who also loves using CBD products. She was like, "You could use these one day."
I wear these shoes all the time. I have probably four or five different pairs that have different designs on them. One of them is bedazzled, another one has lightning bolts, and another has butterflies. They go with everything. I wear them with sundresses, skirts, and little T-shirts, and other times I wear them with cargo pants and a hoodie. I like the low ankle because I'm very short, so the higher the shoe goes, the less leg I have. (But I have a pair of the mid-ankle as well.)
This has been my favorite vinyl to listen to since the beginning of the pandemic. I listen to it from start to finish, front and back, and it never gets tiring. There's so much variety, and Mac Miller is one of my favorite artists. This [album] in particular puts me in a very elated mind-set and makes me feel very safe. I did put it in my music video for "Skin" a little over a year ago in the set design (that was supposed to be my house) because I love dressing things up with my personal favorite items. I would probably say "Congratulations" and "My Favorite Part" [are my favorite tracks] right now — it changes a lot, though.
This is my sister's company (which she recently started), and I use it every single day. I don't really know how to describe it other than it's just like heaven. It's very sweet, but it's not over the top. There's a smokiness to it at the same time. It's also very moisturizing. I really started paying attention to scent in the last year or two, and this has become one of my favorites. I'll use it on my arms and my legs after I've already lotioned. My sister also makes candles in the same scent as the body oil, and it's literally so incredible.
I've been using this particular sunscreen since I was 15. I started taking care of my skin when I was at this point in my life where I didn't have great skin, and once I started applying sunscreen every day, I realized how much it protected me. It's breakout-friendly and has helped me transition into adulthood — I have super-sensitive skin, and I want it to age well, so that's why I apply [sunscreen] every day. Renée Rouleau is my esthetician, actually. Her products are incredible, very natural, and have really great ingredients.