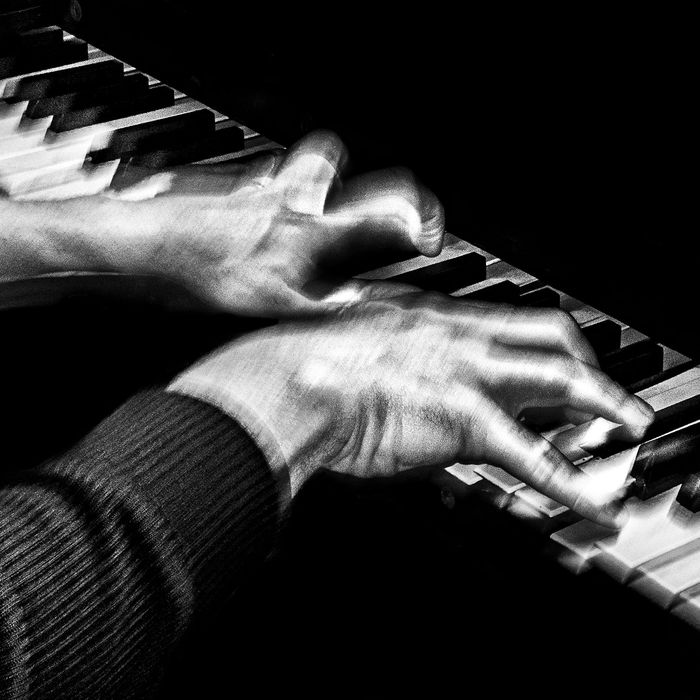 Photo: Devin Oktar Yalkin
Dwight Bell, 64, first heard Mozart's Sonata in A-major, K. 331, 30 years ago in an episode of The Twilight Zone in which the dolls in a dollhouse come to life. He eventually wanted to play it — a desire that only intensified after he heard Spanish pianist Alicia de Larrocha's version on the radio. "It sounded easy to play. Little did I know," he says.
When the pandemic began, Bell found himself with more time on his hands and began looking for a teacher who could give him lessons over Zoom. Since June, he has been meeting virtually with Arielle Levioff, an instructor at the 92nd Street Y School of Music. And with work — he practices two and a half hours a day — he has gotten surprisingly good: He now sails through the left-handed pyrotechnics of Handel's Sarabande and Variations, sounding like a moody harpsichordist in a vampire movie. "Dwight has progressed, I would say, faster than many," Levioff says. Bell credits playing the trumpet in high school, which gave him a leg up on reading music.
Piano is a different beast from other pandemic hobbies — knitting, for example, or baking sourdough (difficult as mastering stitches and perfecting proofing may be). There's just so much for an adult brain to master: two hands, two musical clefs, emotion, phrasing, performance anxiety. If you want to get good enough to perform Chopin's Sonata No. 2 onstage at Carnegie Hall, it might be easier if you start during childhood, after which the window of extreme neuroplasticity for finger dexterity and auditory skill learning begins to close.
So how good can adults reasonably get? "It's a complicated puzzle," says Alexander Burgoyne, a postdoctoral researcher at Georgia Tech who has spent his career studying the acquisition of difficult skills. Thoughtful practice — preferably with feedback from an instructor — has a large effect but still accounts for less than half of the variability in eventual performance ability. Other factors include music aptitude, auditory skills, and overall intelligence. "In my piano study, we found individual differences in cognitive ability were the best predictor of skill acquisition, particularly at those very early stages, like the novice stage of learning from scratch," Burgoyne says. In other words, if you're smart, you'll probably do better.
Because of that whole neuroplasticity thing, adults will likely have to work harder than children to reach similar levels of musical skill. But this does not at all mean you can't have fun, learn to read and appreciate music, or even get quite good. Piano teachers love adult students: They're often more dedicated and practice without having to be cajoled. "I like to say that adults and children are opposites because children have all the curiosity and the learning-sponge abilities, but they have no discipline. And then adults have all the discipline but are restrained by fear and insecurity," says Kai Ono, a Queens-based pianist who teaches children and adults. In his experience, adults may even learn faster than children at first.
"I will tell you one thing," says Ronn Yedidia, a composer and former child prodigy who is the co-founder and classical program director of New York Piano Academy. "If you have a good, caring teacher who can show you the way, you can really bring yourself a lot of joy in doing it, if you're okay with the fact you're not going to become an elite concert pianist. If you're willing to pick a sample case of beginner to intermediate music, and play it artfully and meaningfully and very well, you are totally capable of sounding like a master."
picking up the piano
What
Do
You
Want
to
Learn?
Focusing on a single goal will get you further than trying to tackle Chopin's nocturnes and Bill Evans's "Autumn Leaves" all at once. For any of the following objectives — or to learn a single song, for that matter — you'll have to first grasp the basics: where to put your fingers, how to read notes on a music staff, and the names of the individual piano keys.
1. I want to re-create Marie's Crisis in my living room.
This will entail becoming acquainted with "fake books," which contain the melodies and chords of hundreds of pop, jazz, and Broadway songs. The melodies are usually written out as musical notes you'll play with your right hand; you'll use your left to play chords that go along with them. In the "real books" (an offshoot of fake books popular with aspiring jazz players), chords are notated as letters and numbers (F7, or Amaj, for example). It's best to work through these with an instructor who can teach you music theory and help you learn "what the chords are and how to play them," says musician Fred Thaler.
The good thing about Broadway tunes is that many publishers make them available in fully written-out versions for both hands. "These are perfect for anybody who wants to play a Broadway song and cannot look at a real book and fathom what an A-major 7 chord is," says Yedidia. One book of songs that includes this option is The Best Broadway Songs Ever.
➽ One Great Teacher: Tardo Hammer, Kaufman Music Center's Lucy Moses School
A Queens-born jazz performer, Hammer likes to teach the Great American Songbook, those Broadway-style jazz and musical-theater classics that get lovers of Gershwin or Rodgers and Hammerstein excited.
2. I want to tackle classical.
A good teacher won't just direct you blindly through a book, though instructors did mention that Faber's Adult Piano Adventures series contains beginner pieces that are less grating than "Hot Cross Buns." Instead, a teacher should offer you pieces to play that are achievable at your level, like an easier arrangement of a Chopin nocturne, which was the first classical piece that Bell was able to master. Ono likes giving his students classical pieces by contemporary composers to keep things interesting — he likes, in particular, Lera Auerbach, Kevin Olson, and William Gillock. Your teacher may even compose some music just for you. "I have written stuff for my students," Ono says. "Usually, it's just that I know what they need to work on — technical or musical challenges such as phrasing, hand independence, or incorporating the pedal, for example — and I scour what I can find for the thing. If I can't find it, well, then, okay, I'll just write a piece."
➽ One Great Teacher: Arielle Levioff, 92Y
Levioff has appeared as a soloist at Carnegie Hall's Stern Auditorium and Weill Recital Hall as well as Alice Tully Hall at Lincoln Center. According to Bell, she's patient and gives good feedback. She also teaches older adults through 92Y's Himan Brown 60+ Program.
3. I want to retackle the classical music I knew as a 16-year-old.
You'll probably begin by playing a piece of classical music for an instructor as an ability test — something from one of your old books or repertoire that you're still able to play is fine. "I don't need to hear more than four measures to get an idea of how they approach the instrument and what they're capable of," Yedidia says. What you do next will depend on whether you were on a preprofessional track, how good you were to begin with, and how long ago you quit.
Although people who have had formal piano training almost always learn faster than beginners, returning students can face some specific challenges. They may have to unlearn bad habits (like using the incorrect fingers). Or they might have bad memories of their early lessons — of being forced to practice, or of having their fingers smacked with a ruler for making mistakes.
➽ One Great Teacher: Ronn Yedidia, New York Piano Academy
Yedidia is particularly adept at figuring out where people are on their musical journey and what to do next. "I try to pick up all the musical and technical pieces which exist in that person — whatever is still in memory as well as any other potential — and amalgamate them to the best of my and his or her ability."
4. I want to play jazz and improvise.
"As a kid, I was sort of forced to play classical, which I hated, but now I can play what I want, which is mostly jazz," says Alice Ott, 71, a retired social worker who lives in Park Slope. Jazz, Ott learned, requires different skills than classical. "It's a big leap from reading music to playing chords," she says. "You just have to practice them endlessly until you get them, so when somebody says a G7, you can play it."
As with Broadway pieces, jazz from sheet music that has both hands written out can help you get your start. Several instructors recommended the beginner-friendly standard "Autumn Leaves" as an introduction and the book Jazz Keyboard Harmony as a way to get familiar with chords, keys, and harmonics.
➽ One Great Teacher: Noah Haidu, Brooklyn Conservatory of Music
Ott wanted approachable variety in her beginners' lessons beyond the fundamentals (repeating chords and scales). "Noah and I will work on a few songs that use a blues scale, or one with a melodic minor scale, or one with a diminished scale. And then he gives me exercises in between, but usually then they're put to practice in a song, so that makes it nice."
5. I want to compose my own music.
Learning to compose and mastering the fundamentals simultaneously can help students think of music as a language, which it is. Students at Blue Balloon Songwriting School, says founder Rachel Lipson, often start by talking about their musical taste, then learning chunks of songs they like or trying to find similarities between songs to imitate in their own way. They may write a poem for lyrics or start with the music.
"A mom we taught years ago came to us with a poem she had written for her daughter," Lipson says. "We worked together to change lines around, talked about rhyme schemes and how to avoid some of the really predictable cliché rhymes. We taught her some basic chords and discussed chord voicings; from there, she sang a melody over it, and we helped her craft the song structure. The song turned out beautifully, and she performed it for her daughter."
➽ One Great Teacher: Lauren Balthrop, Blue Balloon Songwriting School
A folk-pop singer-songwriter, Balthrop has many years of experience teaching people of all ages. She worked with one mom who wanted to write a poppy duet to sing with her daughter; the mom was reportedly beaming when she succeeded.
6. I want to host a caroling party.
"We had a mom who took lessons just to be able to play 'Baby, It's Cold Outside' for a Christmas party," says Lipson. "She and the teacher sang it as a duet at the party, and it was amazing." For finding songs at an appropriate level for absolute beginners, Lipson recommends The Easy Christmas Songs Fake Book. The songs are all in the key of C, so once you sort that out, you're good to go.
Beginners should know they may need more time to get performance-ready than they think. "People think it sounds simple, so they show up six months before," says Yedidia. "But then they realize they lack all the beginner skills, like a basic reading ability or even simple finger coordination, and that simple song is at an intermediate level." He recommends starting lessons a year in advance of your event. "This way, you're not stressed out there and making mistakes and suffering in the moment. You really want to enjoy the moment."
➽ One Great Teacher: Kai Ono, independent and Natalia Huang Piano Studio
Ono's familiarity with arrangements and independent composers makes him an especially good choice to work with on a specific project, like performing at a friend's wedding.
7. I want to play songs I hear on the radio.
"I learned by audio rather than reading sheet music," says Marcy Bosco, 33. "I literally would have my laptop next to my keyboard and play the same loop on Spotify just to try to suss out the chords." She would often Google the word chords with the name of the song to look for sheet music that could lead her in the right direction. (Ultimateguitar.com often came to the rescue with chord progressions.)
Ear training like this is easier with the help of a professional. Adrian Cohen, the director of Keylab in Carroll Gardens, teaches it to students who want to learn, say, "Sorry," by Justin Bieber, or "Rocket Man," by Elton John. "For most of my adult students, we do two kinds of ear training. One is called intervallic ear training, hearing the distance between two notes; the other one is harmonic ear training, learning how to hear chords and harmony," Cohen says.
➽ One Great Teacher: Adrian Cohen, Keylab
In addition to his course on music theory for beginners, Cohen has a coaching package, for which he'll curate a personalized set of videos, audio files, recordings, sheet music, method books, and links to apps so independent-minded students can teach themselves.
8. I want to play with my kids and help them learn, too.
There's a standard piano system designed for this exact goal: the Suzuki method, invented in the 1940s by the Japanese violinist Shinichi Suzuki. The theory is that children learn music the same way they learn language — through immersion, play, and parental involvement. "They don't initially teach music in terms of reading notes. They first teach to play by ear," says Rose Crichton-White, director of marketing and development at the Brooklyn Conservatory of Music. "There's this 'Suzuki triangle,' which is made up of the parents, the child, and the teacher," she says. Parents take lessons with their children, or learn some music before their children start, so the child can learn at home.
Suzuki isn't the only option. Keylab has a coaching package that helps parents teach their children using a personalized set of supplies, and the Diller-Quaile School of Music offers programs that involve the students' families and friends.
➽ One Great Teacher: Tobias Meinhart, Tone Academy of Music
Tone Academy is a Suzuki school, which means every child there attends classes with a parent, but Meinhart also specializes in adults. One adult student liked the lessons so much she kept going after her daughter quit.
Or Let the Internet Teach You
Start with the wiki for beginners created by the kind folks at reddit.com/r/pianolearning. It includes a thorough list of YouTube content creators whose videos can help you get started. As for apps you can use to learn at home, try Simply Piano and Flowkey (both are free with in-app purchases), two Duolingo-style reading and listening engines you place on or near your piano. For a higher price, you can download interactive-lesson software such as Playground Sessions (annual membership is $120), which was co-created by Quincy Jones.
Once you get so good that you're looking for a backing track, download iReal Pro ($14), which can play pretty much any jazz song alongside you in any style, any time signature, and any key with any instrumentation. If you find the number of internet resources overwhelming, you can sort through the deluge and build yourself a curated package of internet gold with a coaching package offered by Cohen. "The concept, essentially, is to be a music Sherpa to take them up the mountain and get them where they're trying to go," he says.
*A version of this article appears in the March 1, 2021, issue of New York Magazine. Subscribe Now!
The Strategist is designed to surface the most useful, expert recommendations for things to buy across the vast e-commerce landscape. Some of our latest conquests include the best acne treatments, rolling luggage, pillows for side sleepers, natural anxiety remedies, and bath towels. We update links when possible, but note that deals can expire and all prices are subject to change.