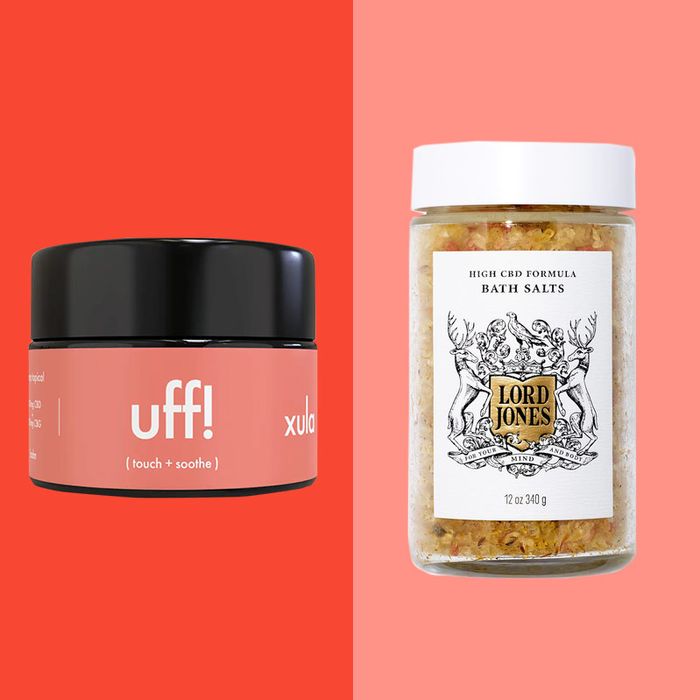 Photo-Illustration: retailers
Cannabidiol, known colloquially as CBD, is a non-intoxicating cannabinoid that you've probably seen, well, everywhere. Dr. Peter Grinspoon, a cannabis specialist who works as a primary care physician at Massachusetts General Hospital and an instructor in medicine at Harvard Medical School, says that while the science is new and more studies with human test subjects need to be done, "there is emerging research that suggests CBD can be helpful in managing anxiety, insomnia, chronic pain, and even addiction." According to entrepreneur Verena von Pfetten, whose Gossamer brand sells CBD products among its wares, "humans and other vertebrates have what is called an endocannabinoid system, or ECS, which is made up of receptors found throughout your body — in your brain, spinal cord, digestive system, and even your skin — that help keep your internal systems in balance." Kate Miller, a co-founder of CBD brand Miss Grass, explains that the ECS, which regulates things like pain, appetite, sleep, immune function, and stress, is the bodily system CBD interacts with.
As its current ubiquitousness suggests, "CBD is now available in every form," according to Broccoli magazine editor-in-chief Anja Charbonneau. "You can smoke pre-rolls with loose flower (like a classic weed bud) or get tinctures, candies, lotions, suppositories, face oils, serums, toothpaste, and beverages." But since CBD is a relatively new ingredient that's still being studied, there is very little regulation, so "it's up to the brands to 'do the right thing,'" says von Pfetten. In choosing any product, Christopher Gavigan, the founder and CEO of CBD skin-care brand Prima, notes that "you want to take a holistic look: Who is behind it? What are the brand's values? How does it source ingredients? Does it offer transparency around purity and potency?"
According to the 29 people we spoke to — who include doctors, makers, and CBD users — the best way to sniff out any brand's worthiness is to look for whether or not it has a publicly available Certificate of Analysis (also known as a COA). "A COA is an independent lab test verifying that what's in the bottle actually matches what's on the label — everything from type of CBD, to amount of CBD, to whether it is pesticide and heavy metal-free," explains von Pfetten. Once you've settled on a brand, the next tricky thing about CBD is figuring out the right dose for you. Charbonneau cautions that process is not a science and can involve some trial and error. "Dosing CBD properly is like being Goldilocks," as she puts it. "Too little, and you're not going to get any results. Too much, and it won't work either." Grinspoon has this advice: "CBD affects everybody differently, so start low and work your way up." Charbonneau's other tip is to keep track of your dosing in a journal, so you can track your body's response to different doses over time. While the right amount will differ from person to person, generally you can tell you've settled on a good dosage when you start feeling more relaxed and experience a greater sense of calm after ingesting CBD. (With topical products, look for a feeling of pain relief instead of relaxation.) And remember: CBD has a cumulative effect, so "the more regularly you take it, the better it works," says von Pfetten. "Think of it like a daily supplement, not like a hit of a joint where you're 'high' immediately."
If you are ready to try it — or are a user ready to try some new form of CBD — the 28 products below come recommended by our cool people as stuff that actually works, whether its ingested, applied topically, or smoked. To ease your mind, know that everything below has a Certificate of Analysis (we checked). And to help you find what you're looking for, we've broken down the recommendations by what they are — from pre-rolls and vapes to tinctures to topicals to edibles — leading each category with any products we heard about the most. Generally, pre-rolls will provide the fastest, strongest effects, followed by tinctures, topicals, and then edibles; if you want to jump straight to a specific category, just click on the links in the previous sentence. And one more thing: In talking to people in the cannabis and CBD space, we've also heard a lot about how it is important to be educated consumers and understand the effects that the larger war on drugs has historically had on Black, Brown, and other nonwhite communities. These conversations highlight that we should, at least, consume consciously and directly support Black, Brown, or other nonwhite businesses, several of which appear on the list below.
Best CBD pre-rolls and vapes
Flower, according to von Pfetten, "has the highest level of bioavailability" of any form of CBD, meaning that inhaling or smoking just a bit can give you the same effect as consuming more CBD in another form. She says that pre-rolled CBD joints "offer the high that most people want — a super light, relaxed, euphoric feeling that passes relatively quickly" and allows you to remain "entirely functional." Her go-to pre-rolls from oHHo, are "the perfect way to wind down after work," she says.
Echoing what von Pfetten said about CBD pre-rolls offering the high that most people want, Strategist managing editor Maxine Builder calls these joints from Dad Grass "the most weedlike CBD I have ever encountered." The pleasant buzz is so effective, Builder promises, that she says Dad Grass is "the CBD product that has convinced me that CBD is actually a thing."
While it's more of a setup (and investment) than the stuff above, if you know you're going to be consuming a lot of CBD via pre-rolls, Omura's sleek device and joints made specifically for it may be a more sophisticated way to do so. According to the brand, the Series 1 and its newer (pricier) sister the Series X function more like vaporizers, using "a proprietary heat curve and a convection oven" to heat each pre-roll long enough for a 3-minute session that is more discreet (read: less smelly and smokey) than if you'd just light something up. Strategist senior editor Anthony Rotunno tried it out after the company's co-founder offered to send one his way for a rather particular reason. "He emailed out of the blue about how he loved my ode to the Pop Phone handset and told me he previously founded that company, then asked if I was interested in checking out his latest brand's stuff, given my appreciation for his other products," Rotunno says. The Libertine pre-rolls he tried did induce a brief — but palpable — sensation of relaxation, according to Rotunno, who notes that Omura sells more joints from different brands, including von Pfetten's favorite, oHHo.
Miller says smoking CBD via a vape pen offers a similar effect to that of a pre-roll: "Most consumers will feel the effects within 30 seconds to a minute and you can expect a non-intoxicating, consistent, and repeatable experience." A pen, of course, can also be even more discreet. Charbonneau likes this one from Quill. She describes it as "a space joint" and notes the CBD within "contains no fillers or additives."
Writer Darian Harvin told us she "reaches for this CBD vape pen whenever I'm feeling stressed or overwhelmed" because it calms her without making her brain too cloudy. It has a flavor she describes as citrusy, and Harvin adds that the brand "gives back to organizations fighting against racial inequality" via its Purpose Program.
Best CBD tinctures


Tinctures, according to von Pfetten, are the "second most effective CBD products" in terms of bioavailability — if consumed properly, that is. "Hold a dose under the tongue for 60 seconds, or at least 30, until it is mostly absorbed," she instructs. Speaking of dosage, Miller says tinctures make it easier to determine the right one for you because "you can control the experience drop-by-drop." Charlotte's Web is the tincture that hooked Strategist contributing editor Jessica Silvester — a self-described CBD skeptic — onto CBD. "I couldn't help but notice that ever since I'd started my CBD regimen, the screams of my child weren't as piercing; the lacrosse-ball-sized knot under my left shoulder blade was releasing," she writes. Summing it up, Silvester calls the tincture "the most calming thing I've done since yoga." She's not its only fan: Actress Freida Pinto also swears by Charlotte's Web, telling us, "it just takes the edge off. It calms my nerves and helps me not be in fight-or-flight mode all the time."
As Charbonneau points out, the rise of CBD is opening brands' eyes to "a broader pool of legal, beneficial cannabinoids." One such brand is the Black- and Latinx-owned Xula, which uses "various cannabinoids in their tinctures and balms," including CBD, and offers informative guides to the ingredients in each of their products, making them even more accessible to newbies. "I've been enjoying the Ah! tincture, which includes CBD, CBG, and a blend of herbs like passion flower and damiana," Charbonneau says. Cannabis writer Brittany Parker also loves Xula, telling us that every time she takes its Zzz! Lights Out tincture, she is usually drooling on her pillow within an hour.
Two cool people we spoke to also namechecked this CBD tincture from Black-owned Brown Girl Jane, which was founded by sisters Malaika and Nia Jones. Franci Girard, founder of clothing line the Sixes, puts one drop directly in her mouth at the beginning of the day and finds that "it calms me without making me groggy." And Priscilla O. Agyeman, the founder of Saddie Baddies, a virtual community working to de-stigmatize mental health for women of color, simply calls it "a holy grail."
While she has a soft spot for her brand's own CBD tinctures (Dusk and Dawn), von Pfetten says this one from Amanda is what she'd recommend aside from her own. She says it's "high quality and it works." According to the brand, the tincture is its "strongest full spectrum formulation," so keep that in mind when it comes to dosage.
For folks who'd like to experiment with different formulations, "this power-pack of tinctures" recommended by Mary Pryor, a co-founder of advocacy groups Cannaclusive, Fit for Us, Breaking Bread NYC, and Cannabis for Black Lives, comes with three products for less than the price of the individual bottle above. Included are Chill, which is meant to lower anxiety and calm you down before bed; Chronic, which Pryor calls her favorite period pain-reliever; and The O.G., which she "typically adds to her morning tea" because it is great for daytime stress-relief.
Luxury smoking-accessories brand Flower by Edie Parker makes some of our favorite smoking paraphernalia. So when the brand reached out to this writer (Dominique Pariso) about trying its Super Bloom tincture, it seemed a good opportunity to find out if its success in gear translates to success in cannabinoids themselves. Since I started taking it regularly, I've noticed I feel more calm and focused and that my stress-induced jaw clenching has actually decreased. Another nice thing about this tincture is that it's flavorless, so you can easily add it to any cold beverage of your choosing.