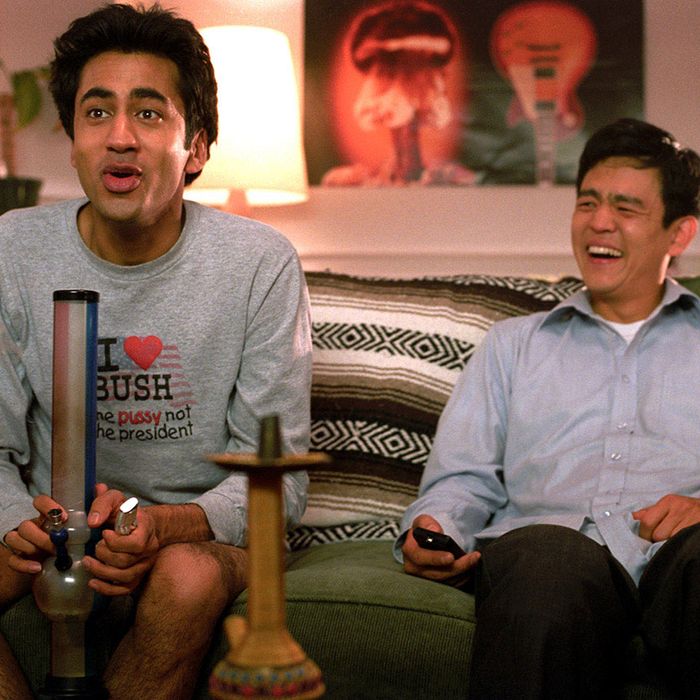 Photo: New Line Cinema/Courtesy Everett Collection
Finding the right gift for a loved one who has a more … commercial hobby (cooking, crafting, reading) can be overwhelming enough. But if that loved one enjoys partaking in something more niche, like cannabis, and you do not, the task can be even more challenging. Still, as cannabis influencer Hashley explains, the growing legalization movement has led to a rise in novel, delightful, and practical stuff for cannabis users, so "you don't need to scramble to the gas station at the midnight hour to buy a poorly made plastic bong and cheap papers." To find the best of the best cannabis-related gifts, we asked Hashley and 22 other enthusiasts — including educators and influencers and notable tokers — about their favorite gifts for folks like themselves. Below, their 44 recommendations, which range from smokable floral arrangements, to an edible-making machine, to a display-worthy water pipe (all of which are available to ship nationwide).
But before we get to the gift ideas, Datrianna Meeks, the founder of Up in Smoke, reminds us of an important point: "We should be conscious cannabis consumers and actively work to undo the effects of the war on drugs." As our junior writer Kayla Levy notes in her guide to navigating the new regulations for recreational cannabis use in New Jersey (where it was recently legalized), it is important to remember that there are thousands of people — the majority of whom are Black, brown, or otherwise nonwhite — who are currently incarcerated for cannabis-related offenses. That's why this list also includes some gifts that give back (and if such a gift sounds more your recipient's speed, be sure to check out our list of places to donate in support of Black and brown lives, too).
Smoking paraphernalia to gift
According to Gossamer co-founder Verena von Pfetten, "I can't think of a better stoner present than one of these moss- or fern-colored beauties from Greens Girl Co." The pipes are available in both "an offbeat bendy shape that looks like it would be supremely comfortable to hold as well as a more straightforward and softly rounded oblong style," she explains, adding that Greens Girl Co., which was founded by environmental activist Leah Thomas, donates 7 percent of proceeds from each pipe sold to the Cannabis Innovation Fund and Intersectional Environmentalist. So "your gift goes to a good cause, too," von Pfetten concludes.
For a recent birthday, Strategist senior editor Anthony Rotunno received this banana-shaped pipe from luxury smoking-accessories line Flower by Edie Parker. "The best part about it is the more you use it, the more 'rotten'-looking it gets, which is a helpful reminder for keeping it clean," he notes. Even though it looks quite whimsical, the shape is still very functional: "It recalls using a classic pipe," due to the longer body and placement of the carb, he says.
"When consuming my ganja, I always enjoyed the process of rolling and smoking a joint — until I came across Laundry Day," says Santiago Rodriguez Tarditi, co-editor of High on Design: The New Cannabis Culture. "This slick Canadian brand," he says, makes a range of blown-glass hand pipes in interesting shapes, all of which he describes as beautiful. His favorite, however, is the Tanjun Pipe, which "reminds me of the Jantar Mantar observatory in Jaipur."
A bit more portable and discreet, this one-hitter is a favorite of Kassia Graham, the director of national projects and social media at Cannaclusive. She calls it a "much-needed update of the classic" accessory. The one-hitter has an anodized-aluminum body with a chic matte-black finish, and the brand throws in an odor-proof resealable Mylar bag and a childproof reusable plastic carrying case with every purchase. The icing on the cake? "You can customize your little friend with up to 30 characters," adds Graham.
If your giftee prefers water pipes, two of our experts recommended this sleek option from Elevate Jane. "The Mimi is a water pipe that makes a statement without trying too hard," says Graham, who adds that "it's so chic you'll want to show it off even when it's not in use." Meeks agrees, telling us she loves the "modern look and double percolators" that provide "smooth, flavorful hits."
Sameen Ahmad, the vice-president of events at High Times magazine, describes the Gear Premium Sidekick as an "innovative, stunning masterpiece." The all-borosilicate glass piece, she explains, has "a one-of-a-kind, patent-pending built-in lighter holster so you never lose your flame and a flush-mount-diffuser downstem that's set perfectly in the classic beaker base." It's available in five different colors and "always provides a good hit," she promises.
For something more high-tech to smoke with, cannabis writer Brittany Parker, a self-described "PAX stan," suggests the brand's vaporizer, which can be used for both bud and concentrates. "It's not the smallest vaporizer, but it easily survives my clumsiness and is discreet enough that I can use it without anyone noticing." While the vaporizer would be a splurge, Parker says she used an older PAX for more than seven years before upgrading to this one, so it would be a gift that lasts.
Ahmad calls the ArGo by Arizer "the ultimate portable dry-herb vaporizer." It has a "precise digital temperature control" that, according to her, "lets you easily adjust to taste pure terpene profiles and produce thick clouds for an unmatched vapor experience."
Both Marta Freedman, co-founder of Nice Paper and Dieux skin care, and comedy writer Caroline Goldfarb, who runs Instagram's @officialseanpenn and is a co-founder of tinned-fish company Fishwife, love this gilded grinder. Freedman simply calls it "the star of my coffee table," and, according to Goldfarb, "the national nightmare that is un-aesthetically-pleasing cannabis accessories is now over, thanks to this simply stunning, stacked gold grinder." Freedman particularly likes that it's larger than a standard grinder, telling us "it's perfect for entertaining" if your quarantine pod members also like to partake. "It's a must for your friend who likes to indulge in the Devil's Lettuce (not Sweetgreen — weed)," Goldfarb concludes.
According to Jon Cappetta, the vice-president of content at High Times magazine, "the utility of a grinder is a mainstay for regular smokers — especially those who like to roll up." But he agrees with Goldfarb that grinders have "seen minimal innovation over the past few years." Stona's handsome wood-and-glass grinder, however, is another exception to this trend, says Cappetta, who describes it as "a well-designed mortar and pestle" with two different stainless-steel grater plates to ensure you get the perfect grind every time.
Hashley says she's "absolutely obsessed" with this silicone mouthpiece from Moose Labs, which contains "a replaceable carbon filter that can fit over any bong, vape, joint, or dab rig." Not only does the mouthpiece improve the quality of how weed tastes, it also filters out tar residue, she explains. "My lungs are a happy camper." Cappetta, again, agrees: "It may be a while before we can safely share joints again without protection, but Moose Labs has come through to make sure we don't have to go without."
This "clean, classy, and extremely high-quality" accessory set is on the 2020 wish list of none other than etiquette guru Emily Post's great-great granddaughter Lizzie Post, co-president at the Emily Post Institute and the author of Higher Etiquette: A Guide to the World of Cannabis, From Dispensaries to Dinner Parties. "The lighters alone had me," Post says of the kit from Pennsylvania-based Rogue Paq, which also includes a stainless-steel clip-slash-packing tool, matchbooks, two storage vials, hemp rolling papers, trimming scissors, a grease pencil for labeling, and a handsome leather case to store it all in.
If your recipient needs a more sophisticated place "to stash their stash," Post loves these little jars from Los Angeles–based Apothecarry, a shop "where discretion and practicality meet luxury and class," she says. Nice enough to leave out on display, they'll also keep your "sticky-icky sticky and not icky," she promises.