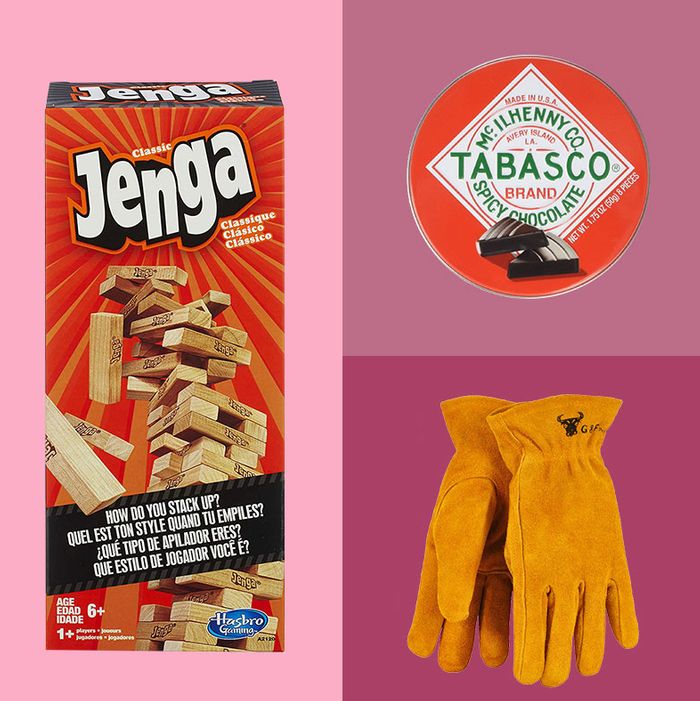 Photo: Courtesy of the retailers.
If the thought of buying Christmas gifts stresses you out thanks to a less than bountiful shopping budget or lack of free time, you are not alone. We're here to tell you that while time may be running out to get your gifts delivered by the 25th, you still have plenty of truly stellar options. Below we've curated a list of 33 extraordinary gift ideas — from a pair of toddler gardening gloves to an adult coloring book — all of which you can get on Amazon for $10 or less. So, take a break from what you're doing and get shopping.
For kids who love slime
A tub of candy slime will blow her little mind.
For the teen who wants to be a VSCO girl
A pack of velvet scrunchies in every color of the rainbow will help her score some Instagram followers.
For your frazzled co-worker
Some old-school stress relief.
For your workout buddy
A leak-proof, BPA-free Camelbak with a bite valve.
For the neighbor with a green thumb
These organic seeds will sprout into lettuce, arugula, swiss chard, kale, and spinach and two different types of romaine.
For the grandmother who loves dogs
This dog toy makes your pup work for its food and is a great bet for anyone with a new puppy.
For the nephew who loves protein
For the cousin with the bright ideas
This also doubles as a minimalist night light for youngsters.
For the niece who is growing out her hair
Writer Alison Freer says this brush gets her scalp squeaky clean.
For the sister-in-law who always hosts
This sticky wax will keep her candlesticks upright.
For the brother who only drinks seltzer
Impress your bro with a seltzer flavor he's never tried, or use it to mix holiday cocktails.
For the mother-in-law with a dewy complexion
If she hasn't tried it she'll appreciate the intro. If she already has some she'll be glad for the back up.
For the man who's never moisturized
An introduction to moisturizing that's fragrance free with SPF to protect him from the sun.
For the sister who never stops working
These cute cucumber packs can be used hot by microwaving or cold by storing in the freezer. They're a godsend for tired eyes.
For the dad who can build a barn and bake a mean batch of cookies
Pine tree and reindeer-shaped cookies are cool but have you ever eaten a cookie shaped like a hammer?
For the first-grader who helps around the house
Quite possibly the cutest gift you can give a child. They'll look like a tiny adult gardener or carpenter while feeling like a big kid.
For the boss who's more of a pencil person
Ever hear of colored mechanical pencils? These are great for color-coding events in their 2019 calendar.
For the mom who writes everything down
Pocket-sized notebooks she can carry wherever she goes.
For the teen cousin who likes to dress up
She'll wish she had several pair, and at this price she can afford to stock up.
For the aunt who likes fancy soaps
Good as a catch-all on her bedside table or in her guest bathroom holding a tiny bar of soap.
For the outdoorsy significant other