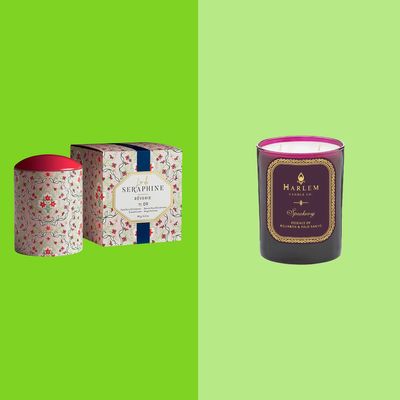 Photo-Illustration: The Strategist; Photos: Retailers
What makes a good candle? It's a question I often ask myself while rifling through my candle shelf (which has recently expanded to the shelf plus a drawer). My collection is sizable — I estimate that I own at least 45 at this point — and runs the gamut of scents, brands, and price points. As I've gotten more familiar with candles, I've become interested in what makes a candle truly excellent. I reached out to candle expert and influencer Kudzi Chikumbu (known on the internet as @sircandleman) to find out.
Chikumbu has over 100,000 followers on TikTok, where his candle-centric content tackles everything from how to properly relight your candles (trim your wicks!) to the best Le Labo Santal candle dupe (both Santalum from Dude Ranch Co. and Maison Louis Marie No. 4 make good alternatives). This has made him incredibly picky about the candles he adds to his extensive collection. When I asked him what makes a candle categorically "good," he offered me a three-part criteria. The first thing is an "exquisite fragrance combination," which he describes as an interesting blend of high-quality materials. Quality refers to two things: the fragrance and the wax. "Really luxury candles, like Lafco, use fine, natural fragrance derived from essential oils, and that gets pretty expensive," he says. Alternatively, brands use synthetic fragrances, with many using a mix of both. "Synthetic is fine," says Chikumbu, "but you can tell the difference in how natural fragrances burn because it smells like the actual fragrance. It's not so manmade." Then there's the wax. There are a few different types of wax, with each having its pros and cons, but lots of brands blend waxes together in order to create a custom result (think: burns for a long time with a strong scent). Chikumbu prefers soy wax. "It's ideal for me because it burns at a lower temperature and burns slower," he says. "It's also more sustainable."
Another must for Chikumbu (and me): a beautiful vessel. "Candles are also decorative," he says, so a high-quality vessel can really add to the value of a candle. Some of his favorites include the Harlem Candle Company ceramic vessels and Lafco's handblown glass ones. "They're true decorative items," he says. The last thing is a candle's throw, which describes how intense a candle's scent is and how well it fills a room. I always believed that the stronger the candle, the more high-quality it is, but apparently that isn't the case. "Most people prefer a strong candle because they think, I paid for this, so I need to smell it, but it's a formulation choice. It doesn't mean that it's higher quality or more luxurious," he explains. Chikumbu says he tends to go for candles with a medium throw, because he likes to burn his candles for a few hours at a time.
Below, Chikumbu shares his 11 favorite candles under $50.
A feel-good, hump-day candle
I've been really into berries lately and have been trying to find the perfect berry candle. This one is really great. It's holly berry but a little bit spicy with the cardamom. It's an everyday, jovial candle. This is from two owners — Dara and Laina — and they wanted to bring creativity back to candles, so all of their ceramic vessels have really interesting designs. They also have ceramic at a good price — most ceramics are really pricey. You're getting gorgeous storytelling on the vessel and then interesting fragrances. So many candles look alike, but you can always tell it's a L'or de Seraphine candle.
A sustainable Le Labo Santal dupe
I like this brand because they're into being sustainable and using natural ingredients. The label is made from seed paper, and you can use the vessel to plant them after. They really emphasize reusing their products. I also like that it has cork at the bottom to protect your furniture from the candle. This candle is good for people who love Le Labo Santal or Maison Louis Marie No. 4. It's a slightly more affordable version of that from a cool brand.
Editor's note: This candle is currently available for preorder.
A candle that's subtle for all-day Zooms
Homesick is a really good bang for your buck, and it makes a great gift. I like this one from the brand. It's the perfect work-from-home candle. It's not very strong, you can burn it for a long time, and it's an incredible price point. It's very calming and won't give you a headache. It's got patchouli and some petals. A little bit floral, but still grounded with vanilla amber. It has a burn time of 80 hours, so I really like that too. If I was going through my emails all day, I would burn this.
A candle that smells like a desert wellness retreat
I'm a big Boy Smells fan. It feels like meditation in a desert retreat. It feels like higher vibrations. It's got cedar and clove. I feel like clove does something special, along with the nutmeg. It feels like it clears the chakra. I gift a lot of candles, and I definitely see this one being in my rotation.
A candle that smells like slow-dancing in back rooms
This is my favorite scent from the brand. It's bourbon palo santo, but it also has smoked incense, which is one of my favorite notes in candles. It also has berry, which makes it a little sweet. It feels a bit decadent. It's a fun candle and it's gorgeous. Their vessels are beautiful, and it comes with two wicks, which I think is unusual for a candle that size. It feels and looks luxury, even from the box. It's gorgeous and embossed and the glass is really nice. It's definitely decorative — it's the kind of candle you would want to have out.
A candle you can burn anytime, anywhere
I love PF Candle Co. They're affordable and high-quality. One hundred percent soy wax, hand-poured, and made in L.A. They care about their employees. Their must-have candles are tobacco and teakwood and amber moss, but I recently discovered this candle, Black Fig. It's very intriguing, but not overwhelming. It's ripe fruit, a little spicy, but also herbaceous. Imagine a cheaper Figuier from Diptyque. It's more green but is a great affordable, less fragrant, slightly sweeter option. It's a unique find in their collection because they tend to do more earthy scents.
A candle for Sunday cleaning and resetting
This is a best seller from Simply Curated. It has pink peonies and sea salt, but the salt also includes musk and suede. Suede is the secret ingredient that brings the candle to life. It cuts through in an interesting way. Everything about the brand is gorgeous. It's all about beautiful detail. The candle is nice, but the box is also pretty, so you could have both out.
A not-so-basic pumpkin-spice candle
They have lots of earthy candles. I like their elixir range, which uses higher-grade essential oils. At 30 bucks, it's a great buy. Another favorite is oud and papyrus. For the fall, the brand sent me the "pumpkin and palo santo" scent because I'd said that I don't want another fall pumpkin-spice candle. Like, nobody needs that. But the founder, Melissa, said I'd definitely want to try this one. It's a very unique take on pumpkin. It's grounded and not too sweet. Imagine the fall season mixed with cedarwood and cypress and palo santo. More like the haystacks around the pumpkin rather than the pumpkin itself.
Not your grandmother's rose candle
I love all things sandalwood, but I've been trying to explore new combinations. The rose isn't a grandma's rose. Rock roses literally grow near rocks, so it's a little more earthy. It's rose, but it's gentle. I'm really sensitive to fragrances, so I really enjoy a more subtle fragrance. This is good for burning all day.
A candy-scented candle
Otherland is so creative with their scents and vessels. Everything has a story. I would describe the brand as enchanting. This candle is sweet, but it isn't aggressive. It has cherry and violet. Very cherry-forward. This is for people who love strawberry-shortcake candles but want to make it bougie.
A candle for when you're drinking Champagne by yourself for no reason
This company is founded by three Black brothers. Their mother helps them make their candles. It's inspired by the movie Love Jones. It's the perfect vanilla candle for people who don't like vanilla because it has apple, grapefruit, and cherry blossoms. It's not too vanilla-centric, and it's not strong.
The Strategist is designed to surface the most useful, expert recommendations for things to buy across the vast e-commerce landscape. Some of our latest conquests include the best acne treatments, rolling luggage, pillows for side sleepers, natural anxiety remedies, and bath towels. We update links when possible, but note that deals can expire and all prices are subject to change.