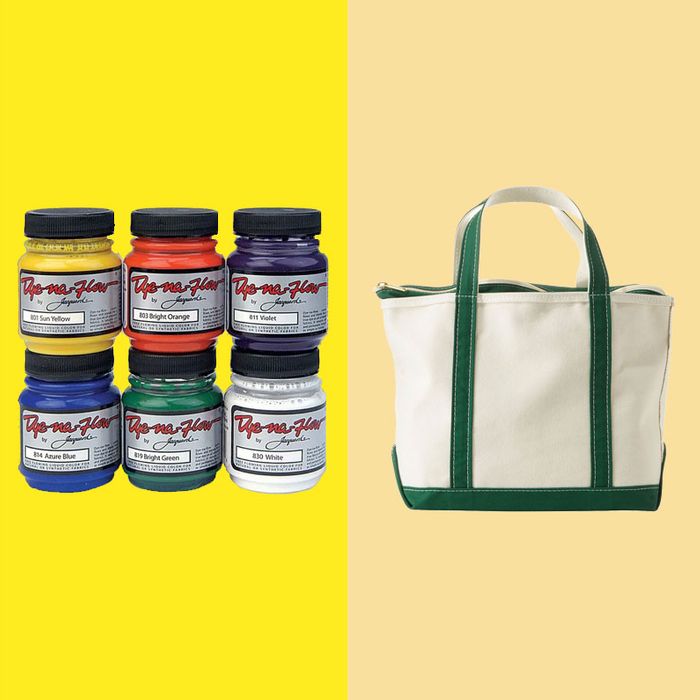 Photo-Illustration: Courtesy of the retailer.
The pandemic has been hard on friendships. Even if you've started having in-person happy hours instead of Zoom ones, you might be looking for a way to show your best pal how much you appreciate them always being there (and never judging), no matter the circumstances. Surprising them with a little pick-me-up will always go a long way — especially these days. To help you find the perfect something for your bestie, we've rounded up 49 gifts at a range of prices that are sure to please any type of friend, whether they guzzle coffee, can't stop cleaning the apartment they've been cooped up in, or spend their days making TikTok videos. While most of this stuff is available on Amazon, we've found some things elsewhere, too, for those who like to shop around.
For the best friend who makes all their clothes
Strategist senior writer (and artist) Liza Corsillo has used these fabric paints to give new life to everything from old T-shirts to pillowcases to pants. The water-soluble paints, she writes, "deliver intense, rich colors and don't feel stiff or plasticky on the fabric when they dry." And it's the type of gift that can keep on giving: As thanks, your bestie just may whip up a custom tee for your next birthday.
For the best friend who grills
For the best friend who needs to take the edge off
Photo: retailer
Writer Diksha Basu says these patches do just that — without any of the side effects that can come from harder stuff like alcohol or pot. Be Calm, which has hemp in its formula, "makes me ever so slightly loopy while awake, but I sometimes enjoy that," she writes. "The Relax patches help me do exactly what they say — relax — without any loopiness."
For the best friend who just moved into a new apartment
Trinity Mouzon Wofford, a co-founder of wellness brand Golde, says this water filter is "essential for living in the city" and something she can't live without. According to her, it removes a lot of the mineral build-up and chlorine that can otherwise wreak havoc on skin and hair when it comes out of "100-plus-year-old pipes."
For the best friend who is up on hair trends
For the best friend whose hair is newly natural
When we asked experts about the tools you need to care for natural hair, hairstylist and salon owner Nigella Miller said to start with a wide-tooth comb like this one. As we wrote, the design "makes it easy to glide through hair when it's wet and detangle without ripping or tearing."
For the best friend who could use a new best friend (in the bedroom)
Pandemic or not, the extent of your friendship services probably falls short of the bedroom. If your bestie is the type to indulge in self-love from time to time, the Satisfyer Curvy 2+ is an air-suction sex toy that experts say can provide slower, more sensual orgasms than a vibrator. (If your bestie would prefer a sex toy for men, we've got plenty of expert-recommended options, too.)
For the best friend who gets everything monogrammed
From our list of the best gifts you can get monogrammed, this cozy L.L.Bean blanket is something they can use year-round (even in summer on those days the AC gets a little too strong). It comes in a handful of colors, and monogram choices include a name, initials, or a single letter.
For the best friend with a dark work space
A Memphis-esque light-therapy lamp for their desk at home (or the office).
For the best friend with a sweet tooth
These Italian black cherries will taste great on ice cream, in Manhattans, or straight from the jar.
For the (slightly healthy) best friend with a sweet tooth
Photo: retailer
Writer and Fishwife co-founder Caroline Goldfarb told us she can't get enough of these jelly-filled pouches that each contain just ten calories. "They've become a go-to when my sweets cravings hit hardest, which is typically during the post-lunch afternoon slump," she writes. "The jelly is so refreshing — liquidy to the point that it's almost slurpable, with a slight chew."
For the caffeinated best friend
Photo: retailer
"I have used the machine for French press, pour-over, and AeroPress coffee, and every cup tasted smooth, no matter the method," our own Louis Cheslaw writes of this design-y coffee grinder from Fellow, the maker of our favorite design-y tea kettle.