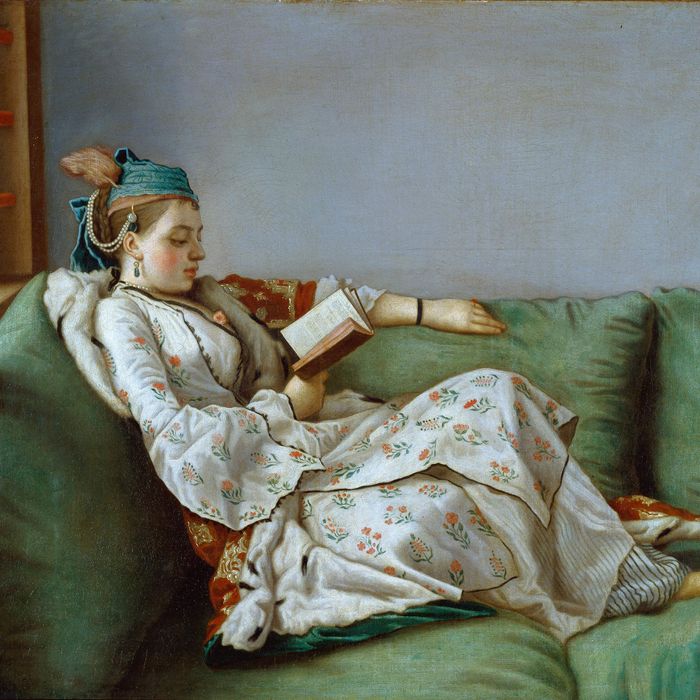 Photo: Leemage/Corbis via Getty Images
Book-loving friends seem easy to shop for — just buy them a book, right? But if you stop to think about it, do you have any idea exactly which book? Do you know what they've already read? Do you know the celebrated authors they secretly hate and the unheard of ones they love? Luckily, you can avoid that mess by giving a book-adjacent gift instead, be it shelves for keeping their tomes in order or an especially nice-looking bookplate. We spoke to writers, editors, publishing people, a professor, and other avid readers to track down the best gifts for bookworms — that aren't books.
Gifts for keeping books tidy
Even book lovers who prefer minimalist home décor can easily enter Hoarders territory when it comes to their shelves. Rachel Krupitsky, who works in social media and audience development at Penguin Random House, said an unexpected gift helped her remedy this problem: "My husband installed floating bookshelves around our apartment as a surprise — so that I didn't have to stop buying and bringing home books." In small apartments without much floor space, floating bookshelves are an ideal solution to literary overcrowding. They're also on the wishlist of Heather Ellis, a Ph.D student and creator of the popular Instagram account The Literature Archive, who says they'd "make my walls pretty."
Like many bookworms, Mollie Esposito, co-host of the podcast Black Chick Lit would appreciate a new bookshelf to house her collection. "My books are stacked three deep on a particle-board shelf I got back in college," she says. "I'd go for something airy and minimalist like this unit from Article."
For storing a lot of books in a small amount of space, Jeff Adams and Will Knauss, co-hosts of the Big Gay Fiction Podcast, recommend a narrow, vertical bookshelf like this one that can fit into a tiny corner. They agree it's "a great, different way to store and display books."
One of the best gifts that Jen Bergstrom, the senior vice-president and publisher of the Gallery Books Group, ever received was a pair of elephant bookends "from one of my favorite authors, who knows that I have way too many books in my office and my apartment and that the elephant is my spirit animal." While Bergstrom's elephant bookends are sold out, these white stoneware whale bookends would be a treat for a reader whose style is more nautical.
For a simple way to organize books, Lisa Zaslow, a New York–based professional organizer and founder of Gotham Organizers, likes these metal bookends with an industrial vibe. [Editor's note: These bookends are currently out of stock, and will be available on December 10.]
Gifts for not losing your place
Photo: retailer
The Strategist's resident bookworm, writer Tembe Denton-Hurst, says that she received this Poketo bookmark as a Christmas gift last year and loved it. "I've recently become somewhat obsessed with keeping my books looking brand new, and bookmarks stop me from bending my pages to hold my spot," says Denton-Hurst. "I like the slightly design-y look of this one, and its nice and heavy, so it won't wear out over time."
For a bookmark with even more weight, take it from Anne Bogel, the creator of the book blog Modern Mrs. Darcy and the host of the What Should I Read Next? podcast, who likes this handsome, functional page anchor. "It holds your book open flat, hands free," she says. "So if you were trying to eat lunch while you're reading, or maybe tend to whatever's cooking on the stove while reading, you can do it."
Bogel's daughter gifted her one of these bookmarks with a hand you can adjust to point to your exact place. She loves how it stretches to fit any book and makes it convenient to hop right back into what you're reading.
Katharine Scrivener, of the Instagram account Read With Kat recommends these minimal book darts "for the readers who love to mark quotes but don't want to actually write in their books." Much nicer looking than dog-eared pages, the little metal markers stay put inside a book and help readers easily find their favorite passages.
Instead of a bookmark, Nicole Lamy, the New York Times "Match Book" columnist, likes to use one of these vintage-book-cover postcards to keep her place. Lamy loves the imagery and meaning behind them; she'll also hang them on a wall for inspiration or mail one to another book-loving friend.