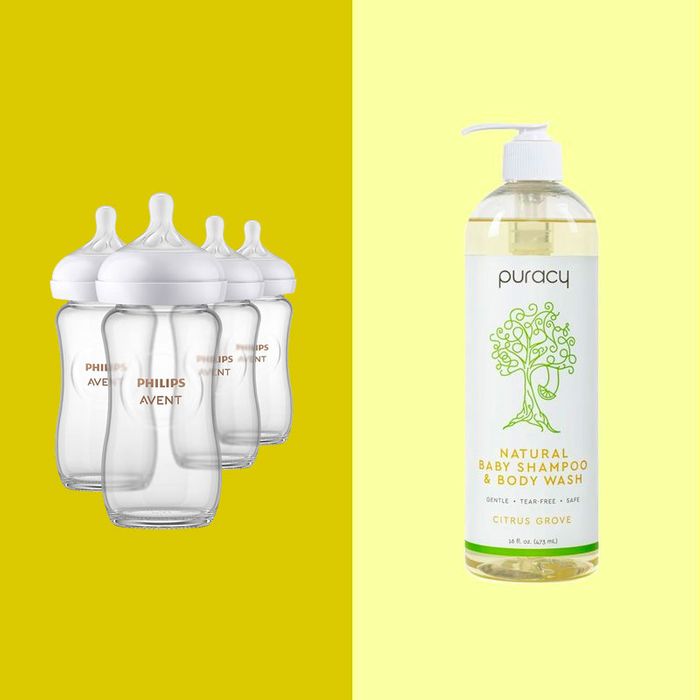 Photo-Illustration: The Strategist
Registries are often wasted on soon-to-be parents. In this series, cool new(ish) moms and dads tell us about the stuff that has actually worked for them in the time since they had a kid. In other words, if they could do their baby registry all over again, here are the items that would top the list.
As someone whose literal job is to seek out the best of the best in every shopping category imaginable, I've tried a lot of stuff. And as a mom of two, that includes a ton of baby gear. When I was putting together our baby registry for our first child, Augie, I was pretty conservative about what I included, especially when it came to bigger-ticket items. I stuck with the highly reviewed, the personally recommended, and the tried and true: Stokke Tripp Trapp chair, the Uppababy Vista stroller, the Newton Baby mattress, the Ubbi diaper pail, the BabyBjörn bouncer, and the Snoo. These are all things I swear by and currently use with our second baby, Solomon, who was born this past spring, and would register for again in a heartbeat.
But when it came to everyday essentials, I was a bit clueless. Someone told me not to get too many baby clothes because I'd be gifted a bunch, but it turned out I didn't have nearly enough. And no one told me that I should have comfortable clothing for myself postpartum, so for the first couple of months, I wore a raggedy flannel button-up shirt that had once been part of a high-school Halloween costume (I'd dressed up as Angela Chase from My So-Called Life).
My advice now that my older child is 3 and a half and the second one is 6 months? Do, in fact, sweat the small stuff, because that is what's going to keep things rolling along more smoothly and give you a boost of confidence when things inevitably get a little dicey. Here, what I would have done differently now that I know better.
I never thought I would have paid $100 for diapers when a pack of 150 Pampers Pures costs about half of that, but these (and their wipes) really are the best out there. Coterie sent me a couple of cases to sample when Augie was 18 months, and as soon as I opened them, I noticed how soft they are, almost like they're made of cotton (that's because part of them is made out of apparel-grade fabric). They're also just really lovely — they're mostly white (but do have a double wetness-indicator line) with frilly-trimmed leg holes that look adorably old fashioned. And because they have an extra-wide back panel, they kept Augie comfortable and dry throughout the day and overnight.
So when I was thinking about diapers for the new baby, Coterie diapers were what I wanted, as I knew their plushness would be even better for a newborn's sensitive bum. Lucky for me, the brand sent me a few boxes when Solomon was born, a gift that I know other parents would be thrilled to receive, too. (If you're looking for a cheaper option, I also recommend Millie Moon diapers from Target — which are the diapers we actually buy — they're a worthy dupe for Coterie for a fraction of the price.)
With Augie, we used Dr. Brown's Anti-Colic bottles, but they are such a pain to clean that I wanted to try something different. Plus the second baby struggled to take the bottle, so I was desperate for a nipple that mimicked my own more closely. After polling my friends on Instagram, I landed on Philips Avent's Natural Response Nipple, paired with the brand's glass bottles, and haven't looked back. Glass bottles just feel more hygienic (and, again, old fashioned, which apparently is important to me) and warm up faster, though they are admittedly a bit heavier. The best part about these bottles is, of course, their nipple, which releases milk only when the baby sucks and stops flowing when the baby stops drinking. They also do not leak, even when you tip them over without the cap (unlike the Dr. Brown's and every other bottle I've tried). The nipples also come in five different flow levels corresponding to the baby's age — more than I've seen in other bottles. Another feature that I find crucial is its clear, easy-to-read ounce markings on the body, because when you're feeding a newborn, every half-ounce counts.
These were sent to the office when I was pregnant with Augie, and I never would have known about them otherwise (I've never seen them in any online roundups or in stores). But I can tell you personally that these mats are amazing. They're comfy and soft and incredibly well made. We've been using them for close to four years now, and they still look new. The mats are essentially a ¾-inch piece of memory foam with the softest mink-y top layer and a grippy, nonskid backing. We use the Skinny Mat on top of our Ikea changing table as padding because the Keekaroo Peanut Changer is too big. And we use the Little Squishy Baby Play mat as basically a portable (albeit very thin) mattress to set the baby down on, whether for tummy time or general hang time on the floor. Both fold up and have a Velcro handle for easy transport, and you can throw them in the wash when they get dirty. They're not necessarily the cutest pieces of baby gear, but they're certainly some of the most useful.
As I mentioned, I was underprepared in the baby-clothing department with Augie, so with Solomon I made sure I had a stash of comfortable and functional newborn outfits. Augie, who was born in the winter, lived in these thick, long-sleeved, kimono-style bodysuits, but they required pants, and I learned rather late in the game that fussing with two pieces of clothing is actually quite annoying when you're changing diapers every hour. For the second baby, I opted for full bodysuits. A friend of mine told me about these H&M ones that were basically the only clothes her daughter wore. They're made of lightweight cotton (good for warm weather, when Solomon was born, but also for layering) with snap buttons and don't look too pajama-y (not that that really matters since babies are asleep most of the day, but I appreciated the versatility). They also come in a zip version (for those who hate buttons) and a zip version with footies. They are often hard to find (depending on the size and season), so when you see them, I suggest ordering a bunch. They come in multipacks or as singles, and there are a ton of actually cute, subdued patterns to choose from, some more explicitly nighttime themed than others. They're also inexpensive, wash well, and stay nice and soft.
This is the only soap we have used since day one with Augie — and never thought of switching for Solomon. It smells incredible — I wouldn't mind using it either — and is free of sulfates and parabens. We use it for hair and body, and one bottle lasts forever. I've tried California Baby, another natural option that also smells like a dream, but it's just too expensive.
I'd been using the Frida Baby NailFrida clippers with Augie since he was about 6 months old, so I thought it would be a cinch to use them on Solomon, too. But when Solomon was not even a week old, I started snipping away, slicing off a literal chunk of his fingertip, rather than his nail, causing him to bleed, like, a lot. I felt so awful for the little guy (he ended up being totally fine), but I chucked those clippers. When I told our nanny about the ordeal, she whipped out these nail clippers (from a company reassuringly named Safety 1st) and proceeded to expertly trim his nails without incident. After getting over my fear of slipping up again, I tried the clippers, too, and found them so easy to use, probably because they work just like a regular nail clipper for grown-ups. The lesson here is that you don't always have to reinvent the wheel when it comes to baby products — they can just be smaller. (I still really like the NailFrida for toddler nails, though.)
I forgot who gave this swaddle to us, but I owe them a big thank-you — it kept Augie so calm and chill the first few weeks of his life that we were actually a little concerned about his inactivity (but more grateful for all his sleeping). The brand claims this wrap accommodates infants' preferred sleeping position of having their little arms up by their heads, and I did love how the winglike sleeves made him look like an angel. But what I loved more was how easy it was to use. You didn't have to wrap or tuck or Velcro anything — just zip it right up. The material is so soft and a little bit stretchy, and the middle section is tapered slightly so that it hugs the baby's midsection. The brand also makes a transition bag that has removable wings, and we bought that, too.
This book was written by the doctor who started Tribeca Pediatrics, where we take both kids. Not everyone will agree with the practice's less-is-more, laid-back approach, but my husband and I found it really comforting to know that we shouldn't worry too much about every little thing that seemed off in our first year of parenting. And now we refer to it often with Solomon, too, because it turns out you forget about a lot of baby stuff as they get older. The book is organized like an encyclopedia of every medical and medical-adjacent concern new parents have (from sleep training to spitting up to diaper rashes to day care).
About a month after Solomon was born, I bought these shorts after seeing them on a momfluencer on Instagram because I liked how loose and baggy they looked. I'd never encountered this "basketball" style for women before and was intrigued, especially after living in bike shorts for months. (I also got a shirt to match because I wanted to feel slightly put together even though I was at home most of the time. I got both in coal, but the shorts are now sold out in that color.) They ended up being perfect for that postpartum period when you still look pregnant and feel bloated thanks to their high waist and elastic waistband. They're also supercute. They're made of a heavyweight cotton knit and have an A-line cut that makes them a little bit swingy. When I wore them with the shirt, I just felt jaunty even though I was awash with spit-up and dirty diapers. I love the shirt, too, which has a high crew neck and what the brand calls an "urban muscle" sleeve. Its cropped length works beautifully with the shorts (and my very short torso) and is easy to pull up for breastfeeding.
A thing I regret not registering for with Augie was a Moses-basket-style bassinet, but purely for aesthetic reasons. We got the Snoo as a hand-me-down, and the Vista stroller came with a bassinet, so it wasn't like we were lacking in having a safe place to set him down. I actually used the Vista bassinet on the floor of the living room as a daytime bed for Augie when he was an infant, and I've heard that some people use it as their primary bassinet by putting it on a stand. But neither of those options made for an adorable photo op. So when DockATot offered to send me one of its gorgeous decoupage-style woven bassinets for Solomon, I was eager to try it. It is really expensive but also feels expensive, beautifully made from paper-wrapped rattan with leather handles and a cotton-covered coconut-coir mattress. The bassinet comes in various patterns from British design house William Morris that feel sophisticated and totally unexpected — but still baby appropriate. (I have the Strawberry Thief pattern, which is unfortunately sold out, but I also like the Willow Boughs pattern above.) Whenever I put Solomon in it, he looked a bit silly but oh so cute, like a little prince in his fancy bed. My only criticism is that the bassinet is wider and heavier than your average wicker Moses-style basket, which makes it cumbersome to move from room to room, but it is built to last. An heirloom item, to be sure, and a fabulous hand-me-down, too.
The Strategist is designed to surface the most useful, expert recommendations for things to buy across the vast e-commerce landscape. Some of our latest conquests include the best acne treatments, rolling luggage, pillows for side sleepers, natural anxiety remedies, and bath towels. We update links when possible, but note that deals can expire and all prices are subject to change.