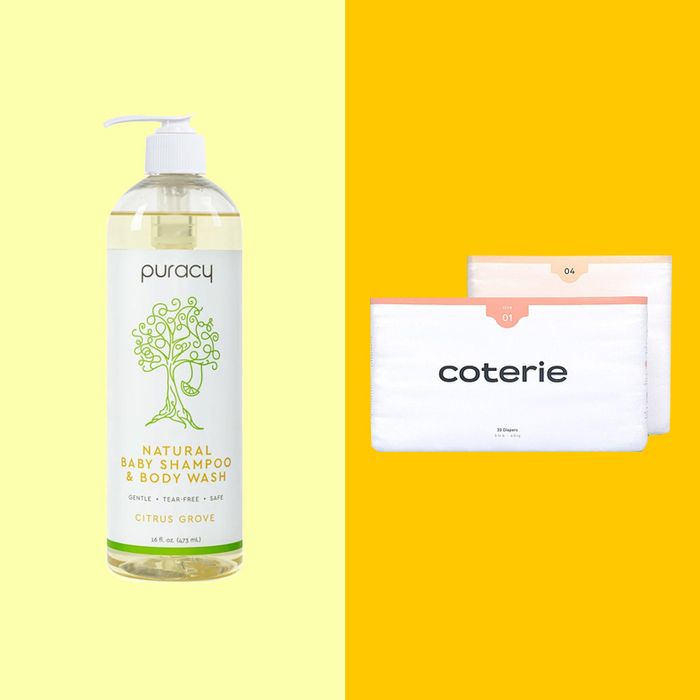 Registries are often wasted on soon-to-be parents. In this series, cool new(ish) moms and dads tell us about the stuff that has actually worked for them in the time since they had a kid. In other words, if they could do their baby registry all over again, here are the items that would top the list.
As a person whose literal job is to seek out the best of the best in every shopping category imaginable, I was pretty conservative when putting together our baby registry, especially when it came to the bigger-ticket "gear" items. I stuck with the highly reviewed and the tried-and-true — the Stokke Tripp Trapp chair, the Uppababy Vista stroller, the Keekaroo Peanut changer, the Newton Baby mattress, the Ubbi diaper pail, the BabyBjörn bouncer — all of which I would register for again in a heartbeat. But for everyday essentials, I was a bit clueless. Someone told me not to get too many baby clothes because I'd inevitably be gifted a bunch, but it turned out I didn't have nearly enough. And no one told me that I should have comfortable clothing for myself postpartum, so I wore a raggedy flannel button-up shirt that had once been part of a high-school Halloween costume for the first couple of months because that was the only thing that fit and was easy to open and close for feeding. My advice now that my son is 2? Do, in fact, sweat the small stuff, because that is what's going to keep things rolling along more smoothly and perhaps impart a bit more joy during the hardest moments.
It seems unconscionable to pay $90 for diapers — when a similar pack of 150 Pampers Pures costs about half of that — but these really are the best out there. Coterie sent me a couple of cases to sample last fall, and as soon as I opened them, I could tell immediately that the diapers were superior to any that I've tried before (and I've basically tried them all, from big-name brands to "organic" styles). The first thing I noticed was how soft they are, almost like they're made of cotton (that's because part of them is made out of apparel-grade fabric). They're also just really lovely — they're all white, with minimal branding and only a double wetness-indicator line in terms of graphics, and frilly trim that looks adorably old-fashioned. And because they have an extra-wide back panel, they kept Augie comfortable and dry throughout the day and overnight. I wish he hadn't already been 1.5 years old by the time we got to try them — I imagine them being even better for a newborn with sensitive skin. Even though we have mostly gone back to Pampers for him (and he's almost potty trained), I recently splurged on a case because I couldn't help myself.
A friend of mine who is a mom of three (two of whom are twins) went "off registry" for her gifts, which included lanolin cream and these breast shells, which were a lifesaver. They're basically cups to shield your nipples from chafing against your bra or top. I grabbed them (and the lanolin) as soon as I came home from the hospital because my nipples were, yes, totally sore from those first days of breastfeeding. I slipped them into my Hofish nursing bras and felt a little relief — at least until the next feeding session. They also catch precious breast milk when you leak, which you can theoretically transfer into your bottles or milk storage bags; for added protection (like when I was lying down), I paired them with these organic nursing pads.
A desperate Amazon purchase that ended up being a favorite. Augie lived in these for the first couple months of his life; I think of them as his newborn uniform. They're made of thick cotton (great for wintertime), and the kimono-style snaps made them easy to put on and take off (no one tells you how difficult it can be to constantly pull shirts up and down over a baby's precious little head). I also loved that they had built-in fold-over mitten cuffs, because he was always scratching his face with his little nails.
Speaking of nails, these clippers are the best. I had actually bought baby nail scissors, but they were so hard and scary to use that I got these instead. There's definitely a learning curve with these too, but once you get the hang of it, they're really intuitive. (Unlike regular nail clippers, these use a kind of slicing motion that's better for soft baby nails.) The little "viewing" window helps you get a closer look at exactly what you're doing. We still use it.
This is the only soap we have used since day one. It smells incredible and not baby at all and is free of all the "bad" stuff. We use it for his hair and his body, and one bottle lasts forever; we're only now on our third. I've tried California Baby, another "natural" option which also smells like a dream, but it's just too expensive for baby soap.
I forgot how this came into our lives, but whoever gifted this to us must have been a pro because it kept Augie so calm and chill the first few weeks of his life that we were actually a little concerned about his inactivity (turns out all newborns sleep most of the day). It's different from all the other swaddles out there because it accommodates infants' preferred position (so they say) of having their little arms up by their heads. (Bonus points for those winglike sleeves that made him look like an angel.) What I loved about it the most was how easy it was to use. I could never get the hang of regular swaddles, even the ones that were supposed to be foolproof. You didn't have to wrap or tuck or Velcro anything — just zip it right up. The material is so soft and a little bit stretchy, and the middle section is tapered slightly so that the baby's midsection is hugged like a swaddle. The closest thing to it that I have seen is the Happiest Baby Sleepea 5-Second Swaddle, but I like the arm positioning of this better. I will say that this has a relatively short use period, and I was a bit sad when Augie grew out of it, but the brand also makes a transition bag that has removable wings, and we bought that too.
The hospital sent me home with these witch-hazel pads to put in my underwear on top of my maternity pads. They were cooling and soothing and so easy to use that I wanted to make sure I had some at the ready when I inevitably ran out of the ones from the hospital. Luckily, I found them on Amazon. I was too lazy to make those icicle pads everyone talks about, but thanks to the healing effect of the witch hazel, I didn't need them.
One thing I regret not registering for was a Moses basket-style bassinet, but purely for aesthetic reasons. We got the Snoo as a hand-me-down, and the Vista came with a bassinet, so it wasn't like we were lacking in that department. I actually used the Vista bassinet on the floor of the living room as a daytime bed for Augie when he was an infant, and I've heard some people use it as their primary bassinet by putting it on a stand. But neither makes for a good photo op. If I had to do it again, I would ask for something like this. It's sort of silly but oh so pretty. I would pair it with a sheepskin rug.
Like a lot of people in the city, we go to Tribeca Pediatrics, and this book was written by the doctor who started the practice. Not everyone will agree with the practice's less-is-more, laid-back approach, but my husband and I found it really comforting to know that what we (and Augie) were experiencing was totally normal and that we shouldn't worry too much about every little thing that seemed off. This was like a bible for us the first year and is also very much like an encyclopedia of every medical and medical-adjacent concern (from sleep training to spitting up to diaper rashes to day care) that a new parent could possibly have.