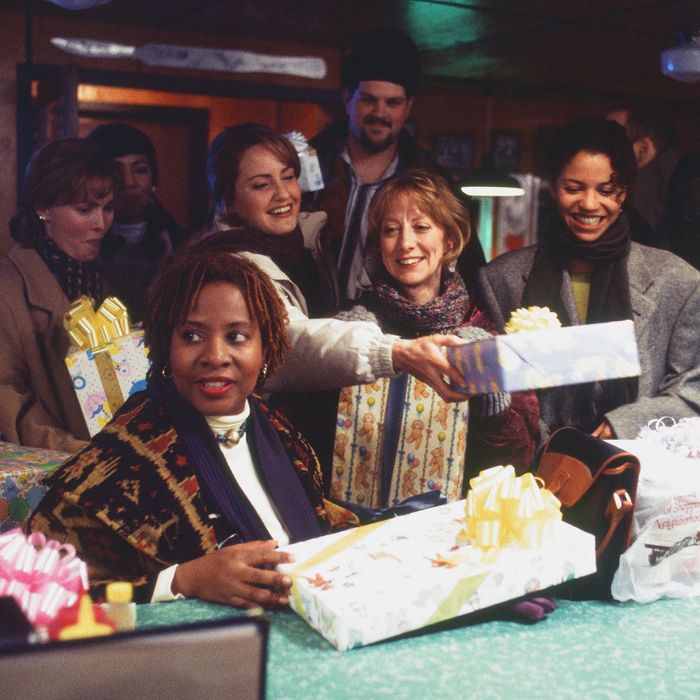 Photo: Alice S. Hall/NBC/Getty Images
So your best friend had a baby and you're completely clueless about the whole enterprise. What do you bring to the shower? Do you go with something cute or useful? (Probably useful.) But what's the most useful? To find out, we asked an array of baby experts — mostly new moms themselves, but also shop owners, medical professionals, and doulas — a simple question: What's the best baby-shower gift? Below, their 74 very helpful responses, which range from a doula-approved baby carrier to a diaper rash cream applicator to customized book club subscriptions. (And if you want to start a registry on Amazon, where most of our items are available, it's a cinch.) To make the list even easier to shop, we've arranged the items by category; if you know the type of gift you want to get, but still need specific ideas, you can click on any of the links below to jump to that group of products.
Clothing | Blankets, swaddles, and mats | Loungers, swings, and bassinets | Strollers and high chairs | Slings and carriers | Nursing and feeding | Books and toys | Pacifiers and teethers | Diapering, bathing, and grooming | Nursery and décor | Gifts for mom (or dad)
Clothing
Dr. Frances Benedict, who works in pediatrics, told us that parents swear by Zutano booties for newborns because while "baby socks are notorious for not staying on, these booties will stay on." They come in a bunch of colors and in various styles kids can graduate to as they grow, according to her. "They have ones with grips on the soles for older, more mobile children, so kids don't slip on slippery floors," she says. Moms Amelia Holowaty Krales, a senior staff photographer at our sister site the Verge, and Allie Gillebo, a designer at Vox Media, are two more fans. Says Gillebo: "These are the best! They're the only bootie that ever stays on my babies."
Here's another pair of baby "shoes" that are sure to stay on tiny feet, according to Melissa Tortorella, the former communications manager at East Village gift shop Pink Olive. "These baby moccasins will not fall off your kid's feet and be lost to the sidewalk forever," she says, adding that they're "durable, well-designed, and adorable." They're made of leather and are available in a range of colors, from white to powder blue to gold.
"This sounds so silly, but onesies that zip as opposed to snap are so helpful," says mom Madeleine Fawcett, a co-founder of public relations firm Project MM. "Trying to button up on a squirmy babe is tough, especially after a middle-of-the-night diaper change, so we have a lot of these Hanna Andersson jammies. They are the best." The pajamas range in sizes from infants to 3-year-olds and are available in practically every color and design that you can think of.
Design editor and mom Kelsey Keith told us her go-to baby-shower gift is this hadagi from Japanese brand Makié, which her own daughter "and all of her baby cohorts" received. "It's a beautiful material and really easy to get a newborn into and out of," she says, thanks to the ties at the waist and snaps on the pant legs. This writer (Lauren Ro) was also gifted several of these for her baby shower and even dressed her son in one for the ride home from the hospital.
Blankets, swaddles, and mats
"Hands down, the gift we recommend to most expecting families are swaddles," says mom Alex Ng, the owner of children's boutique PiccoliNY. "But not just any swaddle: These, by Coveted Things, are extra special and truly set themselves apart because they're so versatile — as a swaddle, of course, as a photo backdrop, as a burp cloth, as a nursing cover, as a blankie, as a carriage cover." Ng adds that they come in beautiful designs with sweet (and cheeky) messages, including her personal favorite that says, "Shit just got real."