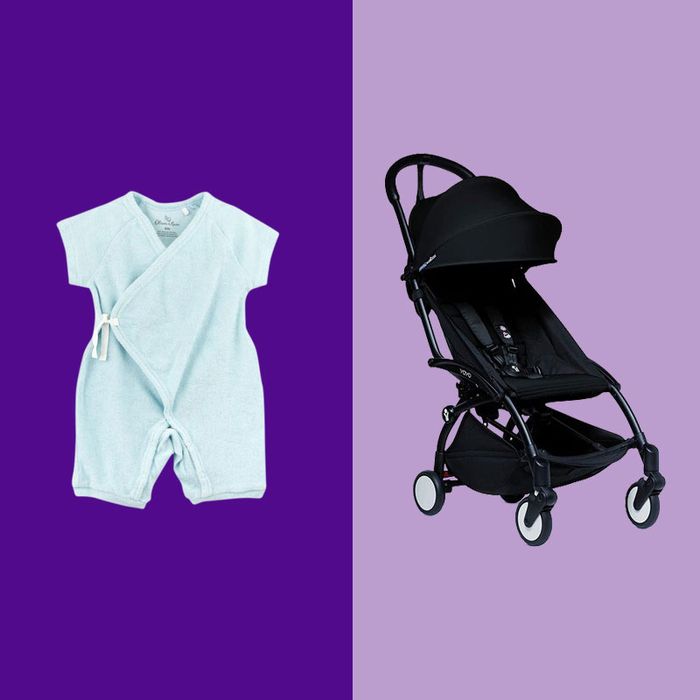 Photo-Illustration: Strategist. Photos: Retailers
So your best friend had a baby and you're completely clueless about the whole enterprise. What do you bring to the shower? Do you go with something cute or useful? (Probably useful.) But what's the most useful? To find out, we asked an array of baby experts — mostly new moms themselves, but also shop owners, medical professionals, and doulas — a simple question: What's the best baby-shower gift? Below, their 85 very helpful responses, which range from a doula-approved baby carrier to a diaper rash cream applicator to customized book club subscriptions. (And if you want to start a registry on Amazon, where most of our items are available, it's a cinch.) To make the list even easier to shop, we've arranged the items by category; if you know the type of gift you want to get, but still need specific ideas, you can click on any of the links below to jump to that group of products.
Clothing | Blankets, swaddles, and mats | Loungers, swings, and bassinets | Strollers and high chairs | Slings and carriers | Nursing and feeding | Books and toys | Pacifiers and teethers | Diapering, bathing, and grooming | Nursery and décor | Gifts for mom (or dad)
Clothing
Blankets, swaddles, and mats
Keith also likes to give swaddles, along with play mats and towels, from Kip&Co to new and expecting parents. Seeing as swaddles are generally muted in color, she loves how her favorites stand apart with their "really fun patterns that do not shy away from a bold look." Keith's go-to play mat to gift, meanwhile, is filled with cotton to give a bit of extra padding for wee ones.
Loungers, swings, and bassinets
Strollers and high chairs
Slings and carriers
Nursing and feeding
According to Benedict, Medela's lanolin ointment is a must for breastfeeding moms. "Other brands are too thick to apply," she says, but this one "lends itself to easy and painless application." If the ointment alone doesn't feel giftable enough, she says to bundle it with these nursing pads from Lansinoh. "The Lansinoh brand is the most comfortable and least abrasive," she promises.
Books and toys
For a less expensive gift approved by Snoo creator Dr. Harvey Karp, Ross suggests this DVD that teaches new parents his raved-about method for quieting a crying baby. (If you're not familiar, it involves something called the five S's.) Her "very kind neighbors lent us the DVD, which taught us how to get our newborn to stop screaming bloody murder in the first few weeks," Ross explains. "I can't tell you the difference it made." For those who maybe haven't held onto their DVD player, the lesson can be streamed via Amazon video and also comes in the form of a (just-as-giftable) book.
Pacifiers and teethers