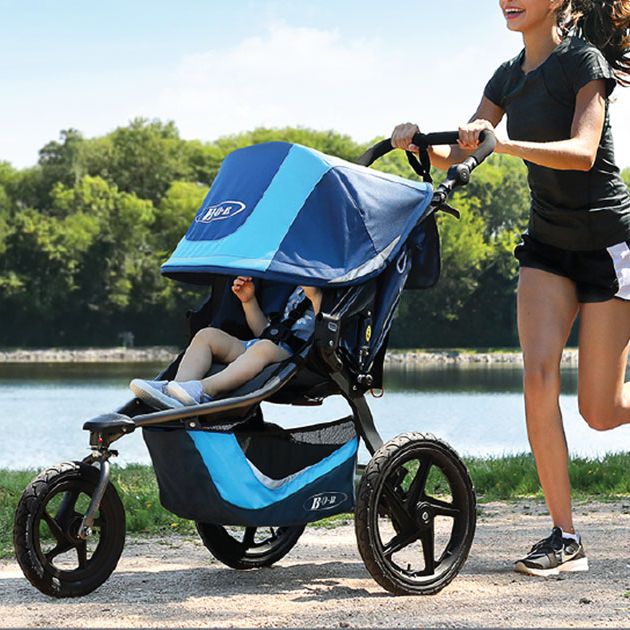 Photo: Courtesy of the retailer
Whether you were a regular runner before having a baby, or you're looking to start afterward, you'll quickly find that a jogging stroller offers the freedom of going for a run without the stress of setting up child care. "A running stroller can be a great investment in your mental fitness as well as your physical fitness," says Allie Burdick, a fitness writer and mom to twin boys. "My running stroller was one of my most prized possessions and also probably the most expensive item [that I bought for my babies], besides cribs, but I would spend the money ten times over for the peace of mind and freedom it gave me."
Compared with everyday strollers, jogging strollers have several features that make running with your child easier and more comfortable. According to Erin Mink Garvey, mother of two and blogger at Running Ruminations, "the simple ergonomic design of jogging strollers is different from that of regular strollers in that they're created in a way to allow for better usability and more aerodynamics." Jogging strollers have three wheels (instead of a traditional stroller's four), larger tires, and better suspension for a smoother ride. Below, Burdick, Garvey, and ten more running parents share their favorite jogging strollers.
Best overall jogging strollers
Recommended by four experienced running moms, the BOB Revolution stroller is a very popular option. Elke Pitman, mother of a toddler and an ambassador for the Ragnar relay race series, likes that it's "comfortable for my kid since it has additional shock [absorption] to prevent the bumps on trails and the road," and it has an adjustable handlebar so her taller husband can run with it as well. The locking front wheel allows for more stability and maneuverability on both flat roads and uneven terrain. Garvey also uses the BOB Revolution and says, "I've logged thousands of miles with it, between both my daughters, and aside from replacing blown-out tire tubes, structurally, the stroller is as good today as it was when I bought it seven years ago."
Christina Brown, a Ragnar ambassador and mom of four who has trained for a marathon using a jogging stroller, says, "I love the ease of use of the BOB. It glides in front of me and is so easy to turn and push. I also love that the sun shades are extended and cover the kids quite a bit." Valencia Hike, a mother of three and ambassador of the Black Girls RUN! Baltimore group, tried running with a regular stroller but found it "very uncomfortable and hard" before switching to the BOB, which she loves for its smooth ride and durability. "I enjoyed running again and began to run more," she says. "It gave me the freedom to run and venture out beyond my neighborhood sidewalks."
Earning recommendations from two running dads, this streamlined Thule stroller is another strong contender. Gavin Grant, a sales manager at Backcountry, loves using it to run with his 2-year-old, and Brian Hayes, head of digital at Tracksmith, likes that it's "super smooth, easy to use, [and] the below the seat storage area also comes off when you don't need it so it feels sleek and minimal." He says that the locked front wheel and superior shock absorption help the stroller "roll more smoothly without the risk of flipping over." With optional accessories for rain, sun, and bug protection, Hayes appreciates that he gets year-round use of the Thule with his 11-month-old daughter. "A dedicated running stroller is a luxury but can make a big difference in everyone's enjoyment of their time on the run," he says.
Best double jogging stroller
Thanks to double running strollers, it's possible to take two little ones on the run. For running with her twins, who are now beyond stroller age, Burdick says, "I absolutely loved my BOB double stroller. It was smooth, comfortable, [and] had plenty of storage space." With all the features of the BOB single stroller — like the option to lock the front wheel, adjustable handlebar and straps, and a large canopy for sun protection — it's also a top choice of Brown, who owns one in addition to the single.
Best jogging stroller for race training
If you're serious about going far — and fast — this BOB model is designed to safely handle high-speed running. "I needed something that could handle my pace and mileage," says Patrick Hammond, ultramarathoner and co-founder of Educated Running coaching, who trains with his son, Grey, in an older version of the Blaze. "It has real road tires like on a road bike, which makes the ride smooth," he says. And no matter how fast he's running, the top canopy and adjustable seat ensures a peaceful ride for his little guy. "The shoulder straps are comfortable and secure for Grey, so he does not shift around," says Hammond. "A lot of times he falls asleep on my runs making for a great nap