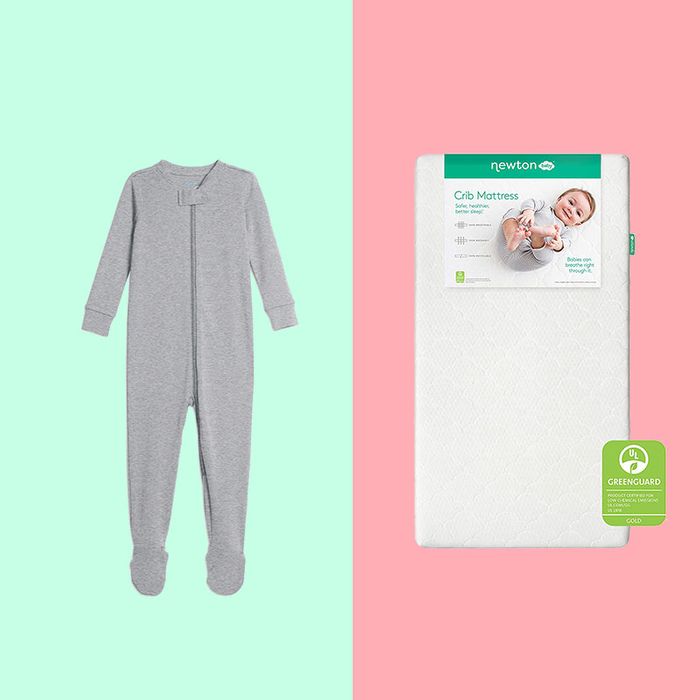 Photo-Illustration: retailers
Registries are often wasted on soon-to-be-parents. In this series, cool new(-ish) moms and dads tell us about the stuff that's actually worked for them in the time since they had a kid. In other words: If they could do their baby registry all over again, here are the items that would top the list.
Although Jason Morrison and his husband did create a registry in advance of their daughter's adoption in 2018, it was a small one: They were wary of the common Brooklyn parent trap of acquiring way too much baby stuff, including those giant strollers that are "the sidewalk equivalent of Hummers," Morrison says. Plus, as a veteran of luxury-brand management (he led a marketing team at LVMH before switching to full-time fatherhood), Morrison had a certain cynicism about PR hype. For instance: "Every dad-targeted diaper bag we looked at seemed to reference 'gear' or 'tactical'–like parenting was akin to basic training or something," he says.
Thanks to their hyperconscious consumption, for the most part, they ended up with products that were "long-lasting and of value," as Morrison describes them — ones that "would not clutter our lives or our landfills." Unfortunately no "dad" diaper bags made the cut, but the following list of Morrison's eight favorite items does include a self-contained changing pad that can be carried all by itself, or in any bag one currently possesses.
While this mattress costs much more than the other options out there, the "breathe-through" safety aspect made it worth it for us. How do I describe it? It's hollow in the center — it's shaped like a mattress, but it's basically just like a bird's nest of this white material that I imagine is some kind of polymer. I don't want to be the guy who says, "Well, we paid much more but it was worth it," but it really was worth it in the sense that it decreases the potential of kids sleeping on their stomach and not being able to breathe. We used it from when our daughter was an infant, and in addition to the comfort and the safety aspect, I knew there would be longevity to it, since we can still use the mattress when we transition her to her toddler bed.
My sister recommended this self-contained changing pad, which can be used with any existing bag or carried by itself. So you can put it into a gym bag or a backpack or a briefcase, whatever you want to put it into, and it ostensibly transforms it into a de facto diaper bag. It collapses in on itself and has room for diapers, wipes, and even a change of clothes. And then it folds out so you really can make any surface into your changing table. When at home, we ended up using it as a second changing table. It was super-versatile, and one of the very few things that we would never leave home without.
After years living above bars and busy streets in New York, we've just grown comfortable with the necessary evil of the white-noise machine. Since our daughter's room faces the street, we thought we'd try the same for her and it's worked like a charm ever since. This device came highly rated, was affordable, is powered by battery or outlet, and is portable enough to bring with us everywhere — which we've done.
Initially we got a tent like this because we wanted to find a way to keep our daughter contained and protected while at the beach — we were going to visit family in Greece. The tent itself is UV-protected from the sun, and it's large enough to accommodate anyone from babies to very large toddlers. And it packs flat; it collapses into a sack that can fit into a small suitcase or a tote. But it has utility when we're not at the beach, too; it really performs as a portable play space now — she sits in it and watches TV or sticks her animals in or whatever. She can even sleep in it. It's basically a fort.
I'd always admired this chair from a design perspective, especially due to its ability to grow with the child, but I always shied away when I saw the price relative to other plastic high chairs. But I knew that there was value there; it wasn't another disposable thing. So thankfully a generous Danish friend bought it for me — she thought it was worth it and she was right. Our daughter uses it multiple times a day, and it has additional components that you can buy for different stages of the child's development. And it looks and feels wonderful — the build quality of it is beyond.
When our daughter was about a year old — too big to be swaddled but still too small for a blanket — this merino wool sleep sack was fabulous, and less expensive than the competition. The warmth was excellent, even for cold winter nights upstate. But she never woke up in a sweat; it seemed to regulate warmth really well. I initially bought it because it was ethically sourced and it seemed like a good long-lasting item. And yeah, we used it for many months — I want to say we got it in October and used it all the way through June — and then gave it away to a friend. It was the kind of thing that really held its shape, it didn't pill, it was really quite intact and ready to be shared.
For clothes, Primary is where I went for almost everything that wasn't gifted or handed down. It's an amazing resource — the quality, the value, the colors, the durability. And certainly the pricing. The colors I bought were mainly grays and muted blues and that sort of thing.
We wanted a small desktop lamp that could grow with our daughter, as I still have and love the one from my childhood bedroom, shaped like an opaque mushroom and very '70s! My close friend was kind enough to gift us one from his amazing store, and we've since bought them for many of our "expectant" friends and family. I cannot recommend this highly enough for its quality construction, beauty, and excellent dimming light, which we switch on as we're winding down before bedtime — it became an integral part of our routine.
The Strategist is designed to surface the most useful, expert recommendations for things to buy across the vast e-commerce landscape. Some of our latest conquests include the best acne treatments, rolling luggage, pillows for side sleepers, natural anxiety remedies, and bath towels. We update links when possible, but note that deals can expire and all prices are subject to change.