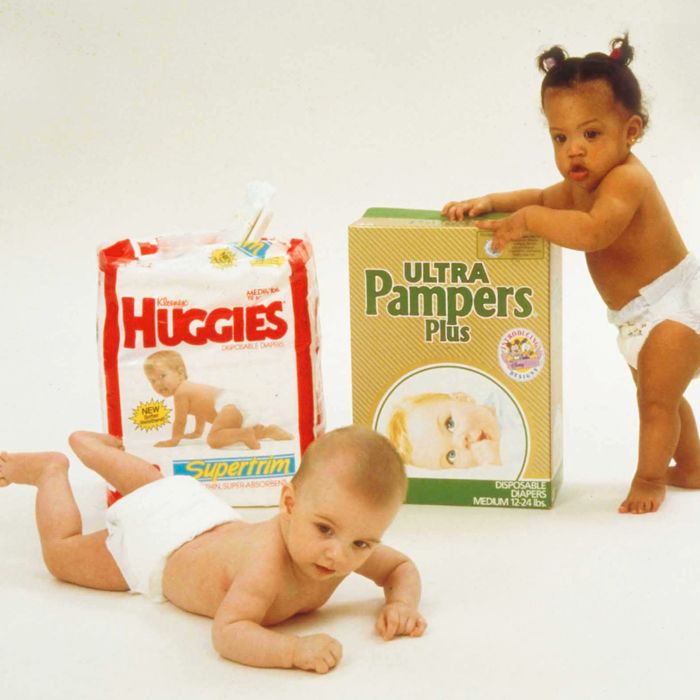 Photo: Henry Groskinsky/The LIFE Images Collection via G
People who have babies in their lives are all too familiar with the occasional diaper blowout (for the uninitiated, that's when the grimier contents of said diaper spill out of it). The right diaper can make a huge difference in preventing leaks from happening, but with so many different brands and types on the market — and all babies being different — figuring out which one works for your little one can be tricky. That's why Jennifer LaBracio, gear editor at registry site Babylist, recommends buying a small amount from a few different brands to try before committing to one. "It's a little trial and error because you want something that is snug around the legs but not too tight, and you want something where the waistband cinches nicely but doesn't dig in," she says. "The fit is just going to be different depending on your child and your child's body shape." To help you navigate the diaper aisle and narrow down your sample size, we spoke to 32 experts — a.k.a. parents and nannies — about their tried-and-true disposable diapers, from everyday picks to overnights to ecofriendly options that will keep your baby comfortable, dry, and clean.
Best overall diapers
Pampers Swaddlers were the most recommended diapers among our experts. Thirteen moms (including Strategist editor Alexis Swerdloff) and caregivers agree that Swaddlers are reliable and comfortable for the baby. Lindsay Thomason, CEO of the Nanny League, rates Pampers Swaddlers as the overall best diaper on the market, saying, "I love how soft and durable they are. My almost 1-year-old twins have never had a leak." Nathifah R., a nanny with SmartSitting, agrees, saying that they are "super absorbent." She particularly appreciates the wetness indicator, which she says is always accurate but "will also let you know when [your] baby is only a little wet by not fully changing colors." She adds that "the fit is always comfortable for your baby and the price point is perfect for most households." SmartSitter Shirley R. and mom of two Joo Lee Song both like how soft and absorbent they are, while sales consultant and mom of two Grace Lim likes how lightweight they are and the fact that they "don't restrict my daughter from going about her business." Swaddlers are hypoallergenic and free of parabens and latex. It's worth mentioning that Pampers, as a brand, got the most mentions across all categories. A total of six types of Pampers came recommended, including Swaddlers Overnights, Baby-Dry, Cruisers, Pure, and Easy Ups (more on the latter two below).
Best less-expensive overall diapers
Parents also love diapers from Target's in-house brand Up&Up. Publicist and mom Sonya Casino used Pampers Swaddlers until her son was about a year — "and then a couple friends told me on separate occasions that they switched to Up&Up and liked it more." She also notes that, depending on the quantity you get, the diapers are significantly cheaper — about 13 cents a diaper compared to about 24 cents for Swaddlers. She uses Up&Up diapers for day and night, and finds that they are quite absorbent for both instances. Three other panelists also recommend Target's diapers; Strategist senior editor and dad Peter Martin likes Up&Up's overnight diapers, in particular.
Best ecofriendly diaper
The Honest Company's diapers came in a close second, with 12 of our panelists recommending the brand's regular diapers. (Three people, including this writer, vouch for the brand's overnight nappies, as well — more on that below.) Parents and caregivers love that Honest's diapers are an ecofriendly option, since they're made with plant-based materials and designed with "sustainably harvested fluff pulp," according to the company. They're also hypoallergenic and contain no latex, chlorine processing, fragrances, or lotions. Heather M., a sitter with SmartSitting, says that the diapers "not only hold well and prevents leaks, but are also made for sensitive skin, which I've found most babies have." Vox Media director of brand strategy and mom Abigail Aronofsky calls Honest diapers "the holy grail for us," adding that she's never experienced any leaks. "We used Pampers with our first and they were fine, but Honest are better in every way," she says. Several of our experts also noted how much they like all the cute patterns the diapers come in. Says SmartSitter Lottie G., "I love choosing which print to use each time I'm changing diapers." Singer and mom of three Sarah Gregory agrees, saying that they're "cute-looking for summer, when they're in only diapers anyway." Honest also offers a subscription service that a couple of our panelists mentioned as being convenient and a good way to save money. Says professor and mom of two Lucy Collins, "I love the subscription service. It just makes it so easy and I don't ever have to think about buying diapers." Mercedes Kraus, mom and executive editor at Curbed, agrees: "The subscription model and very cute patterns are hard to match."