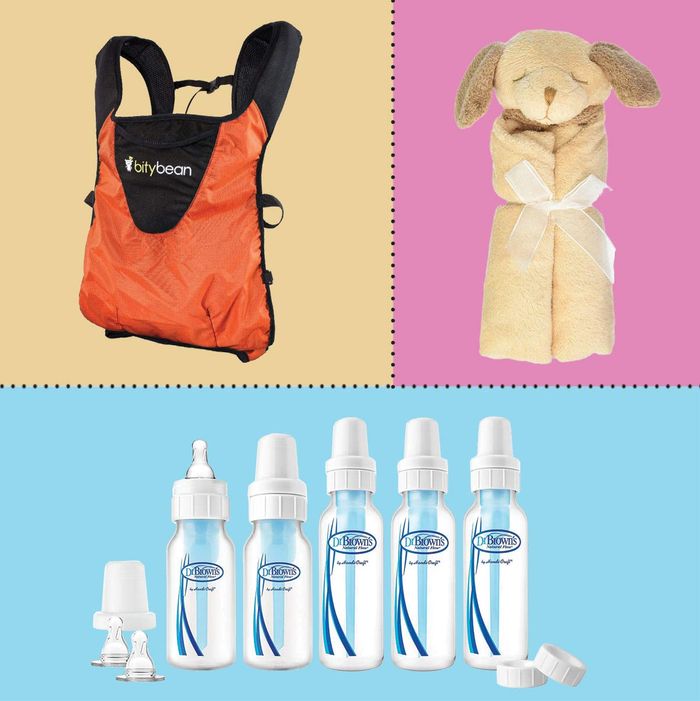 Photo: Courtesy of the retailers
Five years ago, Brown economics professor Emily Oster wrote the book Expecting Better, which used data to challenge conventional wisdom for pregnant women (cold cuts, for instance, are not that bad, statistically speaking). Since then, she's become something of a hero to expecting couples, and now Oster's new book, Cribsheet, is helping to debunk parenting myths yet again. We wondered what the mother of two uses in her own life, so we talked to her about the baby things she uses herself — and recommends to others.
You should wait to get this until your baby is about 3 months old, but as soon as your child gets some head control, get a BityBean. It'll last till he or she is about 3, and it can be stuffed in a backpack. I've used a lot of baby carriers, but I got this one with our second kid, and it's just so great because it's so tiny. If you are traveling with it, you can ball it up and stuff it anywhere. It's easy to use, and you can use it with a hood, which I recommend. I could wear it in the front or in the back, and it also just feels super-secure. I always like the things that have straps rather than those wrap carriers, which is probably just my own personal limitation.
When my daughter was a baby, we were trying to figure out what sippy cup to get. No matter what kind we got with any different straws, we always had problems with them, so my husband wrote my friend the engineer about them. She did lots of research on products, and she wrote back this email that began, "There is no perfect solution to the problem of infant and toddler hydration," but ultimately this is what she recommended. What I like about it is that it can act as a straw cup or as a tip-up with different inserts.
This swaddle is not too hard to use and impossible for your baby to escape. When my first kid was born, we did not purchase any swaddle blankets and we had a doula come who was appalled. We like this one because the kid definitely sleeps better in it, plus it's just easy.
Simple, flexible, easy to replace. There are lots of innovations in the world of baby bottles (you get ones that are shaped like a breast and all kinds of things), but this is just an easy one that works. I would say the only thing I learned the hard way is that they make different nipples with different hole sizes depending on the age of your child (the older they are, the smaller the hole, which makes it more difficult to suck), so if you use a 1-year-old's nipple with an infant, you will have trouble.