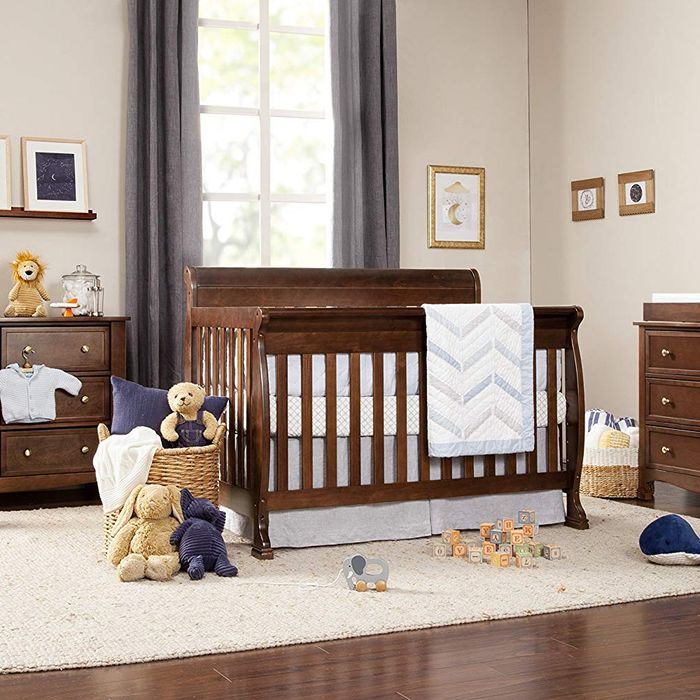 Here at the Strategist, we like to think of ourselves as crazy (in the good way) about the stuff we buy, but as much as we'd like to, we can't try everything. Which is why we have People's Choice, in which we find the best-reviewed products and single out the most convincing ones. (You can learn more about our rating system and how we pick each item here.)
While we've written about the best baby monitors, play mats, and baby mattresses, here, we're going deep in the best baby cribs that you can buy on Amazon, according to reviewers.
Best-rated baby crib


With over 1,000 five-star reviews, this crib gets top marks for sturdiness. One reviewer raves that this 4-in-1 crib, "looks great, is really easy to put together, and allows the kid to grow into it as a real bed." Another reviewer notes that it was "much better quality than I originally expected, and was not too much trouble to put together." One first-time mom was on a hunt for a crib that "isn't too heavy to move myself, while still being very sturdy and safe. And I am only 5'1" so I need to be able to comfortably reach into the crib (which is harder to find than you normal-sized people might think). I figured that to find all of those qualities in a convertible crib that looked nice I would have to pay around $500." However, she continues, "This crib met all of my expectations and is an incredible price." Plus, many reviewers appreciate the included toddler rail that, as one reviewer puts it, "will be perfect as a kid grows up." One satisfied owner adds, "Ours has held up to one rambunctious jumping kid for five years now."
Best-rated (less expensive) baby crib


"I am floored by the value and design of this crib," says one reviewer, and another says, "This mini crib is amazing for its price." It's especially "perfect for parents working in tight spaces," writes one reviewer, who describes it as "compact and fits right by our king-size bed." Another parent agrees that it "fits well in our bedroom for co-sleeping" while remaining "easy to transport in and out of doors in our small apartment." For many reviewers, this "perfect and absolutely beautiful crib" gives you "the classic crib look with so many benefits." One reviewer lauded the "wheels that make it portable and so easy to move around," with another noting that it "folds up very easily," which lets one user "store it between the wall and my dryer in the laundry room when not in use".
And now for some micro-picks of every type of baby crib you might be looking for.
Best folding crib


Lots of reviewers living in small spaces gave this folding crib five stars. "Living in a condo, we're always thinking about ways to maximize storage and save space," says one of them, adding, "The fact that this crib could be rolled from the combination guest room/nursery into our bedroom at night to ease the transition for our daughter was a huge advantage." One parent attests that "this fits perfectly in a master bedroom and is still roomy enough for babies to stretch out." Another reviewer says, "This is a very nice portable crib that folds up easily is quite sturdy, and looks nicer than I expected." But one parent notes that even when built out, "It's small enough that it can fit through a doorway without being folded."
Best colorful baby crib


Available in a variety of "fun colors," including what one reviewer describes as a "bright and cheery" turquoise or a "fun" sunshine yellow, in the words of another, this crib gets a lot of love for its bright color palette. But the crib itself performs well, too, especially in smaller spaces. "I didn't want a crib that was bulky and would crowd half of the room. These are perfect," says a reviewer of this "incredibly easy to put together" crib. Another owner describes this "godsend" as "extremely affordable and well-made" crib, noting, "My son slept amazing in it for the first time while we were away from home." One owner observes that "I have friends who have spent more than double what we spent on this to buy 'nice' cribs, and there is no difference in quality."
Best crib with teething guards
"This is a nice and simple crib that's easy to assemble and won't break the bank," one customer writes, adding, "It looks great in white and comes with teething guards which is an added bonus." And many other five-star reviewers cite the attached teething guards as a favorite feature, including one reviewer who calls them "awesome," explaining, "My old crib from my 5-year-old didn't have one and I mean some areas looked like a woodchuck got a hold of it." And speaking to its value, one reviewer admits, "I'm not sure why this is so inexpensive," but they add, "We got it as a spare, and it seems sturdy and just as good quality as the more expensive crib we bought for regular use."
Best vintage-looking baby crib


"I HIGHLY RECOMMENDED THIS CRIB! It arrived quick and was easy to put together. My son uses it every night. A while ago, he went through a teething stage, so I do recommend crib covers to avoid the child from biting on the wood. I recently converted the crib into a 'big boy' bed, and it has been awesome. I'm beyond happy with this purchase still, and I got it over a year ago."
Best modern baby crib


"I really loved the look of the Oeuf cribs, but couldn't justify spending that much on something my baby would use for a couple of years. This crib was a great alternative," one reviwer writes. And they're not alone. In fact, a dozen five-star reviewers compare this to the Oeuf Sparrow crib, and about a quarter of five-star reviewers use the word "modern" to describe this crib. "We absolutely love the Babyletto Hudson Convertible Crib. The assembly process was very easy and in the end, the product is very sturdy and beautiful," one parent writes, adding, "We were looking for a more modern style crib and did not want to pay the Oeuf price. We are very happy with our purchase and did not have to sacrifice quality while paying the Babyletto price." Plus, according to one dad, it's easy to assembly: "Even a clumsy guy like me was able to set this up without a hiccup… this was our saving grace."
Best convertible mini crib