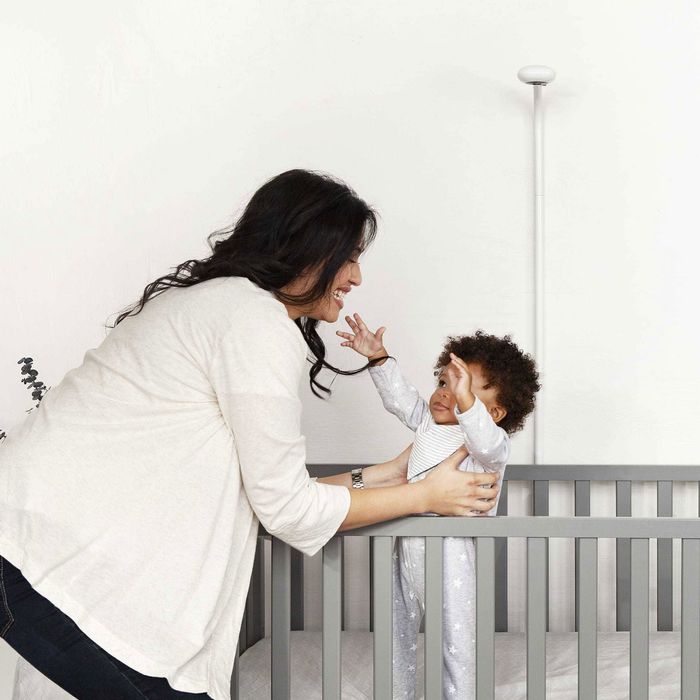 Photo: Courtesy of the retailer
A baby monitor is one of those new-parent essentials that often tops a registry. The gadgets can invaluable for peace of mind and sleep-training purposes, according to Elizabeth King, the founder of sleep-consulting company Sleep Baby, who encourages parents to "take what a monitor tells you and use your gut and your parenting knowledge to react to your baby." But with so many options out there, from audio-only monitors to Wi-Fi-enabled ones to others that track biometrics, choosing one that's right for your family can be a bit daunting.
According to Jennifer LaBracio, the gear editor at baby-registry website Babylist, the right baby monitor will depend on "the space you live in and your personality and parenting style." In other words, a family that lives in a big house might need something different than one that lives in a smaller apartment. A smart monitor that can track sleep patterns might make some parents feel more confident, but it could drive others crazy. To help you navigate the vast universe of baby monitors, we spoke to LaBracio, King, and eight other experts — including parenting bloggers, sleep consultants, and parents themselves — about their favorites. Their recommendations below include baby monitors for most everyone, from traditional video monitors to "smart" devices that can track how your baby is sleeping to a simple and truly affordable audio monitor, should that be all you require.
Best overall baby monitor
The Nanit smart monitor received the most recommendations of any monitor we heard about, with five of our experts telling us it's a favorite. Made for the tech- and data-obsessed parent who wants to know and track everything about their baby, it has won a number of awards, including being named as one of the best inventions of 2018 by Time magazine. It's an over-the-crib Wi-Fi camera that not only offers standard video-monitoring capabilities, but also provides data, including sleep metrics, via its app. The bird's-eye-view camera captures real-time HD-quality video and uses what the company calls "computer vision" to track whether your child is awake, sleeping, or fussing. Nanit then synthesizes this data to generate nightly sleep reports and sleep scores, even providing tips on how to help your baby sleep better. Shown here is the monitor alone, but Nanit also offers a bundle with special breathing gear (that you can also purchase separately), which can track a baby's breathing motion in real time, sensor-free, by way of the camera. As the Bump's executive editor Lauren Kay puts it, "The Nanit is a two-in-one in that you've got this monitoring app, but you're also getting helpful training and guidance when it comes to sleep, which is different from a lot of the competitors."
Natalie Nevares, the founder of Mommywise and a sleep-training expert who coaches new parents, says the Nanit is now her favorite of all the cameras she's used over the years. A feature that she loves is the ability to access its video footage and watch and share clips. LaBracio loves it, too, telling us she recommends it all the time for its data-tracking ability. "You can pick up on patterns and sort of take a step back and see how your baby is sleeping the whole night," she says. (The Nanit includes a free one-year subscription to your video history and data with purchase; after that, you'll have to pay $5 a month or $50 a year.) Jennifer Saxton, the founder of the Tot Squad, also loves the monitor's sleep-tracking feature, saying that it helps eliminate the guesswork of trying to figure out how long a baby has been asleep. "It'll say that the baby fell asleep 25 minutes ago. So I know, okay, hopefully she's going to sleep for another hour," explains Saxton. Echoing this praise, Fathercraft co-founder Paul Zalewski says that "Nanit's 'smart features' are actually useful," adding that his business partner made significant changes to his son's bedtime routine based on the Nanit's analysis. "When a 'smart product' can actually deliver on a promise — in this case that promise is more sleep for babies and parents — that's pretty spectacular." Attorney Samantha Shipp Warrick, who recently shared some of her favorite baby-registry items with the Strategist, agrees that the Nanit "has amazing sleep insights" and a "great picture quality" to boot.
Still, Nevares reminds us that any monitor — even one as advanced as the Nanit — won't be 100 percent accurate. "It oftentimes will say the baby's awake when the baby's not awake, but just kind of rolling around in their sleep," she says. Sleep consultant Jennifer Metter adds that any data you might get from a monitor like the Nanit should be considered in consultation with your baby's doctor, as "parents are not educated in pediatric sleep physiology or architecture, and therefore do not know how to identify what normal, healthy sleep looks like for babies and children."
Best (Iess-expensive) baby monitor
For a more affordable Wi-Fi-enabled monitor that has some smart features, both LaBracio and Nevares recommend the Lollipop. LaBracio says it's a popular choice among Babylist users because the monitor is "cute, modern, and comes in a bunch of fun colors." Nevares likes that it's tiny and therefore very portable. Unlike the Nanit, it requires no mounting hardware, thanks to the camera's bendable, silicone base. "You can wrap it around the bars of the crib or put it on a dresser," explains LaBracio. Nevares adds that this monitor is especially good for newborns, "because you can hook it around a crib rail and point it in any direction you want." As far as its smart features go, the monitor can detect crying and other noises and also track sleep patterns (a free 30-day subscription to that data is included with purchase; after that, you have to pay $10 a month). You can also pair the Lollipop with a sensor (sold separately) that monitors humidity, temperature, and air quality in the room. Other features include advanced night vision and a built-in noise machine. "For a smart monitor, it's a cheaper option," concludes Nevares.
Best overall non-Wi-Fi baby monitor
Two of our experts told us that the Eufy is their top choice for a non-Wi-Fi-enabled baby monitor — that is, one that uses a radio-frequency-based system to transmit information and requires both a camera and a "parent unit" (or separate viewing device, instead of an app on your phone). "It feels like a modern tech product versus something that you would've seen ten years ago," says Zalewski. "Its parent unit is slim and lightweight, the image quality is excellent, and the user interface is intuitive. Compare that to most other non-Wi-Fi monitors and there's a world of difference." The Eufy's parent unit has a large five-inch display screen, while the camera, which includes a wide-angle lens attachment, can pan 330 degrees and tilt 110 degrees. It also has two-way audio, a coverage range of up to 1,000 feet — which is helpful if you live in a larger home — and the ability to connect to up to four cameras (sold separately), a feature that Suzie Zeldin Russell, a co-owner of child-care-professional network SmartSitting, loves. "It's very easy to switch between cameras, so we can watch our baby nap while checking on our toddler in the playroom," she says, adding that "we have recommended this monitor to countless friends and consistently get rave reviews in response. Of all the baby gear we own, this is among the very best."
Best runner-up non-Wi-Fi baby monitor
The Vava is the preferred non-Wi-Fi video monitor of "privacy-obsessed" mom (and Strategist contributor) Sara Gaynes Levy, who calls it "a sleek 21st-century baby monitor" that's "crazy easy to set up." Like the Eufy, it has a large five-inch display screen and the ability to connect to up to four cameras (sold separately). Gaynes Levy says the picture on the parent unit "is almost as bright and crisp as that on my iPad Air." In addition to standard baby-monitor features like a temperature display, two-way intercom, zoom, tilt, and pan capabilities, she notes that the Vava "also shows the time, so I can quickly calculate how long my daughter has been in her bed." It has a slightly shorter coverage range than the Eufy — up to 900 feet — but Gaynes Levy says that has been more than enough for her. "I can walk down two whole flights of stairs in my apartment building — so many walls! — and still receive a clear live feed."
Best non-Wi-Fi baby monitor for smaller homes
LaBracio says the Infant Optics baby monitor is another popular model among Babylist users. (It's apparently popular among Amazon users, too: It has more than 40,000 reviews on the website.) Nevares also likes it, telling us she'll often bring one as a backup on her consults in case the Wi-Fi cuts out on a smart monitor. One of her favorite features is that you can turn the sound off and instead see an LED sound bar with lights to indicate sound levels. "I like to be able to have the ability to turn the volume off and watch the baby and not hear it," she says. This monitor, like the Eufy and the Vava, can be paired with up to four additional cameras (sold separately), a feature that contributor Kelsey Osgood says she really appreciated when she had a second child 19 months after giving birth to her first. It also has pan and tilt capabilities and comes with an interchangeable zoom lens (you can buy a wide-angle lens separately). But at 3.5 inches, its screen is a bit smaller than that of the Eufy. The Infant Optics monitor also has a shorter coverage range of 700 feet, which is why it might be better for smaller homes.
Best non-Wi-Fi baby monitor with bells and whistles
For a little more money than the DXR-8 (or the Eufy or the Vava), you can pick up Infant Optics' newest monitor, the DXR-8 PRO. It combines many of the features of its non-Wi-Fi counterparts (including the ability to pair with up to four additional cameras) with bells and whistles like a five-inch HD screen and active-noise-reduction technology that is supposed to reduce background noise. A longtime fan of the original DXR-8 monitor, I had the opportunity to test out the DXR-8 PRO and wrote that it was quite literally like going "from low-def to high-def." The video feed is so crisp and clear that "my husband and I can actually see my son's open eyes at night." Other features include a range of up to 1,000 feet (rivaling only that of the Eufy) and a time display on the screen.
Most durable non-Wi-Fi baby monitor
King, who has three children, swears by her Project Nursery monitor. While she says it has all the features you could want in a video monitor — including zoom, two-way audio, infrared night vision, a temperature sensor, and motion and sound detection — it's the Project Nursery monitor's durability that makes it stand out. "I've used a lot of monitors, and they're something that's probably on 24 hours a day, especially the first year," she says. "The Project Nursery one has lasted so much longer than any other monitors I've tried." King says she went through three monitors with her now-7-year-old before buying the Project Nursery monitor, which she used for her second and third kids. "I've probably had it for three years and it still works great. The longevity of something like a monitor that you use so frequently is a big deal," she says. Plus, King adds, the company's "customer service is incredible." And unlike most baby monitors, this one comes with two cameras instead of one.
Best baby monitor for biometrics tracking
According to two of our experts, parents looking for a monitor that's even smarter than the Nanit should consider the Owlet system, which can track sleep patterns, but also biometrics like oxygen level and heart rate via a wearable smart sock. When slipped onto a tiny foot, the sock will alert parents if a baby's oxygen levels or heart rate drops below a certain threshold, explains mom Allyson Downey, an author and the CEO of review sites Stellar Reviews and weeSpring. "We were one of the families that was sent to the hospital in the middle of the night because the Owlet alarmed and turned out my daughter's oxygen level was really, really low," she says. "Does every parent need one? Probably not. But for the parents who already have high natural levels of anxiety or have children who have been exposed to viruses like RSV and are still very young, it can be a really, really powerful tool to help you sleep better at night." LaBracio agrees that monitors like the Owlet are a great option for hypervigilant parents — but notes that the Owlet's sock hasn't been tested to prevent sudden infant death syndrome and should not be used as a replacement for a medical device. The bundle shown here includes the sock along with the Owlet smart camera, which is a wifi-enabled baby monitor with HD night vision, a 130-degree wide-angle view, zoom, two-way audio, and a temperature sensor. You can buy the sock and camera separately, too — but if you're going to get both, the bundle saves you around $50 bucks.
Best baby monitor for biometrics tracking (without wearables)
"This one stands out because there's no wearables at all," LaBracio says of the Miku monitor. Instead of requiring a sock, the monitor can track a baby's breathing and sleep patterns through its patented camera alone. (It doesn't track heart rate, however.) While it costs more than the Nanit upfront, the Miku doesn't have a monthly charge to access sleep analytics and past footage. It comes with custom Ole Wolff speakers and has two-way audio that can play original sleep sounds and lullabies, making it an "audio step up from the Nanit," according to LaBracio. Other features include temperature and humidity sensors and a crypto chip for what Saxon calls "really hard-core security functionality."