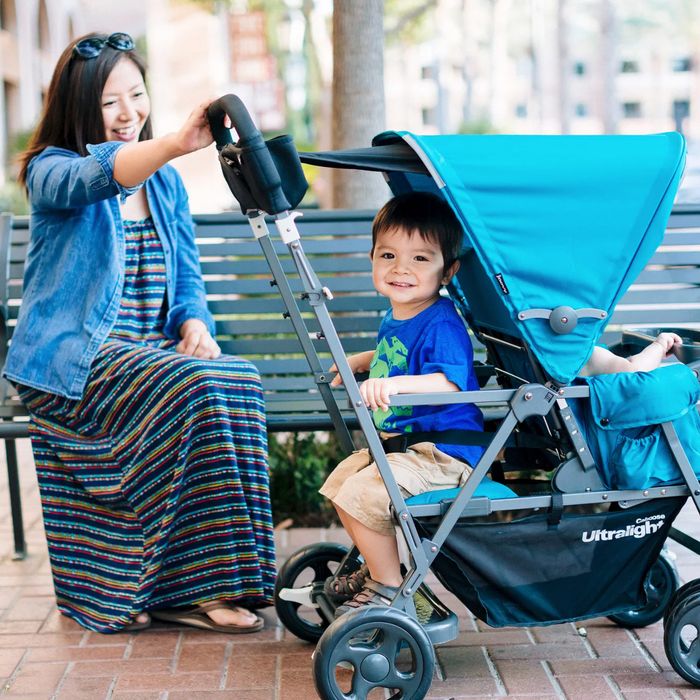 The Joovy Caboose, according to the author, is one of the lightest double strollers on the market.
Photo: retailer
I still remember a phone call I had with a friend, then a mother of five, when I was pregnant with my first son. I had imagined I would be a minimalist parent — indeed, my religious tradition discouraged me from purchasing lots of products before my baby's arrival — but, still, I felt a nagging anxiety that I was unprepared. "I don't have any toys," I told her sheepishly. She practically spat into the phone: "Babies don't need toys."
In the two years after my son's birth, something small arrived that changed my attitude toward stuff. While small, it was also huge: a second kid, his little brother, born when my eldest child was just 19 months. Despite our insistence that we didn't need anything other than food — we had barely found the time to put our eldest's infant clothing into storage — my husband and I were showered with another round of baby gifts. It was only after amassing more onesies than No. 2 could wear (or we could store) did I realize that, instead of not asking for anything, we should have asked for some very specific things that would have actually been useful to have on hand with two under 2.
As my kids aged, I compiled a mental list of the stuff that genuinely helped our family as it expanded, knowing that friends or loved ones about to welcome their second (or beyond) would surely appreciate receiving them — even if they didn't yet know that themselves. That list continues to grow to this day; now that my sons are 2 and 3 years old and have (slightly) more mature needs, I'm always looking out for products that will encourage them to play together — or, at the very least, in the general proximity of each another. Bonus points for whatever keeps them independently entertained the longest. Below, the 15 most useful, engaging (or both) things I recommend to anyone welcoming a second child, or anyone shopping for folks who are. Some will be useful sooner than others, but all are effective come toddlerhood. And this should go without saying, but a lot of the stuff would be just as useful for anyone expecting twins.
Photo: retailer
The most pressing question that comes up after the birth of a second child is "How am I going to lug two squirming creatures around?" When my second was born, we lived on the top floor of a building with no elevator, so we opted for a clip-on "boogie board" instead of a double stroller, most of which are prohibitively heavy and expensive. There are lots of boogie-board options out there tailored for different strollers, but this one from Lascal claims to adapt to more than 90 percent of brands, including Bugaboo, Chicco, and Uppababy. Pro tip: If you call it a "skateboard," your kid is much more inclined to enjoy it.
Photo: retailer
If you do want to shell out for a double stroller (and get a free arm workout to boot), the Joovy Caboose, at just 23.5 pounds, is one of the lightest on the market. It's also easy to fold, and you can clip most major brands' car seats onto the bars to create a makeshift seat.
Is there anyone for whom the sight of a bright red wagon doesn't trigger nostalgia? This cheerful giant version of the classic Radio Flyer fits two kids comfortably and has pockets for snacks and drinks. For a bit more money, you can get one with a roof for a bit of protection from the elements.
Photo: retailer
The one-seat Cozy Coupe is great, until a second kid comes along and every ride devolves into a near-death battle for the wheel. This tricycle built for two from Montessori-inspired brand Italtrike goes a long way toward helping avoid fights about who gets to ride what right now.