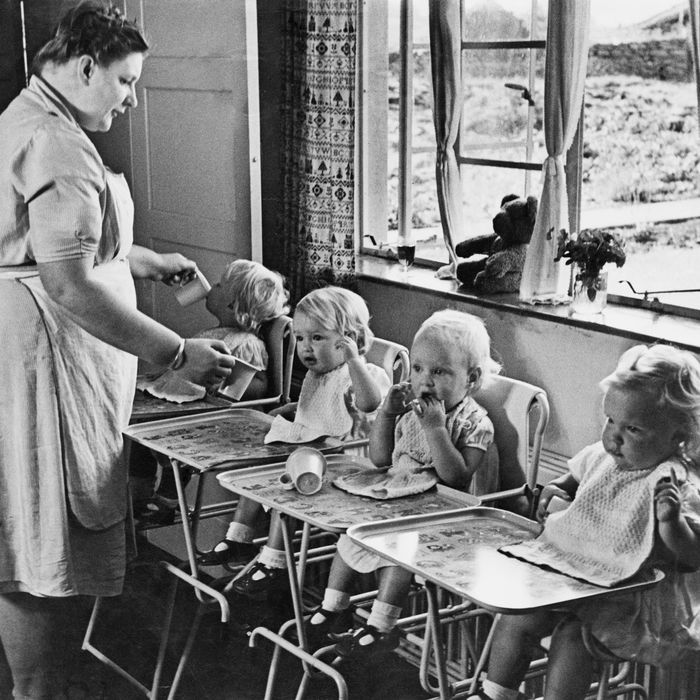 Photo: Kurt Hutton/Getty Images
Here at the Strategist, we like to think of ourselves as crazy (in the good way) about the stuff we buy, but as much as we'd like to, we can't try everything. Which is why we have People's Choice in which we find the best-reviewed products and single out the most convincing ones. (You can learn more about our rating system and how we pick each item here.)
And while we've written about baby products before — including baby swings, baby bouncers, and cribs — here, we've rounded up the best high chairs, as praised by the most enthusiastic reviewers on Amazon.
Best-rated (and least expensive) high chair
Reviewers could barely contain their enthusiasm that a high chair this durable and compact could exist at such a reasonable price. "Lightweight, easily cleans, sturdy, portable to Grandma's house and easily folds for storage. I love this high chair I bought for my Grandson. The tray is easy to clean as well, the pattern is cheery too," raves one reviwer, adding, "I would buy another in a heartbeat should I be blessed with another baby in our lives." Another reviwer calls this "by far the best high chair on the market." "I have 5 children and needed to find something that was quick, easy to use and folded up for storage. This does all those things and more," says another. Another reviewer used all-caps font multiple times to express how pleased she was: "I bought two of these chairs for my twins and they're PERFECT. It's a GREAT price and it came ALREADY PUT TOGETHER. I literally had to put the triangle things on the feet and it just folded out ready to go!"
Best easy-to-assemble high chair
Easy is a word that comes up in hundreds of reviews of this high chair and booster seat, starting with putting it together. According to one reviewer, "I assembled it in about 15 minutes with two children under two in the room. The instructions are clear and easy to understand and there aren't any small, mystery pieces." Dozens of other enthusiastic reviewers were equally pleased with how easy it was to clean this high chair after inevitable messes. One happy mother remarked, "The best part is the ease to clean; the seat cover is one piece (so no rogue food bits hiding underneath) when a simple wipe down isn't enough the whole seat cover easily comes of and goes into the washing machine, even the straps easily come apart and can be thrown in the washer; air dry it all and the high chair is good as new!" Aside from its functionality, reviewers praised the high chair's adorable appearance, with one going so far as to say her son "looks SO comfortable in this chair we say he looks like a king on his throne."
Best high chair with swivel tray
Reviewers of the Joovy Nook were thrilled about this high chair's large and functional swivel tray, a feature that came up in hundreds of reviews. According to one very enthusiastic reviewer, "The swing out tray is an absolute lifesaver, no running back and forth to get the high chair ready and then grabbing the baby — I just put him on my hip, and I can swing open the high chair tray with one hand, it's amazing." Other reviewers agreed with this happy mom, who explains that the tray's plastic top which is very easy to remove and wash: "The removable tray is a great feature, especially for messy meals. Just pop it off and you have less the mess." The seat is also easy-to-clean. As one parent attests, "The seat cover is SO nice - I wish my car's upholstery was made out of this stuff. It wipes clean but has this really cool leather look to it."
Best foldable high chair
Many parents praise this high chair's one-hand foldability, which makes it easy to put away compactly while holding your child. This feature is especially appreciated by reviewers with limited space, including one who lives in a "tiny NYC apartment" and likes that this high chair "easily folds down to practically nothing but has many of the bells and whistles that high priced chairs have," like adjustable legs and a reclining chair. Another reviewer, who depended on this "terrific" chair during "three years of hard use" while nannying several children, agrees that you don't sacrifice quality for ease of use with this foldable chair. "I live in a small condo, and I needed a chair that was sturdy and comfortable, but would fold compactly for storage," she explains. "Not only does it easily fold up, it doesn't even take up much space when it is in use. No tripping over wide legs, yet it is very stable," she adds. The lightweight plastic tray and leatherette seat pad are also easy to clean, even after the messiest mealtimes. One grandmother reported that after one granddaughter's first birthday, "the cake got everywhere, but it was so easy to wipe down. Plus, the cushy seating is wonderful. My grandkids at times fall asleep in it while eating."
Best hook-on high chair
"Hands down my favorite baby item I've ever purchased," says one reviewer, who bought this hook-on high chair as a last-minute purchase for travel but has been using it in lieu of a standard high chair ever since returning home. "I use it at the table when we eat as a family and I'll attach it to my kitchen bar. My daughter loves to sit in it and watch me wash dishes and cook," she adds. Another parent hooks the chair "to our picnic table when we eat dinner outside," and a pleased grandparent bought it "to have a place at the table for my grandson without adding furniture to my kitchen. Easy to store when he isn't here. Easy to wash too." Because it's so compact, with no legs, it's "easy to store" yet still "really secure. My 9 month old, 21 lb daughter loves bouncing around in it, but that sucker is so tight on the table that there are no worries."
Best adjustable high chair
One reviewer would give this HM-tech high chair a six-star rating if he could: "Let me start off by saying that after I assembled the chair, my 14 month old daughter did NOT want me to take her off it! She'd cry every time." The adjustable tray also makes his life "so much easier," because his daughter is a messy eater, and now "I can just take off the slim upper tray after the meal and she can remain on the chair and have some fruit or even play with her books. I'm honestly in love with this high chair!" The adjustability of the different elements — including its movable tray, footrests, and legs — mean this high chair "grows with your child and can be used for many, many years, and that the height can be adjusted as well!" Another customer, who describes this chair as "the most beautiful and fashionable high chair that I have ever seen," adds, "One of the things that I love about this high chair, is that you can adjust the legs and choose how high you want it. If you are looking for a modern and efficient high chair, I really recommend this one."
Best high chair for small spaces
This high chair without legs securely attaches to most chairs, something that is especially appreciated by several dozen reviewers who live in "small spaces." One happy reviewer, who eats around his kitchen's breakfast bar in lieu of a dining room table, says this high chair is the "perfect solution," especially because it's "low profile enough to slide under the cupboards when we're not using it." Another reviewer says that the high chair's base is sturdy enough to "sit on the floor if no extra chairs are available" in a really small space. For those with a spare chair, customers say that the high chair attaches to chairs of various sizes: "The straps that go around the chair are adjustable making it easy to strap onto any chair," explains one parent. Plus, she's one of many reviewers to note that this chair "has more features than expected," pointing to the removable tray, reclining seat, and removable fabric.
Best convertible high chair